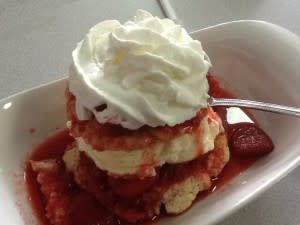 It's fun to discover unusual places to visit in Indiana. I call them 'Serendipity Spots'. One such spot for me occurred recently in Farmland Indiana. Farmland is located in Randolph County on the state's east border. We were driving north from a visit to Indianapolis when we stopped for a break in Farmland. A sign on the street for the 'Chocolate Moose' looked inviting so we stopped inside.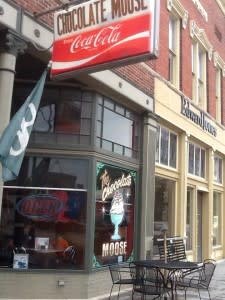 The décor of the place was reminiscent of the 60s. A large picture of Elvis Presley hung over the front counter with other mementos of the era evident – vinyl records, poodle skirts, letter jackets.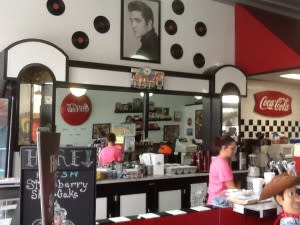 This restaurant's popularity was also evident as most seats were filled on this particular Saturday. It appeared to be a mostly adult crowd, but I would think this is a perfect kid place as there is a standard children's menu and prices are affordable with nearly everything on the menu less than $10.
While the restaurant boasts an award-winning Double Bacon Cheeseburger and world-famous breaded tenderloins (advertised as 'never deep-fried'), my husband and I focused on sweet treats.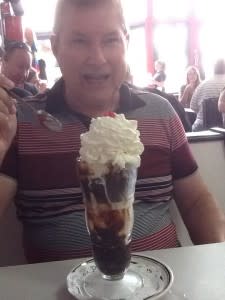 John ordered a chocolate soda and as you can see from his expression, he was not disappointed!
I ordered the more sedate strawberry shortcake. Every bite was heaven!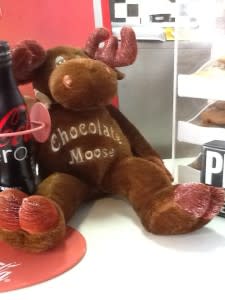 In case you forget the name of the restaurant this little brown stuffed moose will remind you.
Even though Farmland seems like a tiny community (census says less than 2,000), the citizens must believe in their popularity as we saw a Farmland-opoly game available for purchase in the Chocolate Moose. I think that's neat!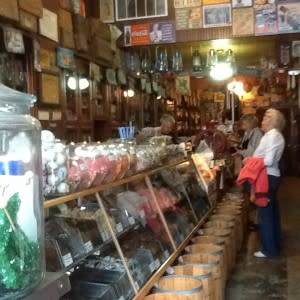 To work off some of those calories we strolled next door to the Farmland General Store. Alas, our sweet tooth was abated so we did not purchase any of the seemingly hundreds of varieties of candy available at the old-fashioned counter. This store was a cool place to browse as it offered antiques, teas, garden seeds, pickles, jellies, coffee. Just like a real general store!
Check out Farmland's Chocolate Moose the next time you're in the area. If you need a recommendation for something yummy and sweet from this place, you know where to find me!
Chocolate Moose 101 N Main Street Farmland IN 47340 765.468.7731
Farmland General Store 113 N Main St 765.468.6472 www.farmlandgeneralstore.com