Earlier this week, we had the opportunity to appear of Fox 59 and promote some delicious, locally made products for your holiday table. Indiana abounds with dozens upon dozens of expert food producers, and this is just a sampling of our Hoosier food artists. With our proud agricultural and culinary heritage, Indiana is a food source to the world, but you can see that we keep the best stuff for ourselves.
A special thanks to all our partners that donated products for this fun segment:
Marshmallow whip and hot chocolate- 240 Sweet- Columbus
This new offering from Indiana-original 240Sweet is the perfect drink for the holidays. The marshmallow whip pairs wonderfully with their hot chocolate. Add one of their designer marshmallows as a topper for this seasonal classic. They offer an array of flavors- both traditional and exotic- to please any palette.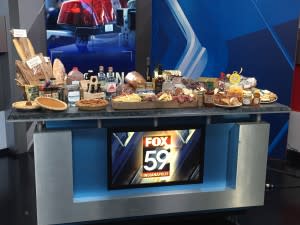 Moscow Mule mugs and Vodka- Cardinal Spirits- Bloomington
Cardinal Spirits is an Indiana craft distillery that produces high-quality whiskey, gin, vodka, rum and liqueurs. One of the only craft distillers in the state, Cardinal uses locally sourced ingredients and has a beautiful tasting room along the B-Line in Bloomington.
Hearth-baked fresh bread- Thomas Family Winery- Madison
Located just two blocks from the Ohio River in a rehabilitated 1850's stable and carriage house, Thomas Family Winery produces hand-crafted, traditional wines, ciders and breads.
The Wild Olive- Jams, Olive Oils and Balsamics- Nashville
The Wild Olive brings some of the finest flavors from all over the world to Brown County. They offer over 50 flavors of olive oil and aged balsamic. Now featuring house-made balsamic jams; each batch is hand stirred!
Bourbon and Moonshine- Bear Wallow Distillery- Gnaw Bone
Bear Wallow distillery is located in Gnaw Bone and produces handcrafted artisanal distilled spirits. They only use locally-grown grains in an old fashioned copper pot still to produce uniquely Indiana spirits. Bear Wallow is one of the first craft distilleries in the state.
Cocktail Sauce and Steak Seasoning- St. Elmo Steakhouse- Indianapolis
An Indianapolis Institution, St. Elmo Steakhouse offers their world-famous, eye-watering shrimp cocktail sauce for sale. They've added another product to their inventory: classic steakhouse seasoning. Try it on steaks, burgers or vegetables. Available online and at the restaurant.
Fall Chocolate Gourmet Gift Basket- Ghyslain- Union City
Fall gift basket includes three randomly chosen spreads & jams, one 9-count Fall Window Gift Box, one 16-count Fall Owl Chocolate Gift Box, one 7-count Fall Chocolate Sleeve and one Chocolate Owl Sculpture. Basket arrives in shrink wrap and ribbon.
Wine-infused Truffles- Peacetree Mountain Truffles- Bloomington
Available at The Olive Leaf in Bloomington, Peacetree Mountains creates an extraordinary chocolate and wine experience with their unique wine truffles created from Indiana wines! Each wine is paired with a chocolate perfectly balanced to enhance its flavors. These are carefully blended with real butter, and fresh cream into a sultry ganache and then drenched in an outer coating of decadent chocolate.
Handmade Pies- Wick's Pies- Winchester
Wick's is probably best known for the sugar cream pie, the official pie of Indiana. They make a number of other great pies, from pumpkin to pecan and beyond. They also ship their delicious pies all over the country.
Chocolate Turkey- Olympia Candy Kitchen- Goshen
Olympia candies were served at the inaugural balls of Ronald Reagan and George HW Bush. Olympia has welcomed visitors to their Goshen store since 1912. All their candies are made from scratch. Online ordering is available.
Various Flavors of Popcorn- Chicagoland Popcorn- Merrillville
This family-owned and operated gourmet popcorn store in Merrillville features over 250 flavors of popcorn, including unique offerings like crab leg popcorn, loaded baked potato popcorn and Oreo popcorn.
Chocolate - Abbott's Candy Shop- Hagerstown
For over 120 years Abbott's Candies have produced hand-made, old-fashion fine candies. Abbott's makes chocolates, caramels, sugar-free candies, and specialty products.
Chocolate Turkeys- Kathy's Kandies- Lafayette
Kathy's Kandies was founded in September of 2000. The idea for the candy store came from Kathy's chocolate making hobby that just 'went wild'. She used to make chocolate at the holidays for friends and family, and soon all of those people wanted to buy candy from her. The number of orders became so large that she needed a store to do it all. So Kathy decided to share her fabulously delicious chocolate with the world, starting with her toffee, peppermint bark, turtles, peanut butter cups, chocolate-covered cherries, and chocolate-covered pretzels.
Assorted Cookies and Brownies- Blondie's Cookies- Kokomo
Gourmet cookies and brownies packaged in themed gift boxes, bags, tins, trays and towers. Blondie's features pumpkin spice cookies and take & bake cookie kits.
Cheesecake and party dips- J. Edwards Gourmet- Kokomo
J. Edwards offers over 60 different chocolates in regular and sugar free. They also pride themselves in creating over 30 different cakes every day. In addition to their desserts, J. Edwards offers a tasty lineup of party dips and spreads.
Various Flavored Popcorn- Heidi Pops Popcorn- Plainfield
Heidi Pops makes their gourmet popcorn by hand in small batches in their shop. They offer dozens of delicious flavors and are well known for their Caramel, Caramel with Pecans and Sharp Cheddar Popcorn.
Riesling - Oliver Winery- Bloomington
Oliver is Indiana's oldest and largest winery. Their wines are great for the holidays and Riesling is a perfect accompaniment to the traditional Thanksgiving meal.
Satek Winery is an award-winning vineyard in Northeast Indiana. Opened in 2001, the winery produces dry red and white wines, semi-dry, semi-sweet, fruit, dessert and ice wines.
Reggae Blush- Easley Winery- Indianapolis
Easley Winery has been in downtown Indianapolis since 1974 and is the oldest family-owned winery in Indiana. Easley offers more than 20 different wines.
Chardonnay- Country Heritage Winery- LaOtto
Country Heritage Winery has created more than two dozen award-winning wines since opening in 2011.  The famr has over 100 years of family heritage.
Cabernet Sauvignon- Buck Creek Winery- Indianapolis
Buck Creek Winery is a family-owned winery that produces some of central Indiana's best wines.
Blueberry Wine- Tonne Winery- Muncie
Named 2014 Indiana Winery of the Year, Tonne Winery offers 19 locally-made wines.
Peanut Butter Spread- Blue Gate Bakery- Shipshewana
The Blue Gate Bakery is an Amish Bakery located in Shipshewana, the heart of Indiana's Amish Country. Some of their specialties include Amish Peanut Butter, Apple Butter, Amish Jams & Jellies, made-from-scratch Pies, Cookies, Bars & Sweet Breads, Doughnuts & Pastries and their famous Cashew Crunch.
Creamed Honey- Pappaw's Hunny- Haggerstown
This small farm near Hagerstown makes honey, cinnamon creamed honey, honey BBQ sauce, and beeswax candles.  They will be growing to 100 hives in 2016. The farm also features demonstrations on how they make the honey.
Popcorn and Candy- Olympian Candies – Richmond
Known for their smooth Greek creams! They also make delicious caramel corn. They have been located downtown Richmond since 1909.
Mustard and BBQ sauce- LocalFolks Foods mustard or bbq sauce – Sheridan
Steve and Anita Spencer and their two children live in Sheridan, Indiana, working with pride on farmland that has been in their family since 1838, known as the Kercheval homestead. LocalFolks Foods started as an outgrowth of their innovative, natural farming venture, Homestead Growers, using excess harvest from their mushroom and produce operation.
Gluten-free granola- Bee Free– Noblesville
Baker Jennifer Weise is the mother of four teenage boys, and the eldest is on the autism spectrum. Nine years ago, Wiese and her husband attended an autism conference and learned about the benefits of gluten free/casein free (GF/CF) diets in helping alleviate some of the behavioral issues associated with autism. Ever since, she's dedicated her time to making items that are not only safe for people with gluten insensitivities, but also delicious.
Mayan Spice Bar- Chocolate for the Spirit – Carmel
Master chocolatier Julie Boljack's dark chocolate Mayan Spice Bar is made from 72% organic Grand Cru chocolate and a blend of cinnamon, chipotle and chili spices – definitely not your average candy bar! Julie also sells a variety of chocolate truffles, bonbons and barks - perfect for the Thanksgiving candy dish.
Bacon bread, Maple Pecan bread- Breadbasket Café & Bakery- Danville
The Breadbasket Café offers an array of house-made breads. The café also offers soups made daily from locally grown ingredients, sandwiches stacked on their freshly-baked bread and crisp salads to round out the menu.
 Cold Brewed Coffee- Arcane Coffee Company- Danville
Arcane Coffee Company is an artisan coffee micro-roaster in central Indiana dedicated to providing the best coffees to discerning coffee aficionados. They custom roast each of their blends in small batches. Their cold brewed coffee is a blend of coffees they roast and steep in cold water for 20 hours.  A less bitter and sweeter alternative to iced coffee that highlights the chocolate tones of the coffee and has 2/3 LESS acid than heat brewed coffee.  Can be heated as a hot beverage.  Will last several weeks refrigerated.  Growler is $5 - Fill is $10 (in other words, first time cost is $15, refills are $10)   Must purchase and fill Arcane Coffee Company growler, no beer growlers!  Life is too short for bad coffee!
Award-winning Apple Cider- Beasley's Orchard- Danville
Beasley's cider is a multi-year winner of the Indiana State Cider Contest sponsored by Purdue University. They press their cider in small batches to ensure freshness. In addition to the cider, Beasley's grows a variety of fruits and vegetables. All their produce is harvested by hand and made available at their retail market located on the farm.