While Indianapolis is known for its sports, there are times you just want to relax with a little wine and friends. And while we're not overrun with choices for strict wine bars, every bar and restaurant in town serves some great wines. But if you're looking for that wine bar experience, you have some choices that are sure to please your palate.
1. Corner Wine Bar - Broad Ripple
The Corner Wine Bar has special meaning to me and my wife. We went there when we were first dating and in graduate school, waaaay back in 1993. We barely had any money, but an unexpected gift meant we could eat dinner there if we stuck to a budget. We had such a wonderful time that we celebrated our 18th wedding anniversary with dinner there. Every time I walk past the Corner Wine Bar, I remember that night 20 years ago, and it always brings me a smile. The food is excellent, the wine selection is perfect, and the restaurant is small and cozy.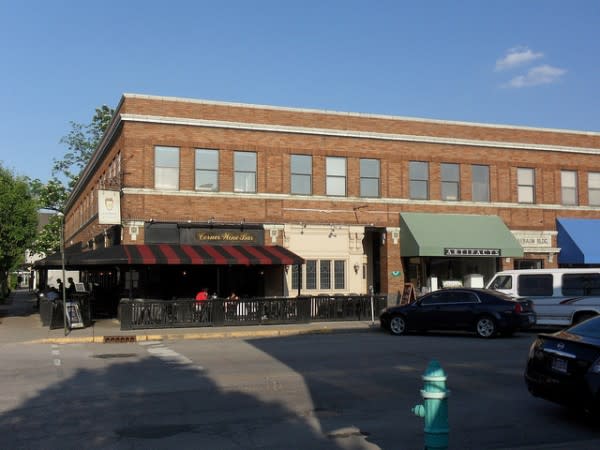 The Corner Wine Bar in Broad Ripple, just one block north of Broad Ripple Ave. on Guilford.
2. Mass Ave Wine Shoppe
When I first encountered the Mass Ave Wine Shoppe a few years ago, it was just a place that sold wine with a few different beers. Several years later, and it has become a force majeure in the Indianapolis wine scene. Jill Ditmire, who is also a newscaster on WFYI radio, has turned this into a small bistro with sandwiches, pizzas, and several kinds of cheeses. These are all gourmet selections, including the cheeses — no cheddar and Stilton here. Manchego sheep's cheese and goat cheese rule the day. And with a wine wall boasting "100 wines under $15," you're sure to find a wine that suits your tastes and your budget.
3. Shiraz - Carmel
When I think of a wine bar, I always think of Shiraz. For them, it's wine first, food second. Everything is there to enhance the experience of wine. They have a large dispensing machine that will let you order different glasses of wine by the taste, the half-glass, or the full glass. You purchase a wine card, make your selections, and pay with your card. They have live music several days a week (full disclosure: my wife will be singing at Shiraz in August), and their menu is light enough for a snack, but you won't go hungry. I like the approach Shiraz has to their wine, because they focus on it, with food to enhance the pleasures of the wine. From artisanal cheeses and charcuterie (pork products), flatbread pizzas, and dessert, there's something to nibble on while you enjoy any of your wines from around the world.
4. Tastings - Downtown Indianapolis
Tastings has one of the largest wine selections in the city, and you can order drinks by the taste, the glass, or the bottle. They have a dispensing machine similar to the one in Shiraz, where you order your preferred size and the wine is dispensed into your glass. They also offer a light menu of cheese & charcuterie, tapas, sandwiches, and desserts. As you look over their menu, you'll see a large enough cheese selection that they could do their own Monty Python sketch.
5. Augustino's - South Side
While technically an Italian restaurant, several people I talked to think of Augustino's as a wine bar with Italian food. However you want to think of it, they've got an outstanding wine list and excellent food. The restaurant has been in business for nearly 10 years, and has the awards and positive reviews to back up their longevity.
Photo credit: Eric Fischer (Flickr, Creative Commons)