If you like flowers, then I have the perfect place for you ... Amish Country in Northern Indiana. They not only have one perfect trip idea, but TWO!
1. Quilt Gardens along the Heritage Trail - From May 1 through October 1 you can experience a one-of-a-kind beauty. More than a million blooms are planted into gigantic quilt gardens.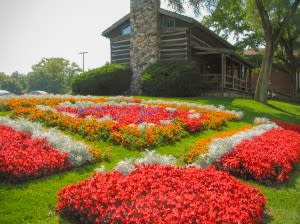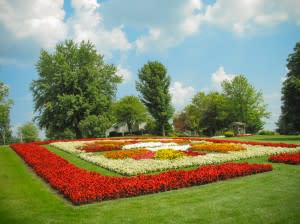 The beauty is while you drive around viewing the quilt gardens you can experience the FREE Heritage Trail Audio Driving Tour, which is one of America's most scenic drives. Simple visit the Elkhart County Visitors Center to pick up your audio cd and start your adventure.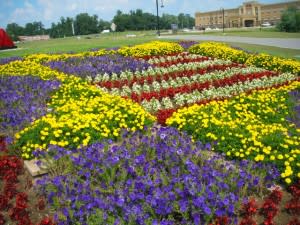 And did I mention that in addition to the 19 quilt gardens, there are 20 hand-painted quilt murals?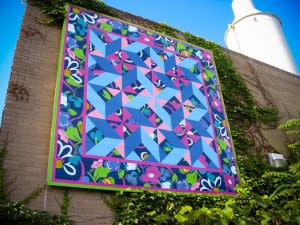 Every quilt garden and quilt mural has its own intricate pattern, many are original designs, and each has its own unique story.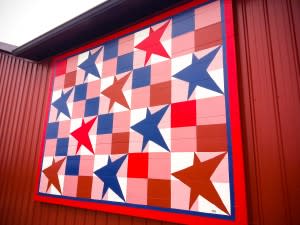 2. Fall Flower Carpets also along the Heritage Trail - Experience North America's only fall flower carpets! Each carpet holds 7,000 potted mums. Did you catch that ... 7,000?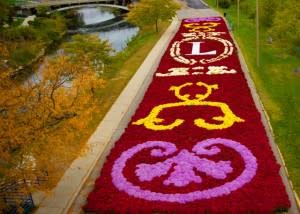 Each of the two locations fill an entire city block and have viewing platforms to make it easy to photograph! Plus, it is free to visit the carpets from October 1-12.
For more information on the Quilt Gardens or Flower Carpets, be sure and visit AmishCountry.org. They even offer travel packages - some which highlight the Heritage Trail - so be sure to check it out before planning your trip!
And a special thanks to AmishCountry.org for supplying the beautiful images above!