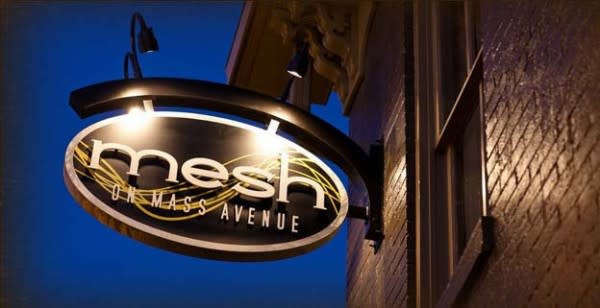 Mesh on Mass Ave is my favorite place to eat in Indianapolis. My parents come to visit me at school a lot and we are always looking for a new restaurant to try. Last year someone recommended Mesh so we thought we would give it a try, we loved it the first time and we have been back numerous times since then. Mesh is in located in a great little area downtown known as Massachusetts Avenue. There are fun little boutiques, bakeries, restaurants and bars all within walking distance. This area is perfect to spend a Saturday afternoon shopping or watching a game before you head to dinner at Mesh.
The restaurant has a very modern and artsy feel when you walk in, the food is delicious and the service is excellent. Mesh has a very innovative menu, which is perfect for people who like to try new things. Mesh also serves brunch for those of you who love to eat breakfast for lunch!
I like to think of myself as a connoisseur of French onion soup and if a restaurant has it on the menu I almost always order it. My parents and I have been trying to find our favorite soup since I can remember.  Mesh is at the top of our list. The French Onion & Wild Mushroom soup is a contemporary spin on the traditional dish, and it is amazing.  In addition to that Mesh has an amazing roasted half chicken, vegetable mélange and scallops that will not disappoint. The menu has an array of different dishes- so there is something for everyone to enjoy! The best part about the food is that Mesh serves products from local farms like Capriole Farms, Eden Farms, Fischer Farms, Gunthorp Farms, Smoking Goose and Viking Farms.
Take some time out of your busy schedule and treat yourself to an afternoon exploring Mass Ave and a delicious dinner at Mesh on Mass!