This delicious dining room in Northwest Indiana is an incredible foodie secret in the Hoosier State. Only open one night a week, you'll have trouble getting a reservation, but it is definitely worth the effort!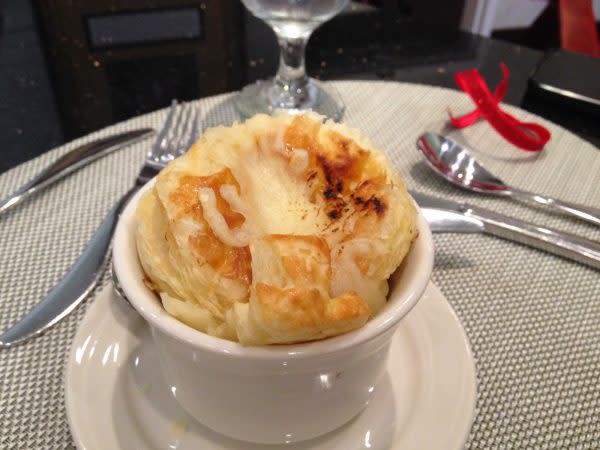 Several years ago I discovered the dining room on the Purdue University Northwest campus in Hammond that is run by the Hospitality and Tourism Management department. It's open just one day a week during each semester, so seating is limited and it wasn't easy to get a reservation for one of their two seating times at 5 p.m. and 7:15 p.m. on Wednesday evenings. Phone lines open up on a Friday morning a week-and-a-half before the dinner date. There have been times I've tried calling and concluded it was harder than getting through to a radio station when they're giving away concert tickets. I tried over and over and over and got a busy signal. And then when I'd finally get an answer, I'd learn that I was too late and the seating was full and there was already a sizable waiting list. But, I persisted and after a few tries, I had it on the calendar.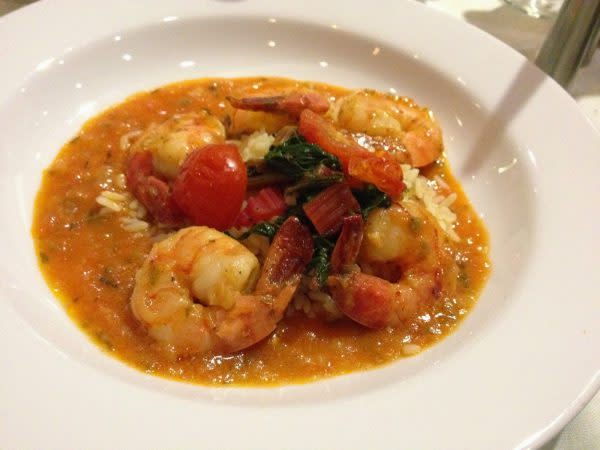 There are usually three entree options to choose from at the dinners hosted by the Hospitality and Tourism Management program at Purdue University Northwest. One is typically a red or white meat, one is a seafood dish and one is vegetarian.
After I enjoyed my first dinner there, it became one of my favorite places to eat in the area and I'd joke with friends that it was such a great secret spot that I didn't want to tell anyone else about it. I decided that even though I wanted to keep the place to myself because I'd have a better chance of getting reservations, it was just too good not to share.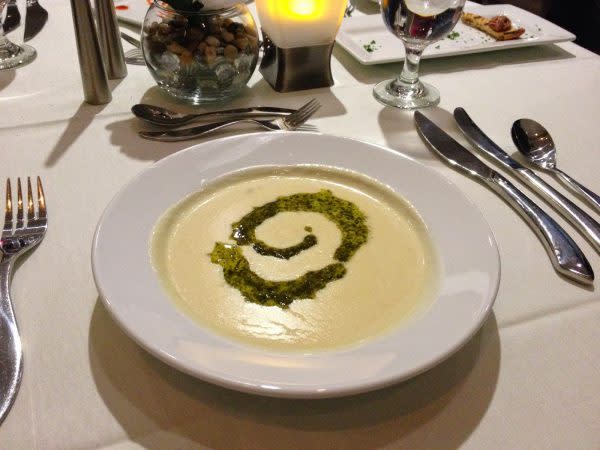 Dinners are typically four or five courses and usually include a soup and salad.
When I first started attending the dinners, you got a fixed price meal for $20. It's gone up a little since then and is now $24, but that price includes four or five courses. There's usually an appetizer along with soup, salad, an entree with one or two sides and a dessert.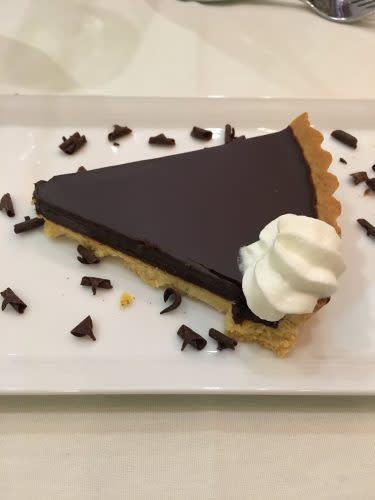 Really…where else are you going to find a five-course dinner for $24? You'd be hard-pressed to find a fast food joint where you could get that much food at that price. And you can expect this to be high-quality, big-city caliber cuisine. I've enjoyed chicken dishes and pork dishes and fish dishes and even filet mignon on my visits. I try to get there at least once each semester.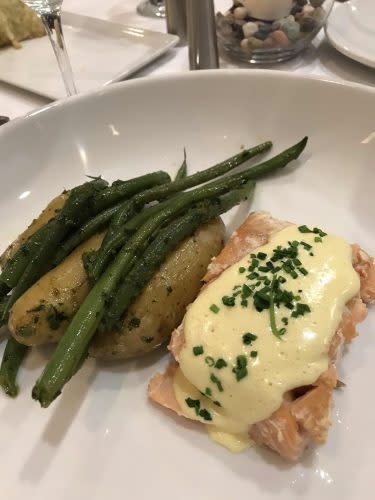 Roasted salmon with haricot vets and roasted potatoes was one of the recent entree selections.
The appetizers, soups and salads are not your basic run-of-the-mill dishes that you'd find in a typical restaurant chain. This is gourmet stuff. We're talking roasted butternut squash bisque, garlic soup, cajun deviled eggs, a salad of spinach, beets, potatoes, artichokes, fennel and chopped dill with a champagne vinaigrette dressing - stuff along those lines.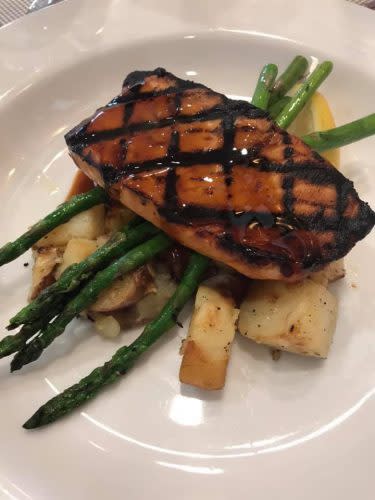 Entrees are even more impressive - Shrimp Étouffée, Coq Au Vin, Grilled Flank Steak with Ginger Glaze, Roasted Wild Salmon with Pesto & Hollandaise. One of my favorite things I've ever eaten in my life were artichoke crepes au gratin served there last month. What makes it even more impressive is that this isn't a culinary school. Students prepare, serve, host, organize and supervise and are working toward degrees in Hospitality and Tourism Management.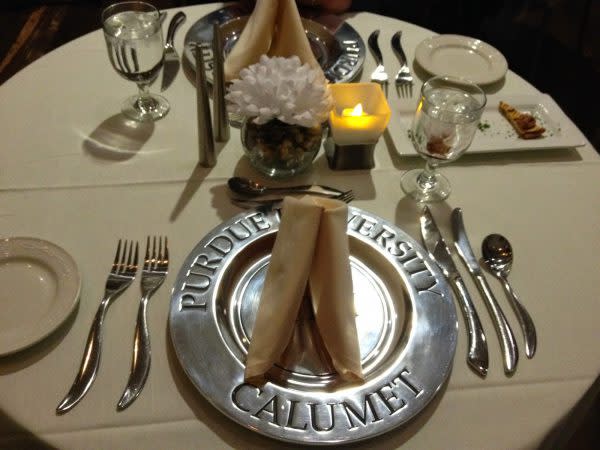 You can expect an elegant meal with beautiful presentations at Purdue University Northwest's weekly dinners in the Hospitality and Tourism Management Building.
You can get onto the email list to be notified of the entree menu in advance and when you make a reservation you give your entree selection in advance.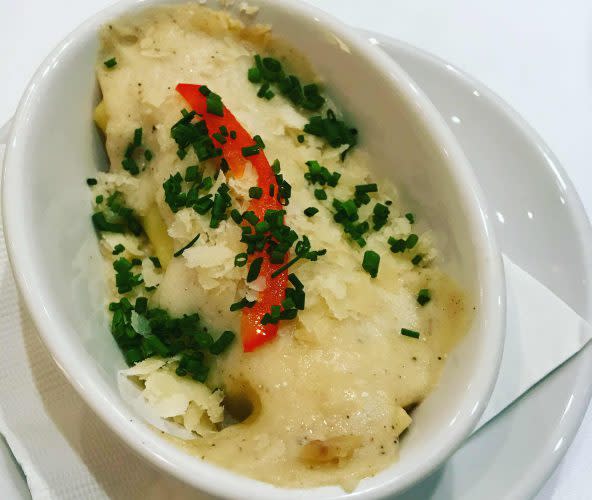 These artichoke crepes were a favorite at my most recent dinner visit.
A separate menu is offered for lunch and while it tends to be primarily university staff at lunchtime, the public is also invited to make reservations and enjoy lunch, which is a la carte. Lunch is a little more casual, but the food is still quite impressive. This semester some of the options have been honey and soy glazed salmon with fried brown rice and sautéed bok choy, garlic shrimp with red potatoes and mixed vegetables, pork schnitzel with spaetzle and mixed vegetables and Peruvian chicken with black beans and rice and chimichurri asparagus. Entrees are currently $8. Soup and salad is $3 and dessert is $2.50. I'm always wowed by the desserts, too.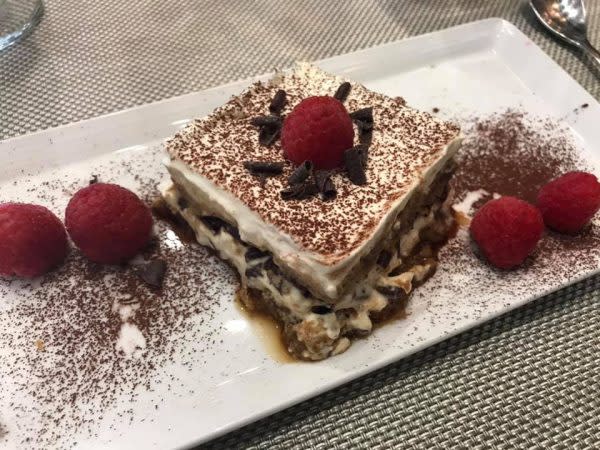 Don't forget dessert. Your dinner price includes dessert - and the options, like this tiramisu, are always stunning and delicious!
The dinners are held in the Hospitality and Tourism Management Building at 2300 173rd St. in Hammond. If you are interested in being put on the email list to be updated on dinner dates and menus, call 219-989-3244.