Vacations can be expensive and the activities add up quickly. If you are living on a budget, like me, sometimes you have to get creative to find things to do. Luckily, Fort Wayne offers a number of fun, free activities.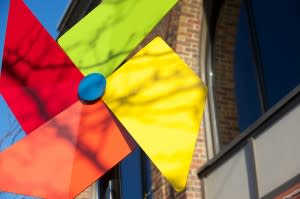 IPFW Pinwheel by Kiel bike rack
One of the recent additions to the downtown Fort Wayne landscape provides entertainment for the afternoon. Check out some of the 50 Indiana University - Purdue University (IPFW) Sculptures with Purpose. These unique bike racks and artistic sculptures are plopped all around downtown. Come into the Visitor's Center and pick up a map, then hit the streets. Bring your bike for a quicker way to get from rack to rack.
Walking tours can be another great way to check out downtown. Take the Historic Walking Tour for a full background of some of Fort Wayne's oldest landmarks, or follow the Downtown Walking Tour to see some of our city's most popular destinations. And if history is your thing, swing by the Old Fort to explore on your own, or go at special times to see live reenactments. The History Center in downtown Fort Wayne also offers free admissions Saturdays from 9:00 a.m. - 1:00 p.m. during the Barr Street Farmers Market next door.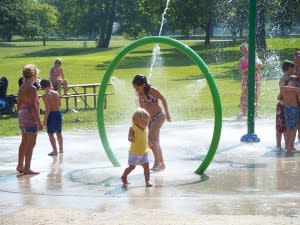 Splash Pad at Shoaff Park
To see a totally different view of our city, check out some of out 80+ miles of trails. Walk, run, or bike along the trails and discover all the hidden gems; take a route to a splash pad to beat the heat, explore the gardens at Lakeside or Foster, or find the Japanese Garden at Swinney.
If all that activity isn't your speed, no worries. Take a seat and relax at some of our free summer concerts or our free summer family movies.
Check out all the great activities you can do for free in Fort Wayne at Visit Fort Wayne. There is a little something for everyone, so start planning your trip and get excited to relax and enjoy!Another great way to spend the day is bringing out your inner art critic. Stop by the Fort Wayne Museum of Art during their free admission time, Thursdays 5:00 - 8:00 p.m. Before heading over there, you can browse through some of our 20+ art galleries around town.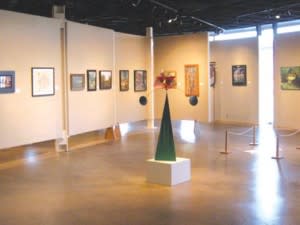 Artlink Gallery
Check out the full list of free events at Visit Fort Wayne. Pick your favorites and start planning your family's budget friendly getaway!