It's no secret that Indiana's farmers grow food that feeds the world. The best part about having access to those fresh ingredients is the delightful cuisine that results from it. A growing number of Fort Wayne restaurants have taken farm fresh ingredients from the area and turned them into culinary gold. During your next visit to Indiana's second largest city, consider adding one of these great establishments to your itinerary.
Junk Ditch Brewing Company
Head to the west side of downtown Fort Wayne to enjoy Junk Ditch Brewing Company. Named for the ditch that runs behind the building, Junk Ditch owners took the former Korte Paper Factory Warehouse and transformed it into a microbrewery that is anything but ordinary.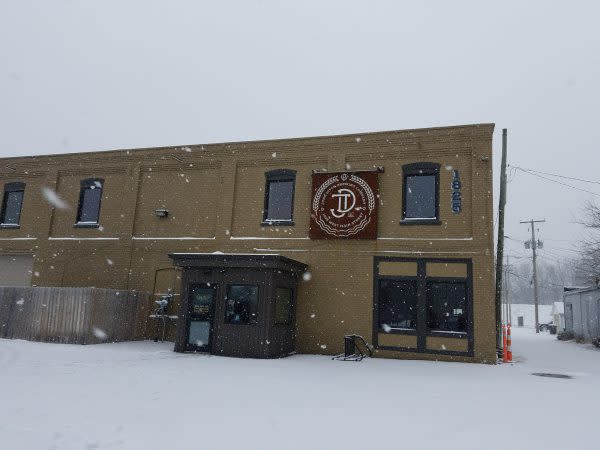 The interior has been stripped back to expose beams and bricks, adding to the warmth and sophistication of the restaurant. They've done an extraordinary job of restoring the building and creating a cozy place for dining or enjoying drinks with friends. There's also a patio off the back for sipping drinks outside during the warmer months.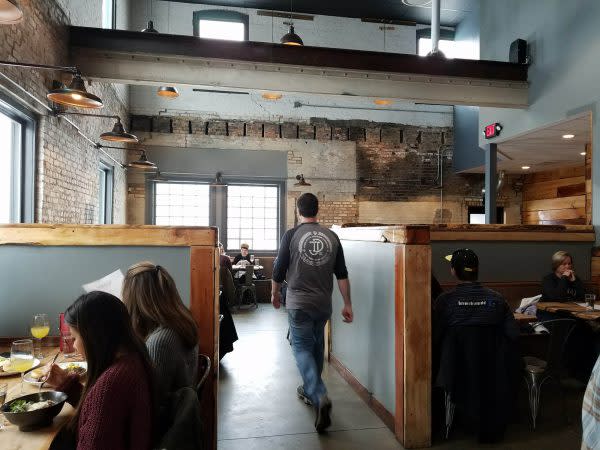 I was fortunate to make my recent visit during their Saturday Brunch. Brunch is served on Saturdays and Sundays and the menu is filled with an intoxicating selection of farm-to-table options that included inventive poutines, braised short rib hash, chicken and waffles and the shrimp and grits - which I selected after a glowing review from the diner to my left. Junk Ditch prides itself on a philosophy of "everything from scratch"  using fresh ingredients from area sources.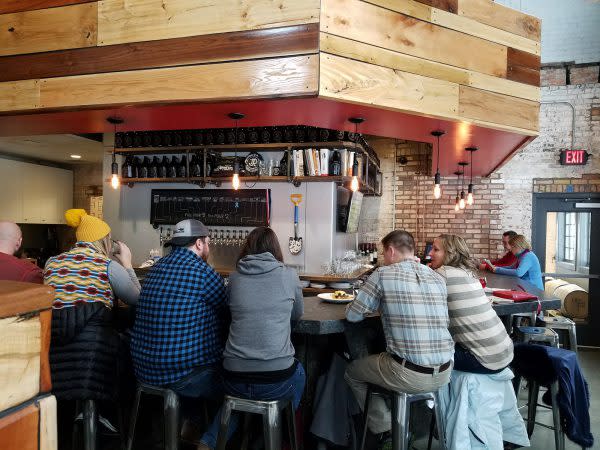 I enjoyed a house made ginger hibiscus kombucha while waiting for my entree. The combination of flavors was perfect after a night of a drinking. They'll also make it into a mimosa - it doesn't get much better than that! Junk Ditch offers a full selection of craft brews including IPA's, lagers, stouts, cream ales and porters. I'm a huge fan of their cream ale, Andy Pants, and it's my regular drink of choice.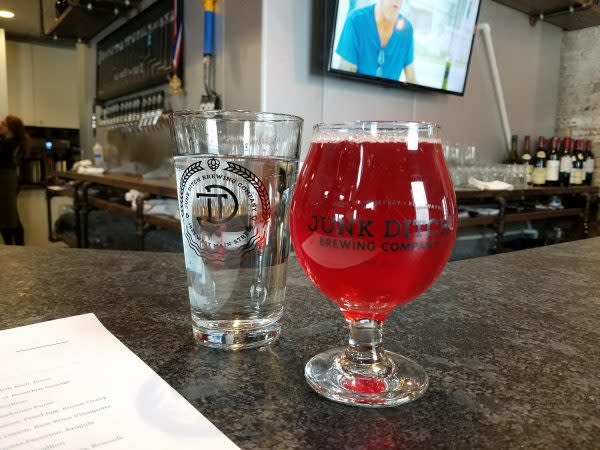 So, the best part of the brunch was this plate of awesomeness, the shrimp and grits topped with a fried over-easy egg. The grits were creamy and paired nicely with the gravy and the crunchiness of the shrimp. The egg yolk oozing through the dish took it to another level - this combination of farm fresh ingredients were over-the-top delicious.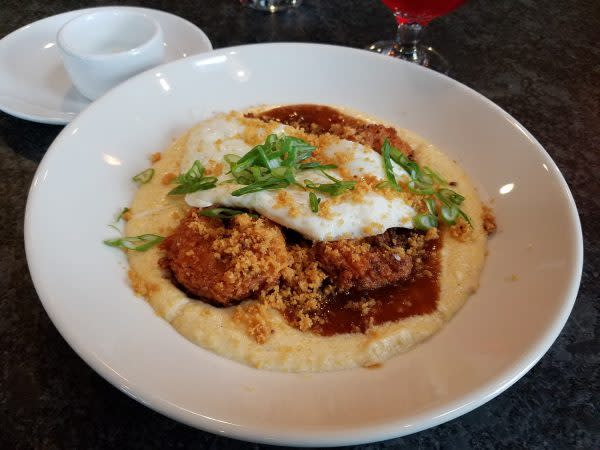 From the atmosphere to its selection of brews and inventive menu, Junk Ditch should be on your short list for places to dine in Fort Wayne. I'll save you a seat at the bar.
Junk Ditch Brewing Company, 1825 West Main Street, Fort Wayne , (260) 203-4045
---
Tolon
Since its opening in 2016, Tolon has been wowing diners with their "Midwest Modern" menu featuring locally sourced meats and produce. Owners Matthew and Nicky Nolot have created a winning combination of inventive entrees with a lively atmosphere that is popular with locals and visitors alike.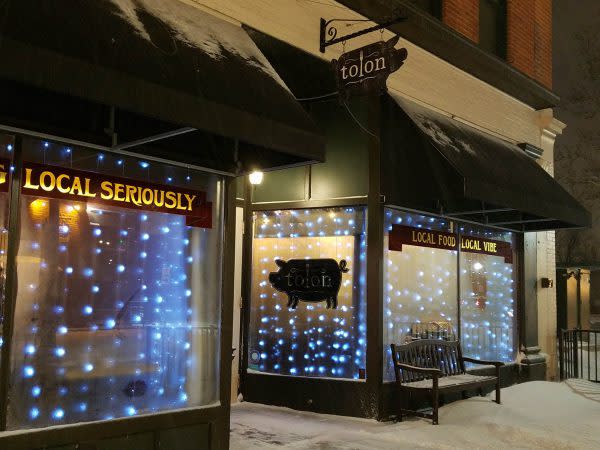 Even on a snowy winter evening, Tolon was bustling with activity. I headed there early and was lucky to grab a seat at the bar before the evening crowds arrived. I would recommend making reservations for a typical weekend to avoid disappointment.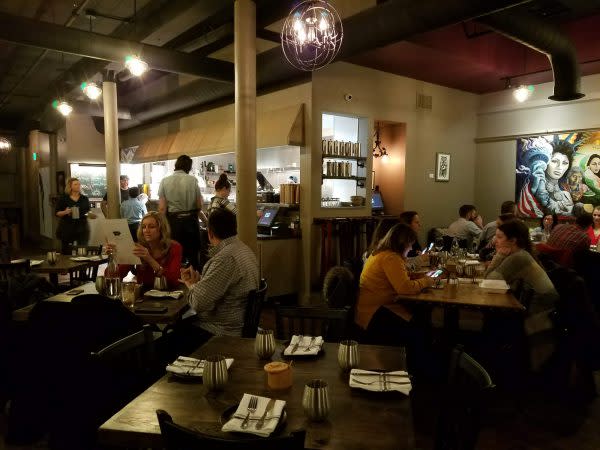 The items on Tolon's menu are larger, meaning they are meant to be shared. Just one glance at the menu and you'll want to enlist others at the table to order as many items as possible so that you can explore the many flavors presented. The menu changes seasonally using the freshest ingredients but while the items shift, their mainstays include steak, salmon, scallops and pork chop entrees. They are proud of their relationships with area purveyors and a list of farms that they partner with is located on the back of the menu.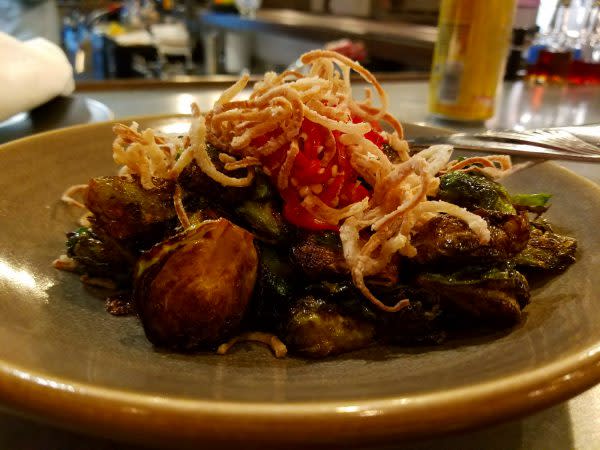 On this visit, I started with the crispy Brussels sprouts. There were definitely enough for several people to share. The Brussels sprouts were bursting with flavor as they were blackened to perfection and mixed with peppers and topped with home made onion straws. I had to restrain myself from eating too many so that I could save room for my entree.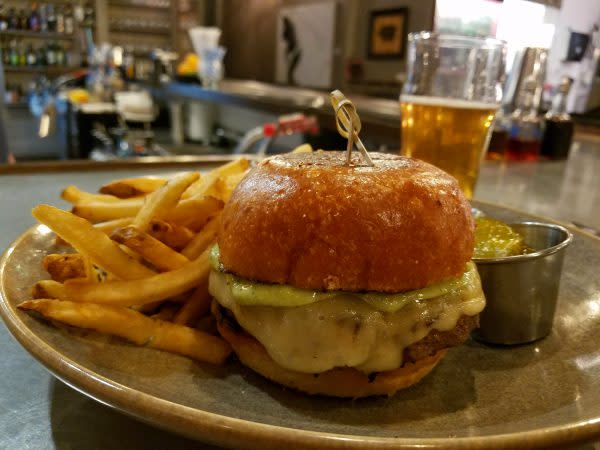 After a raving recommendation from my server, I selected the Bacon Cheeseburger for my dinner. I would rate this burger in my top 5 fave burgers of all time. The patty was cooked to medium perfection and was thick and juicy and dripping with butterkase cheese. The basil mayo gave it a burst of freshness but the real winning component was the bacon jam that added a killer smoky flavor that had me savoring every bite. They serve it with bread and butter pickles that gave the sandwich just a smidge of sweetness. The burger was large and satifyingly filling so I wasn't able to finish it - even though I tried.
For my first visit, I have to say that I was extremely impressed with my experience. The menu was filled with inventive, yet approachable dishes and the overall quality and flavors of the food were exquisite. This is by far a MUST-DO Fort Wayne stop.
Tolon Restaurant,  614 South Harrison St., Fort Wayne (260) 399-5128
---
Information to help plan your visit:
Agritourism Destinations list at Visit Indiana. 
Attractions and things to do in the East Region