Searching for a way to take advantage of the great weather we've been having this summer? There is no better way than to spend it outside, taking in the scenes of the season. With over 80 miles of trails, Fort Wayne is a great place to do just that. With such an extensive trail and park system, there are a lot of options to choose from in Indiana's second largest city.
If the summer heat is getting to you, take the Shoaff trail to the splash park there. You can bring your bikes if you like, or just take a leisurely stroll. The loop is only 2 miles long and a fairly easy walk. There are also basketball and tennis courts, and an open area for other sports.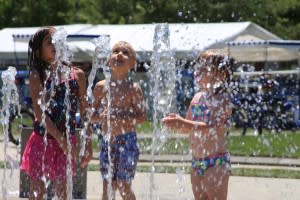 For a bit of a longer route, take the Coliseum Blvd. Trail Spur to Taylor's Dream Playground at Keager Park. Not only is Kreager home to one of the best splash pad areas in the city, but it is also the location of a boundless playground, which allows children of all abilities to play together. Take a backpack of picnic food along with you and make an afternoon of it!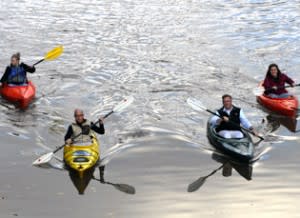 Another unique trail route involves a unique view of the city. Hit up Fort Wayne Outfitters and Bike Depot to set up a Paddle and Pedal tour of the river and River Greenway. Visitors can rent kayaks, canoes, or stand-up paddle boards or are welcome to bring their own. The team from Fort Wayne Outfitters will drop you off at the beautiful Foster Park, and you can follow the natural flow of the river back to the depot. This is an extremely peaceful and scenic ride and is safe for people with all levels of experience.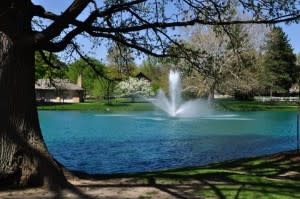 If you are looking for something even a little more low-key, just check out all our city's parks and pick one to take a stroll around. Foster and Lakeside are home to beautiful gardens. They are great parks for walking and are quite peaceful and serene. Swinney Park has Frisbee golf and a few hidden gems, like its Japanese Garden. The river views from the 24 miles of the River Greenway are breathtaking. Take a walk through the city's largest park, Franke Park, which has over 300 acres of wooded land, a pond, and a few fields perfect for picnics or romping around. And to celebrate Fort Wayne's 23 consecutive Tree City USA award, check out our states native tee species at Indiana University - Purdue University's (IPFW) Native Trees River Walk.
Whatever kind of trail experience you are looking for, chances are Fort Wayne's got something to fit the bill. Come down and check it out for yourself, and don't worry about what else to do in town. Visit Fort Wayne makes planning easy. Start building your itinerary today!