Three NCAA National Champion IU Hoosier teams have called Simon Skjodt Assembly Hall home. Over the decades, millions of fans have attended countless unforgettable games at this timeless arena. It's also important to remember that Bloomington is not only known for Indiana University, but additionally a diverse culture and incredible outdoor adventures.  This is your complete guide to gameday at Simon Skjodt Assembly Hall.
The Arena
Simon Skjodt Assembly Hall - Bloomington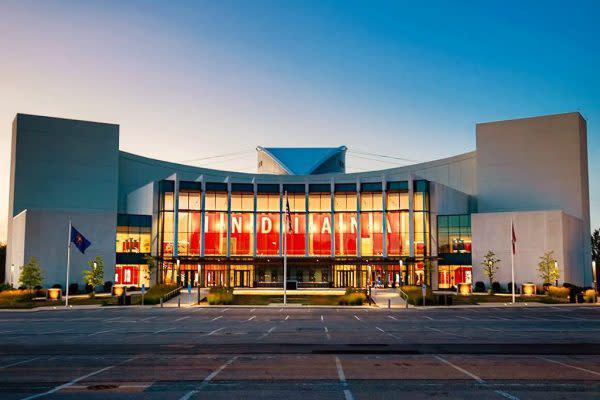 Photo by @kurtlclark on Instagram.
History:
Simon Skjodt Assembly Hall is a 17,222-seat arena located on the campus of Indiana University. It opened in 1971 to replace the Gladstein Fieldhouse at the home of the basketball team, with the arena's court named the "Branch McCracken Court." Three NCAA National Championship teams have called the arena home - 1976, 1981, 1987. Assembly Hall is well known for being one of the loudest arenas in college basketball because of the design of its steep sides. It was ranked 3rd by ESPN as having the best home-court advantage in the country. Gus Johnson lovingly calls Assembly Hall '"the Carnegie Hall of College Basketball."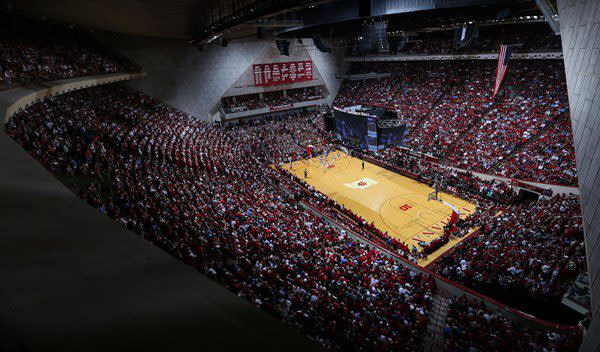 Prominent Events Hosted: 
The arena has, of course, played host to a number of historic basketball games. One of the most iconic moments came in December 2011 when No. 1 Kentucky came to Bloomington. Christian Watford hit a game-winning 3-point shot against the Wildcats, signifying that IU basketball was "back". Of course, who can forget Bob Knight throwing a chair across the floor in 1985 vs. Purdue? A number of concerts have been held at Assembly Hall, including for Elvis Presley, Bob Dylan, The Jackson Five, and The Temptations, among others. Bill Gates and Barack Obama have both spoken at Assembly Hall. It also was a host of the 2021 NCAA Tournament that took place entirely in Indiana.
Nearby Attractions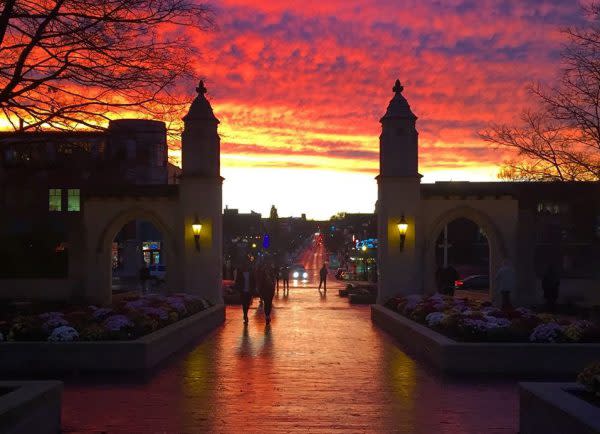 Indiana University Sample Gates
This amazing university brings in over 40,000 students each year, nearly doubling the city's population. That provides an endless supply of energy and vitality to the community, with new ideas and fresh dreams. The beauty of the campus is breathtaking, often cited as one of the most beautiful in the country. The dense woods on campus mimic the nature preserves surrounding the city. The limestone buildings on campus and the stone outcroppings throughout the region provide a connection to the local history and industry. Find your inspiration, be it ancient art, great architecture, or thrilling athletics, on the IU campus.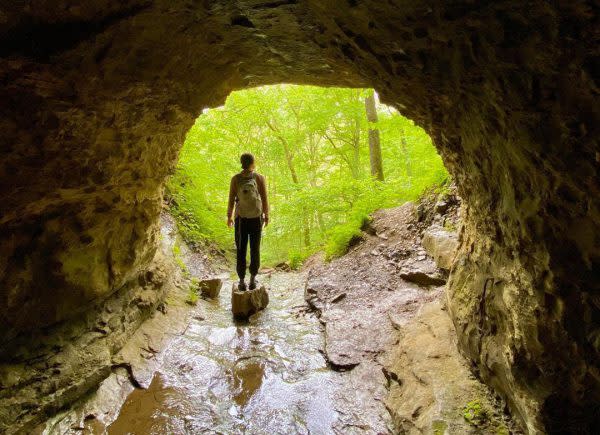 Charles C. Deam Wilderness. Photo by @kayla_holst on Instagram.
Incredible nature is the name of the game in Bloomington. Lake Monroe is one of the best in Indiana, giving you plenty of room to find a quiet fishing cove or to make tons of waves. There's tons of non-water outdoor recreation too. Tackle five miles of rolling single-track trails at Wapehani Mountain Bike Park. Leonard Springs Nature Preserve has caves, steep forested slopes, and a wetlands area, great for bird watching.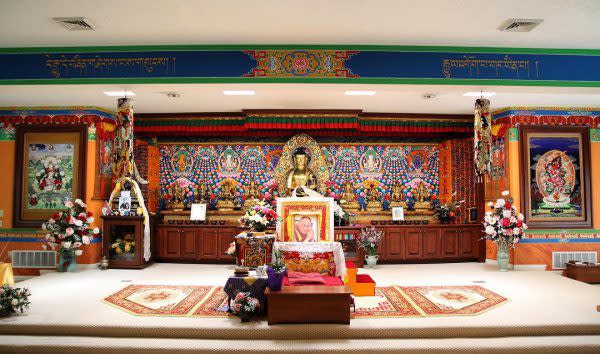 Photo courtesy of Visit Bloomington.
Dedicated to the people of Tibet, this Cultural Center, located just south of town, offers a relaxing and peaceful setting for meditation and reflection. The Tibetan Chortens here are the only ones in the nation. The TMBCC was established by Indiana University Professor Emeritus Thubten J. Norbu in 1979 to acquaint people with the history and culture of Tibet and to support Tibetans everywhere. Throughout the year, it provides a place for workshops, teachings, seminars, initiations, retreats, and ceremonies relating to the Tibetan and Mongolian cultures. Highlights include the Kumbum Chamtse Ling Temple, butter sculptures, a permanent sand mandala, and many other works of art.
Nearby Restaurants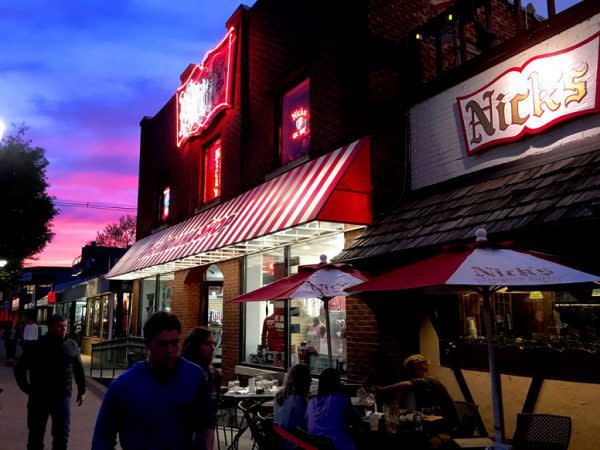 One of the most iconic restaurants in Bloomington is Nick's English Hut. Located on Kirkwood Avenue, Nick's offers delicious pub-style food in a school spirit environment. The walls are covered with Indiana University history, so there is something new to learn every time you visit. Although you can't go wrong with any choice on the menu, we highly recommend the Bizz Fries. Are you looking for a fun way to spend the evening? Ask your waiter how you can play "Sink the Bizz" during dinner!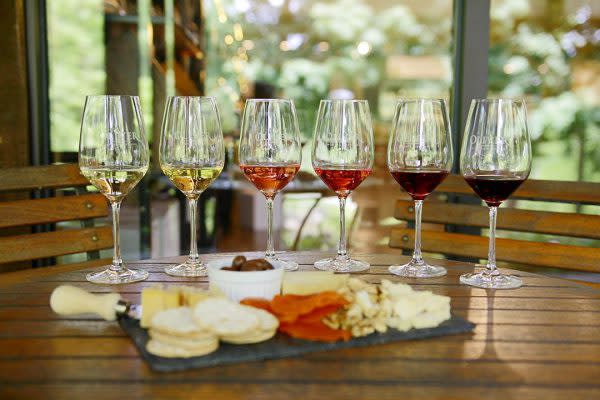 See More Bloomington Restaurants
Historic Hotel
Grant Street Inn is Bloomington's signature boutique hotel, providing a restful and retreat-style backdrop. The property dates back to 1883, when the Ziegler House was built by Dean of the Indiana University School of Law. A century of history followed before Grant Street Inn opened successfully in 1991. There are now 40 luxurious rooms inspired by the building's history but tailored to modern-day comfort. Rooms range in style from victorian-chic to modern, old-world elegance. Find your favorite and keep coming back again and again! Book your stay at the Grant Street Inn.
Indiana is a place with a high quality of life with great restaurants, outdoor activities, surrounded by a thriving community and business environment. Hoosiers represent all walks of life, experiences, interests, and geographical locations. As Hoosiers, we know we have an incredible story to tell.