The general store, the country store, the dime store, the soda fountain. Where have these old-fashioned shops gone? Across Indiana, you can still find them serving their small communities. Take a step back in time at these 12 Indiana general stores that come with a history lesson.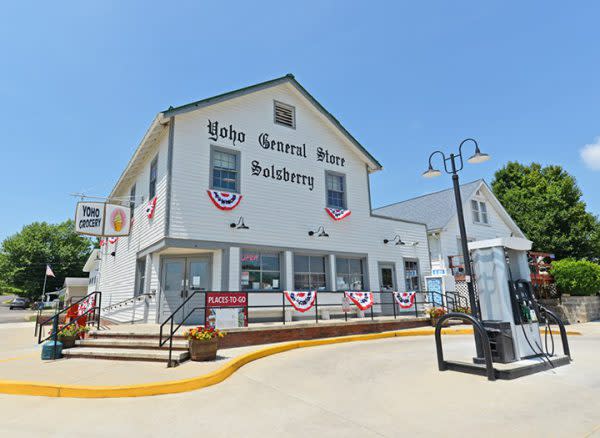 Yoho General Store in Solsberry
Yoho General Store, Solsberry See On Map >
Open since the 1930s, the general store has everything you're looking for in an old style general store. It offers a dining area serving deli-styled breakfast, lunch, and dinner, including locally famous hand-scooped ice cream. Other goods, such as produce and necessity items are available, as well as 24/7 gasoline, making Yoho General Store an ideal one-stop location!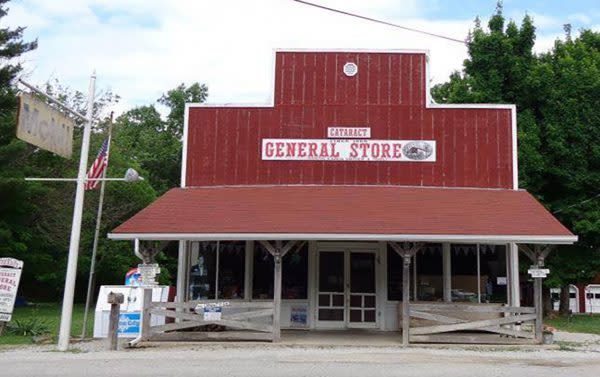 Cataract General Store
Cataract General Store, Spencer See on Map >
Perhaps the state's oldest general store, Cataract General Store was opened in 1860! Famous for pickles, moon pies and glass bottles of Coca-Cola, this general store is also nearby Cataract Falls, Indiana's largest waterfall, which was voted Indiana's best waterfall by VisitIndiana.com readers. Click here to see Indiana's top 10 waterfalls.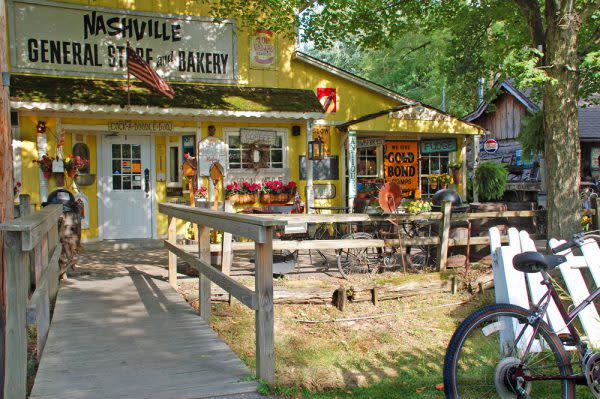 Nashville General Store & Bakery
Nashville General Store & Bakery, Nashville See on Map >
It is hard to miss the aroma of fresh baked breads and desserts as you walk in through the old screen door at the Nashville General Store and Bakery! Browse around or dig in to breakfast, lunch, or a tasty snack! There also are country and primitive decor items, an extensive selection of canned goods, local honey and syrups, and many other home and kitchen items worth checking out! Nashville is an incredible shopping destination. Read more about shopping in this beautiful small town.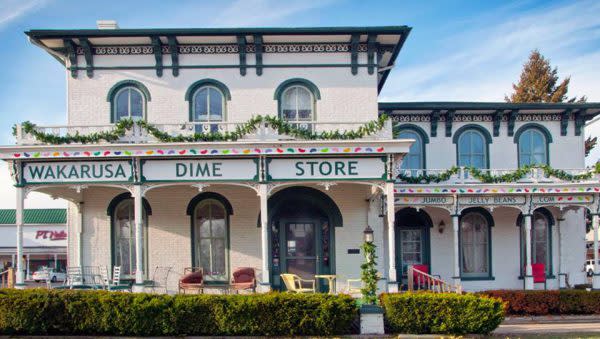 Wakarusa Dime Store
Wakarusa Dime Store, Wakarusa See on Map >
Where can you find the "World's Largest Jelly Beans"? The Wakarusa Dime Store! This 100+ year-old candy shop is a little overwhelming, but totally worth it if you have a sweet tooth. In addition to their huge selection of jelly beans, the store sells a wide variety of other candies, including some nostalgic and hard-to-find favorites. Read more about the shop here.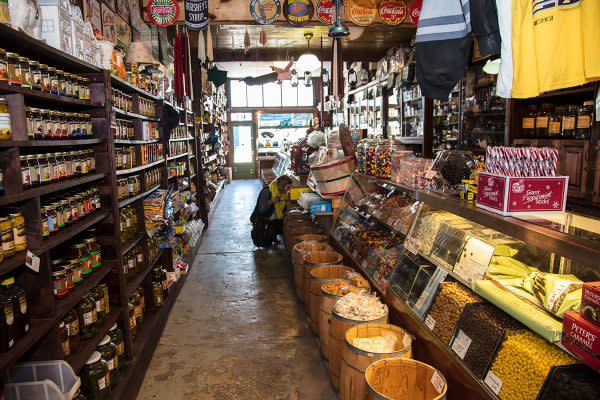 Farmland General Store
Farmland General Store, Farmland See on Map >
This general store deals in mostly candy, and it sits right on main street in a little town you'll fall in love with! Farmland General Store, also known as "Candy and Stuff", sells old-fashioned candy (think rock candy, taffy, licorice, jelly beans, etc.) and 42 difference flavors of coffee! Farmland is also home to an iconic diner, The Chocolate Moose. Learn more about this great little Randolph County town.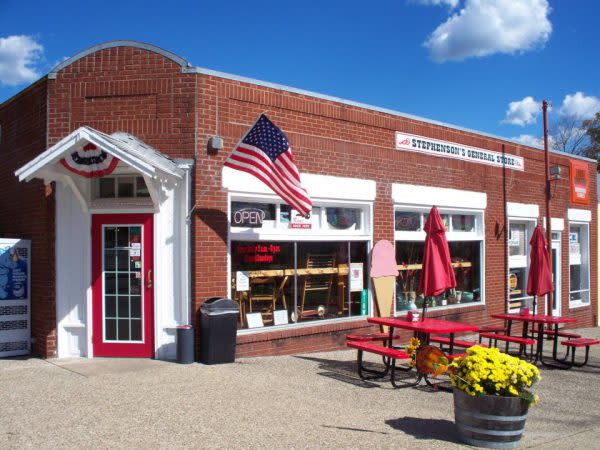 Stephenson's General Store
Stephenson's General Store, Leavenworth See on Map >
Another shop with 100+ years of service to its community, Stephenson's General Store is a true general store, selling a variety of things from gifts to grocery items to candy to a deli! Located in Leavenworth, it is just off the Ohio River Scenic Byway and close to some of Indiana's most epic views of the Ohio River!
Sullivan's Grocery and Diner
Sullivan's Grocery & Diner, Hazleton See on Map >
Located on State Route 65 in tiny Hazleton, this little store take a diversion off your standard route to make a stop, but it is worth it. Serving delicious tenderloins and fish sandwiches, locals can't get enough. Sullivan's Grocery & Diner is just a short drive away from Azalea Path Arboretum & Botanical Gardens, an incredibly beautiful and relaxing visit.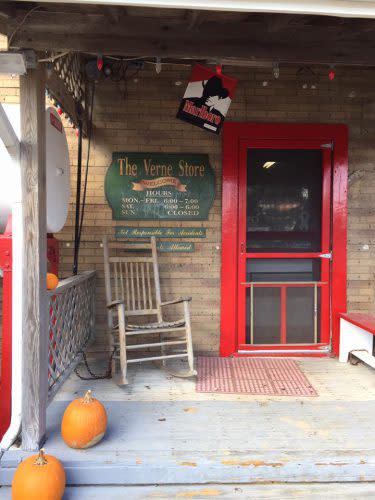 The Verne Store
The Verne Store, Verne See on Map >
Located on State Road 61 just east of Vincennes, the small town of Verne is home to a great little shop called The Verne Store. Stop for breakfast and a tank of gas and you might learn about some local history. Learn about things to do in nearby Vincennes.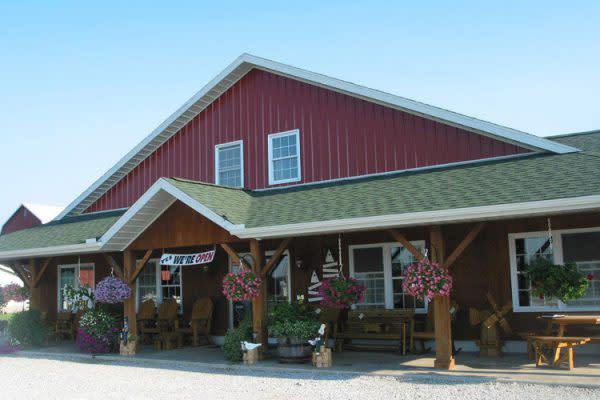 Dutch Country Market
Dutch Country Market, Middlebury See on Map >
Prepare to be captivated by the old-fashioned foods made by the Lehman family, mom and pop and all six kids, offered at this welcoming country store next to their rural home. Katie Lehman's noodles and peanut butter spread are renowned in Amish Country. There's no doubt these noodles are fresh – visitors are invited to watch Katie rolling out the dough. An observation window also provides an up-close view into the hive of the hard-working bees that Katie's husband, Norman, has tended for two decades. You can take home jars of local unpasturized honey, 9 flavors of whipped honey made on site, plus bee pollen, soaps and lotions.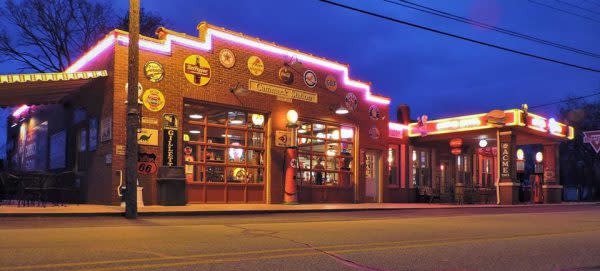 Cammack Station
Cammack Station, Cammack See on Map >
This abandoned 1950's grocery and filling station was purchased in 2007 and converted into one of East Central Indiana's best diners. Come for the nostalgia and be prepared to come back (again and again) for the food! While it no longer serves as a true general store, the feel remains, and locals can't get enough.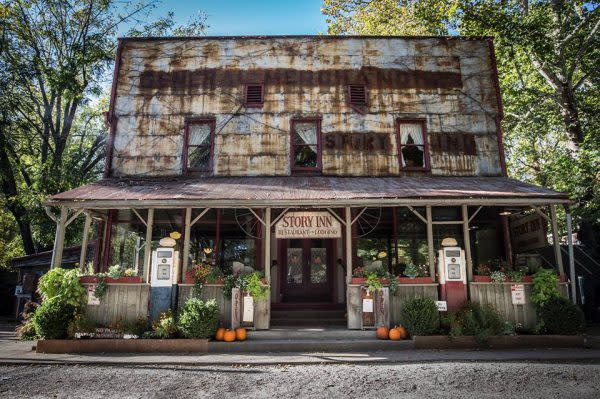 Story Inn
Story Inn, Story See on Map >
Much like Cammack Station, Story Inn is no longer a working general store, but it is an incredible restaurant and also a Bed & Breakfast. The Story Inn is Indiana's oldest country inn, featuring fourteen beautifully renovated rooms and cottages, a gourmet restaurant housed in the former general store, and a resident ghost named the "Blue Lady". A visit to the Story Inn is like taking a step back in time! Located very close to Nashville in Brown County, perhaps visit the Nashville General Store during a day of shopping and spend the night at Story Inn!
Looking for more fun things to do in Indiana? There is always something new on the Indiana Insider Blog, and make sure you subscribe to our monthly emails for Festivals, Events, Things to Do and Discounts around the Hoosier State each month. Visit here to subscribe.