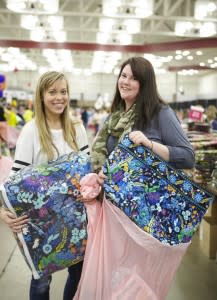 It had scared the wits out of me for years. The Vera Bradley Outlet Sale has been held in the Allen County War Memorial Coliseum in Fort Wayne for more than a decade. The 2016 Vera Bradley Annual Sale will take place April 13 - 17.
Fort Wayne is the hometown of Vera Bradley founders Barbara Bradley Baekgaard and Patricia R. Miller (Vera was Barbara's mother).
Vera Bradley bags, usually made of fabric, are colorful, lovely and durable. The annual outlet sale attracts thousands of shoppers looking for deals of up to 60% off retail prices on handbags, backpacks, luggage, coin purses, and other types of totes.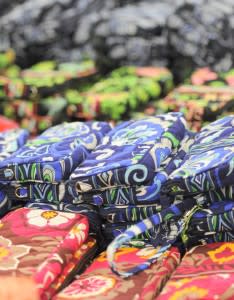 For many years I opted not to attend the outlet sale, fearing hordes of frenzied shoppers. Last year, a friend convinced me to attend with her and we had a fun experience.
We arrived at the Coliseum prior to opening on the first free day of the sale.
Note: During the first three days of the sale when selections are greatest, shoppers pay an admittance fee of $5.00. On Saturday and Sunday there is no cost to attend.
As my friend and I walked past hundreds of women already standing in line, I dreaded the long wait to get inside once the sale started. But once the doors to the expo center opened, we were inside within minutes.
To my surprise and immense relief the Vera Bradley Outlet Sale was well organized. Aisles were wide apart and items arranged neatly in stacks. Clearly marked prices were posted above each table. Customers shopped companionably rather than step on each other to grab a particular handbag.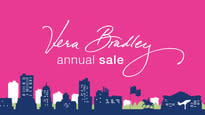 Employees stood on sidelines, eager to answer questions for shoppers such as where to find check-out lines. Some employees even were stationed outside of the restrooms, watching collections of as-yet-unpaid-for items for customers. They think of everything at this sale!
Due to the popularity of the items, sale organizers have assigned a monetary spending limit per person -- $3,500.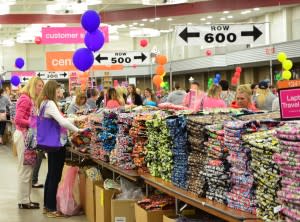 While I don't plan to spend that much money, there are other rules to observe.
Everyone who makes a purchase at the sale must pre-register. You can pre-register at the sale's website. If you forget to register, you can do so at the sale with a required photo ID.
The sale accepts most major credit cards but no personal checks.
Shuttles are available to transport shoppers who want the full experience to the Vera Bradley store located in Jefferson Point Shopping Mall, 4130 W Jefferson Blvd, 260.459.1160.
Check out the sale's website for other details such as hours. The first three days have certain periods when the sale is closed for restocking shelves.
The Vera Bradley Outlet Sale can be a great opportunity for a girlfriend getaway. Go to Visit Fort Wayne to find hotel packages and restaurants within the area. Then, wear comfortable shoes and plan for a productive shopping event!
The End