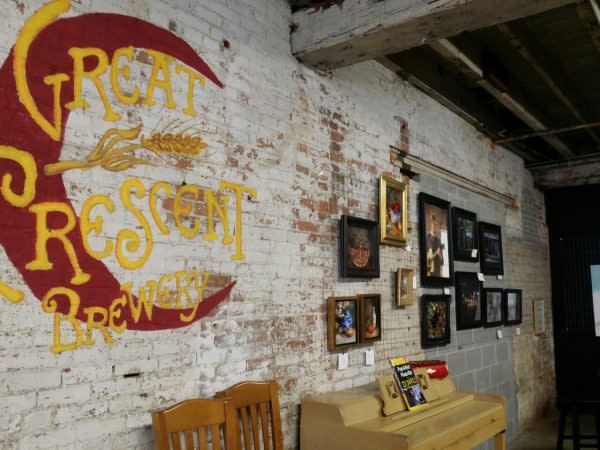 Inside the Tap Room
For a while now, I've wanted to visit Great Crescent Brewery in Aurora. Not just for the artisan crafted beer but to try their food - all housemade including the Canadian bacon & corned beef! I called my trusty sidekick, Martha. Even though she's a diehard wine lover, she promised to taste some hand-crafted beer and I promised to buy her lunch. On Saturday, we headed up river along the Ohio Scenic River Byway to Aurora for what turned out to be a great day: the beer was great, the food was delish and we learned a bit about Aurora's brewing history.
Great Crescent is open on Fridays and Saturdays from noon to 10pm. The atmosphere is comfortable and casual, the decor is kind of industrial meets deco. There is plenty of seating, a huge antique bar and a designated family area so you can bring the kids. We decided to go right to the bar where we stayed for a couple of hours –tasting, eating and talking.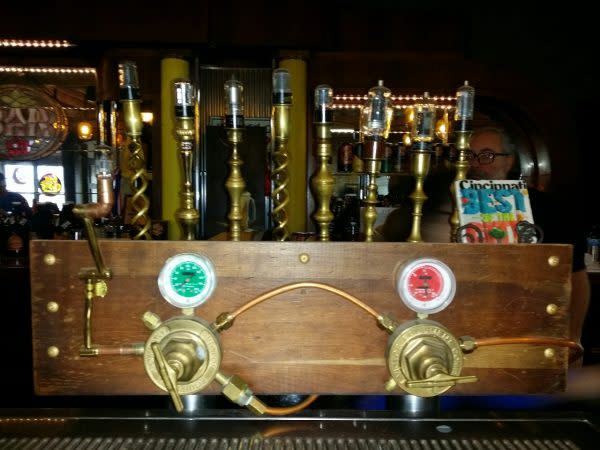 Pour me another!
I know, you're thinking "get to the beer already"! Ok, Great Crescent doesn't offer flights for tasting but they do offer free one ounce tastings which was perfect for me. They hand-craft 20-25 different beers during the year so check out the draft list to see what's on tap. They also make their own sodas: the Cream Soda was Cincinnati's Best of the City in 2014. We tried the Cream Soda, Lime Shandy, Harmonie Dark Lager, Coconut Porter and Bourbon Barrel Stout. Yes, they also have a selection of IPAs that rotate on the draft list. The Cream Soda is yummy & sweet and the Lime Shandy would be my "go to" on hot summer days though it's popular year round. Martha was a fan of the Bourbon Barrel Stout and the Coconut Porter - for me, both would be excellent with Lani's homemade cupcakes! For every day, the Harmonie Dark Lager is my choice. It is a reproduction of Indiana's first beer, an 1816 dark lager made in (New) Harmonie. The ultimate compliment came from wine loving Martha who said, "I didn't know that I liked beer!"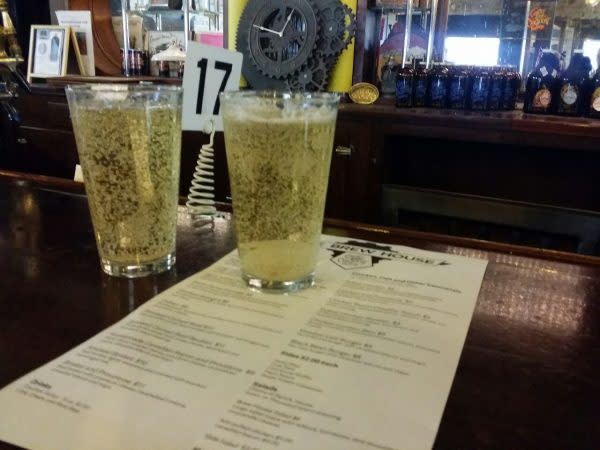 Award Winning Cream Soda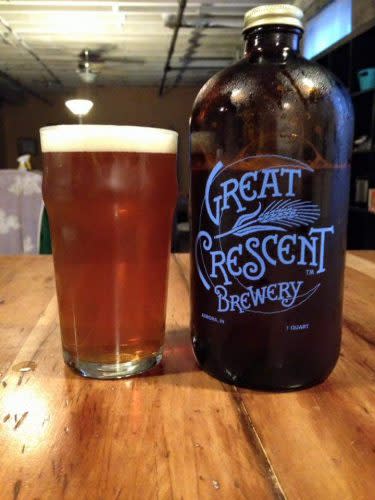 Enjoy Here and Take Home*
*photo provided by Great Crescent Brewery
It was hard to decide what to try for lunch - there are about 20 mouth watering sandwiches from which to choose. All the meats are smoked inhouse with bourbon barrel aged oak: brisket, corned beef, Canadian bacon, pulled chicken and more. Sandwiches are served on homemade buns (yummy) or pretzel buns with chips - sides are also available. I ordered the Cuban, a combo of smoked pork, Canadian bacon, mustard, pickle and provolone. Martha chose the Smoked Brisket which came with a variety of sauces. The sandwiches are piled high; the meats are juicy and delicious with just enough smoke to add great taste but not overpower the meat. If you can't eat them there, pick up cupcakes to take home - youâ'll be very happy you did.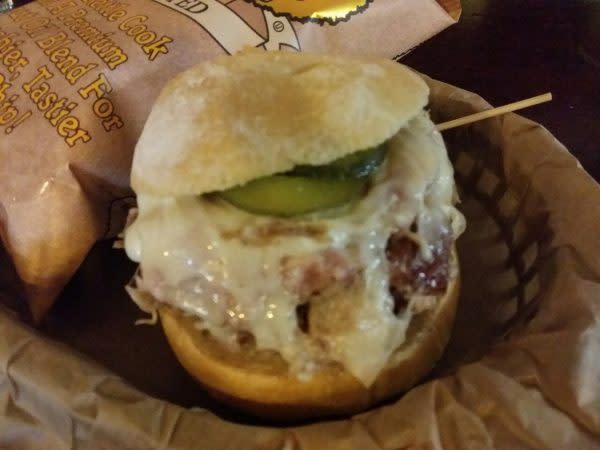 Delicious Cuban Sandwich!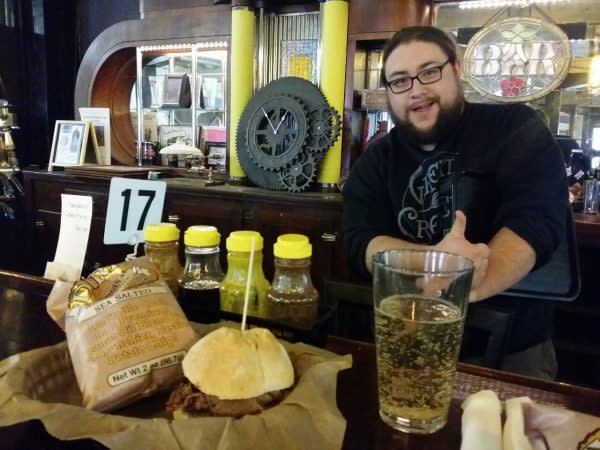 Thanks, Joe!
Great Crescent Brewery is family owned and operated by Indiana Artisans Dan and Lani Valas and son, Joe. This family is dedicated to providing quality handcrafted beer and food using locally sourced ingredients whenever possible. In 2008, they opened in a small location in downtown Aurora. As the business grew, they moved to an 1843 building at 315 Importing Street that was once the warehouse for the Thomas and JW Gaff Distillery - the former distillery is right across the street. The name Great Crescent is an homage to Aurora's Crescent Brewery Company founded in 1873 by Thomas Gaff. If you stop at Lesko Park on SR 56 and look across the street to the hillside, you can still see the arched stone entrances to the caverns where Gaff stored his products. Today, there is a not for profit organization, Crescent Brewery Park working to preserve the caverns and create a walking history park around the site.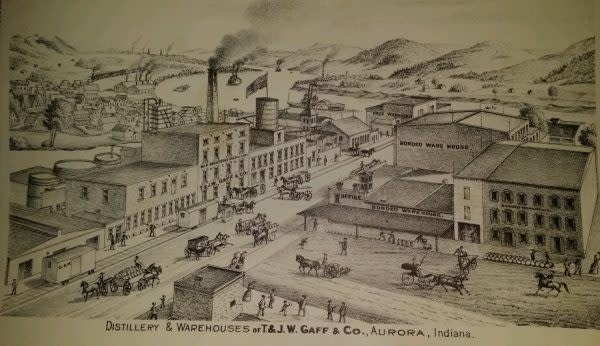 Aurora Historic Map
Great Crescent Brewery is not only a must stop for serious hand-crafted beer aficionados but also for novices wanting to find out what the craft beer buzz is all about. If you have a family member or friend that loves handcrafted beer and you're thinking it's not on your list of favorite things, try Great Crescent Brewery. I think you'll be surprised and maybe even become a convert.  
Great Crescent also does tours of their facility, call for info and to make arrangements.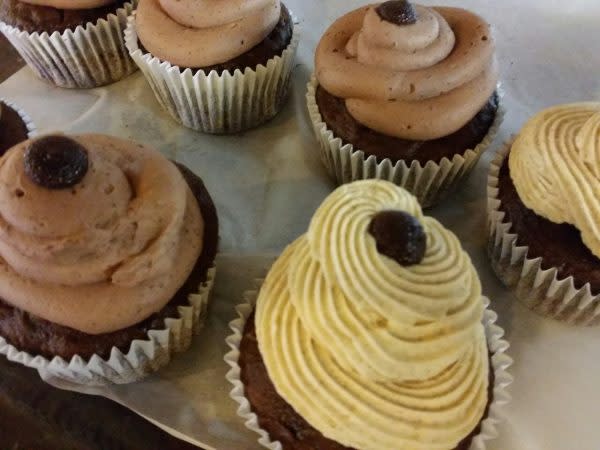 Take One Home!
If you're thinking about spending the weekend, get the info at Visit Southeast Indiana.
Find more Indiana Breweries and checkout The 10 Breweries and Pubs Behind Muncie's Craft Beer Renaissance.