Eating healthy? Splurging? Just 35 miles west of Indianapolis, local Greencastle restaurants offer something for everyone! These ten restaurants within a mile of each other give Greencastle a fresh "destination" vibe – with a turtle on top!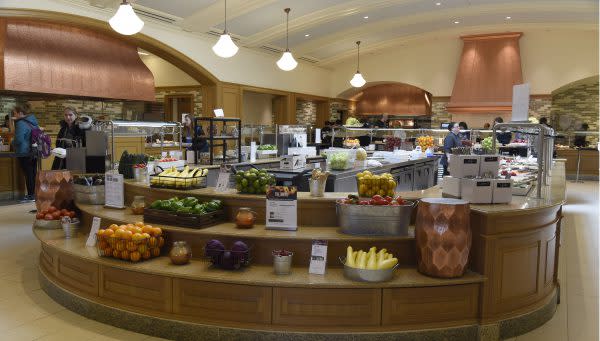 Hoover Dining Hall recently opened in the center of Greencastle's DePauw University campus, and is open to the public.
Eat your way through the day here – breakfast buffet or salad bar at Putnam Inn, ice cream at Dairy Castle, a garlic cheeseburger at Marvin's and a craft beer at Wasser. And you'll have money left for shopping at cute boutiques, Eitel's Florist or the DePauw University bookstore. 
Dining experiences for everyone
Wasser Brewing Company: craft beer, food and music
Owner Chris Weeks brews beer on-site, and typically has six of his beers on tap. His robust burger is served with a generous side of fresh greens tossed in a light house vinaigrette. With music on weekends, a growler club and growing menu, Wasser is a happening place. Open Tuesday – Sunday.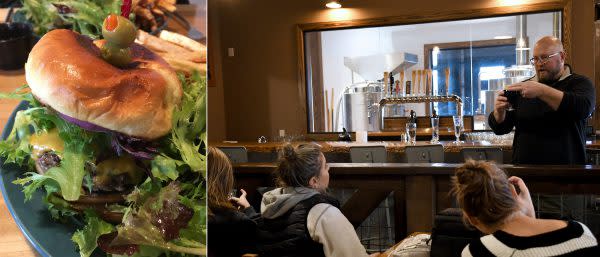 Weeks explains glasses and pouring beer to a group of DePauw University students touring the brewery.
Bridges Craft Pizza & Wine Bar: pizza, pasta and more
Along with pizzas and pasta dishes, the menu includes a flavorful cheese and charcuterie appetizer and an incredible quattro leches cake. Pasta, breads and desserts are made on-site. Rooftop dining is coming this summer. The main dining area opens to a music space for special events. Open for dinner, Tuesday – Sunday.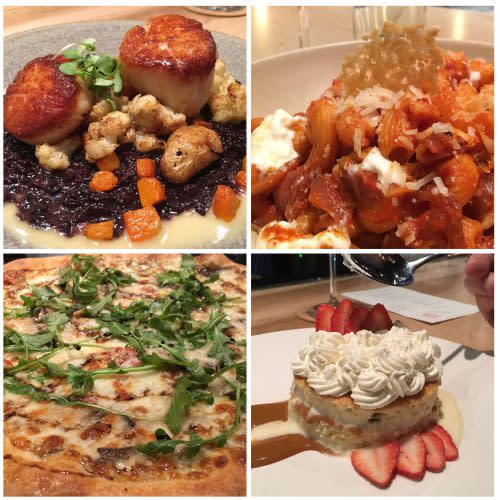 Taphouse 24: 24 beers on tap, appetizers, sandwiches, entrees
The changing tap list includes Indiana breweries like Taxman and Evil Czech along with Dogfish Head and Lexington Brewing Company. Open Tuesday – Sunday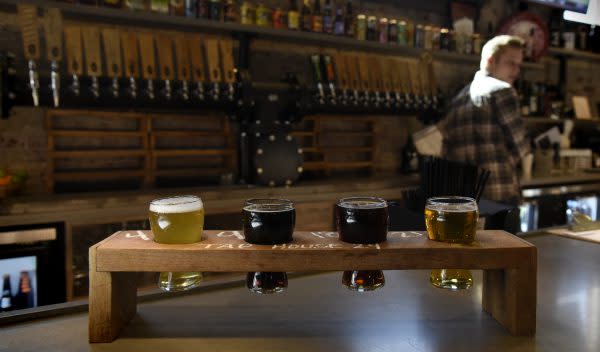 Flight of four beers on tap
Myers' Market: meats, sandwiches, local food products
"Fresh and friendly," says local resident Dave Hollis. Seasonal local honey from Flying Pigg Butterfly Farm, breads, candies, produce and other goodies add to the charm of grabbing sandwiches or dinner meats here. Employee Tony Mitchell says "I love having time to talk to people as they come in." Stop in for Thursday lunch "grill-outs" in the summer. Open Monday – Saturday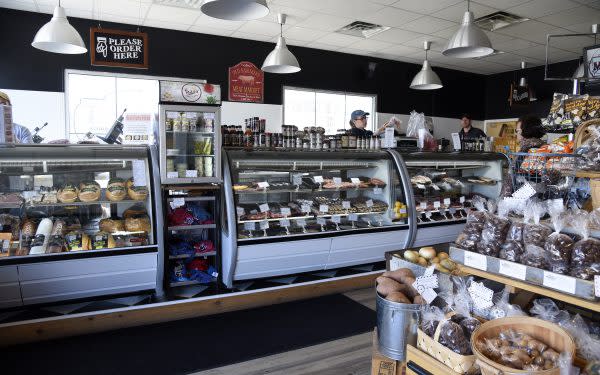 Hoover Dining Hall at DePauw University: buffet dining
General Manager John Hecko purchases local meats and produce from the campus farm as part of providing a daily dining experience for college students. Vegan, vegetarian and gluten-free options are always available. The food is fresh and the atmosphere is relaxing. This place is a hidden gem for Sunday brunch, dinner before a campus event, or a stop on the way to one of the local covered bridges. Open to the public 7 days (when school in session)
Marvin's: garlic cheeseburgers and more garlic
This late-night college student go-to features a famous garlic cheeseburger. Taylor Zartman calls mac bites, deep-fried mac-and-cheese, "the flavors from your childhood deep fried and made divine." Also try the Stromboli, wet burritos ("straightforward and always satisfying") and more. Open 7 days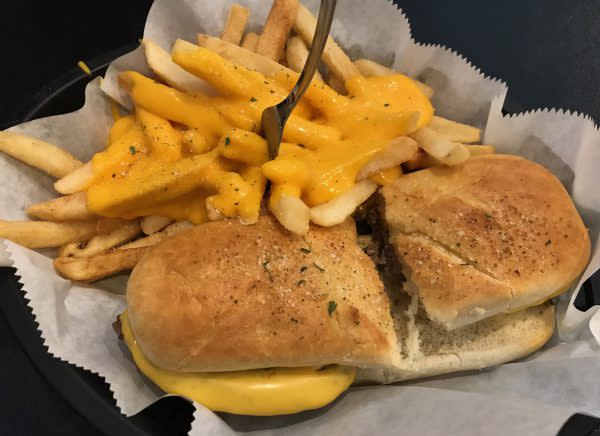 Garlic cheeseburger and Frank's fries - lots of garlic and cheese! @dputiger
Putnam Inn: buffet, full menu, catering
Warm, gooey homemade cinnamon rolls are on the buffet all day! Try the broasted chicken, themed buffet nights (March is Cajun) and weekend breakfast buffet. The catering services are outstanding, especially a pulled-pork menu. Open Tuesday – Sunday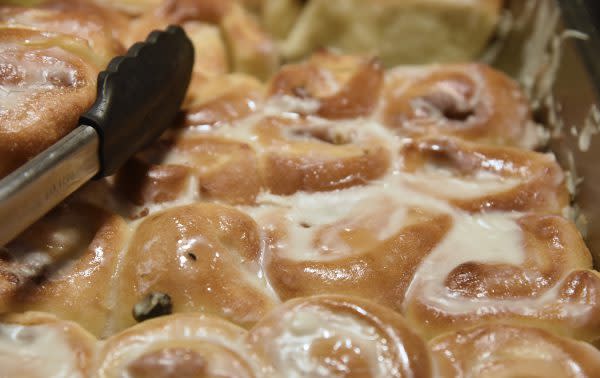 Moore's Bar & Grill: bar food
Try the locally-famous "Billy Burger" (you can't pick it up!) and the "hangover" tenderloin. Corn dogs, salads and burgers are also local favorites. Daily lunch specials. Open Monday – Saturday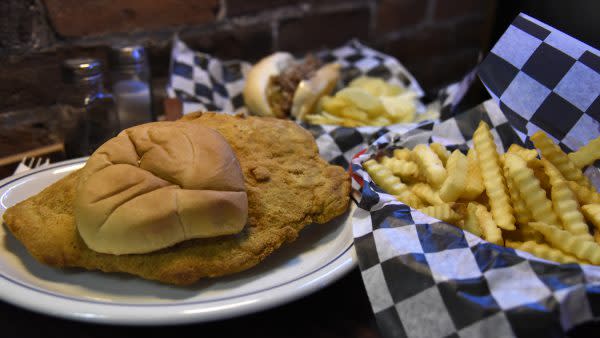 "Hangover" tenderloin
Charlie's Beefcake Burgers: casual dining
Single, double and triple never-frozen burgers are made to order, with lots of toppings choices. Fast and friendly. Putnam County Comprehensive Services teaches restaurant service skills to clients with disabilities here. Open Tuesday – Sunday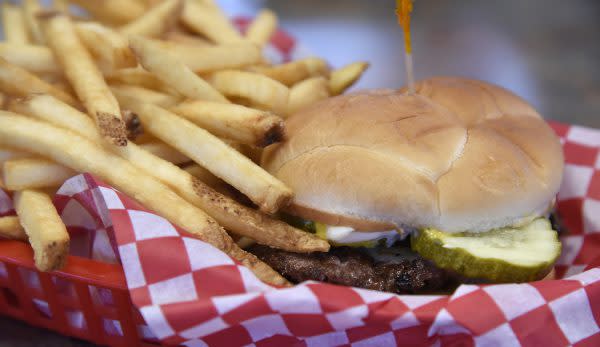 Double burger and fries
Dairy Castle: easy eats and treats
Try the shakes, turtle sundaes, hot fudge malts, hard ice cream, twist cones or chili cheese dogs. A "can't miss." Open Tuesday – Sunday (February – October)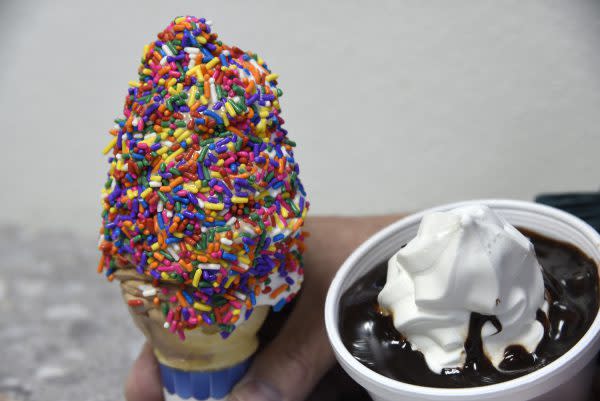 Twist cone with sprinkles and a hot fudge sundae
Finally, for a delightful sweet treat don't miss Completely Nuts and Candy!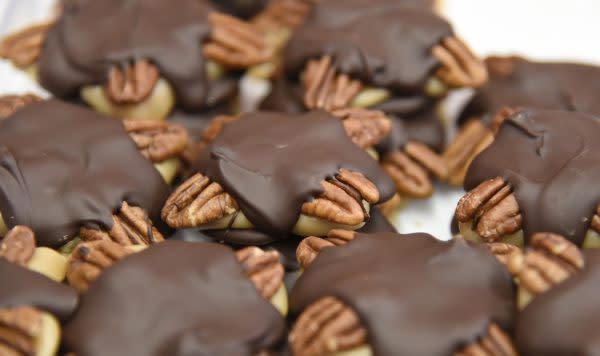 Dark chocolate turtles, made on-site