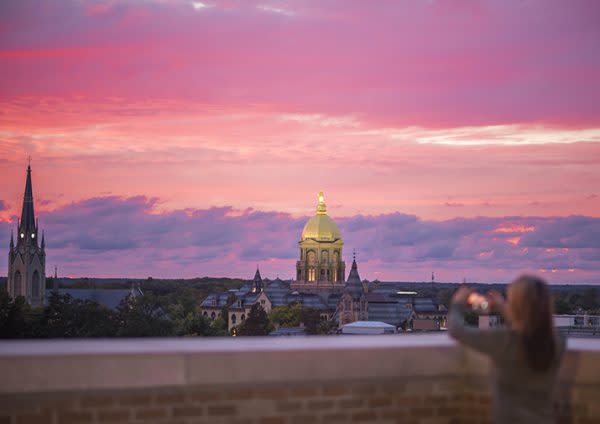 Indiana is home to approximately 60 colleges and universities with some of the world's most beautiful campuses. Indiana college towns are amazing places to visit. Some of the most notable include:
Indiana College Towns
Bloomington is the classic Hoosier college town. Nicknamed B-Town, it's home to Indiana University's main undergraduate campus, the Kelley School of Business, the Mauer School of Law and the Jacobs School of Music. Along with academics, IU is known for their Division I sports. Whether you visit the famous Simon-Skjodt Assembly Hall for a basketball game or Memorial Stadium for Big Ten football, you'll love seeing Hoosiers in their natural habitat in Bloomington.
If Bloomington isn't your vibe, it's probably because you're a Boilermaker at heart. Purdue University, IU's biggest rival, is located in West Lafayette. The university is known for its especially great STEM programs, which produced the first man on the moon, Neil Armstrong! Also a Big Ten school, you'll find great sports here as well. Mackey Arena hosts Purdue basketball, and Rose-Ade Stadium is where you'll catch Boilermakers football.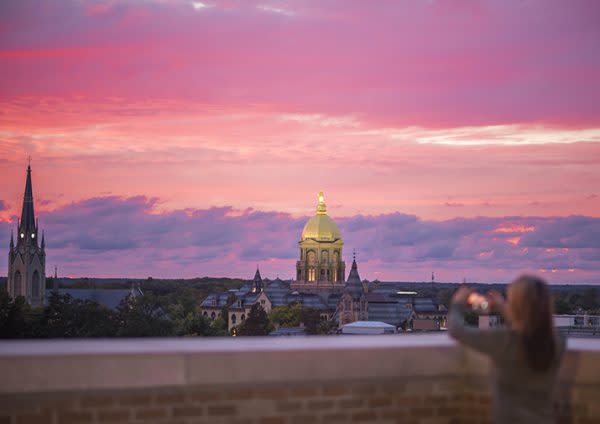 South Bend is home to three of the most-known Catholic universities not just in the state, but in the country! On Notre Dame's beautiful campus, you'll find breathtaking monuments such as the Golden Dome pictured above, the Word of Life mural and the Basilica of the Sacred Heart. As for sports, the Fighting Irish are a part of the Atlantic Coast Conference in the NCAA and host football games at Notre Dame Stadium, as well as basketball and volleyball at Joyce Center. There's even two ice rinks in the Compton Family Ice Area for the hockey fans! Also in St. Joseph's county, you'll find Holy Cross College of Rudy fame, another part of South Bend's tri-campus community. Once a two-year junior college, Holy Cross is now its own Catholic four-year institution where students can earn Bachelor's degrees through an individually-focused liberal arts curriculum. The last part of this tri-campus is Saint Mary's College, a Catholic, liberal arts women's college. These campuses share a common history, mission, and even the same post office!
Chirp Chirp! Ball State University is located in Muncie, Indiana. The alma mater of famed talk show host and comedian David Letterman, the school is known for its excellent communications and media programs. The Cardinals have Division I sports with football housed at Scheumann Stadium on campus. It also has a renowned Teachers College for the future educators of the state!
By the Wabash River, you'll find another one of Indiana's public universities in Indiana State University. The historic city has nine different museums to explore, as well. Terre Haute is even home to US News and World Report's number one undergraduate engineering school, Rose-Hulman Institute of Technology!
In the state's capital, you'll also find some of its finest colleges. Butler University is located in the northside of Indianapolis and includes the famous Clowes Memorial Hall where you can catch numerous significant concerts, orchestras, musicals, plays and guest speakers. Nearby is Marian University, a private, non-profit Roman Catholic university. It is known for opening the first osteopathic medical school that is part of a Catholic university. Along the White River and Fall Creek you'll find IUPUI, a public research university created as the result of a merger in 1969 of the Purdue Indianapolis Extension Center and IU Indianapolis. On the southside, there's the University of Indianapolis, or UIndy. Essentially, anywhere you are in the capital, you're sure to find a campus nearby!
The southernmost of the Indiana college towns, Evansville includes both the University of Southern Indiana and the University of Evansville. USI is a public university located just outside of the city while the University of Evansville is a private, United Methodist college with an urban campus. On the banks of the Ohio River, Evansville is the third-largest city in the state with many attractions to visit on and off its college campuses.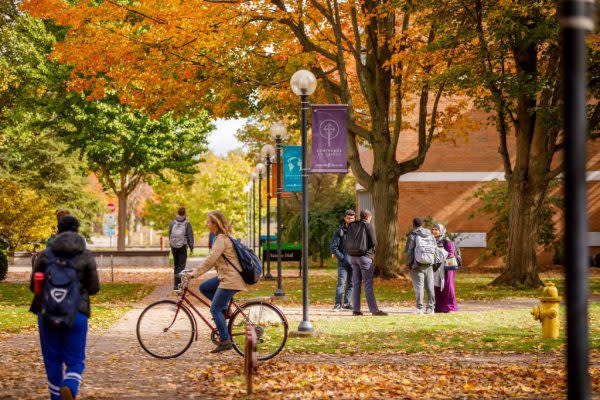 Named after the Biblical country, "Goshen" means "place of plenty and comfort." This definition is exactly what the college town of Goshen strives to be! Founded as a Mennonite school, Goshen College provides a liberal arts curriculum with one of the best study abroad and television programs in the state. On its beautiful, small-town charm campus, you'll also learn why the city is also nicknamed the "Maple City": for its abundance of maple trees!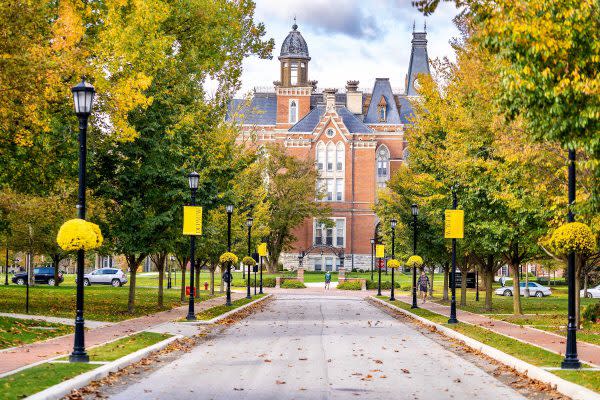 Halfway between Terre Haute and Indianapolis, the liberal arts DePauw University is located in Greencastle, Indiana. DePauw is where the world's first Greek sorority, Kappa Alpha Theta, was founded and is home to many of the longest continually running Greek life chapters. It is also a Division III school with 21 different varsity sports teams.