When you're in southeast Indiana and ask people what to do, I guarantee someone will say, "You need to visit Stream Cliff Farm." People visit Stream Cliff for all kinds of reasons: to dine, taste wine, buy plants, enjoy the gardens, take a class, shop, enjoy music & events, for the atmosphere, the history, for inspiration and to connect with family & friends.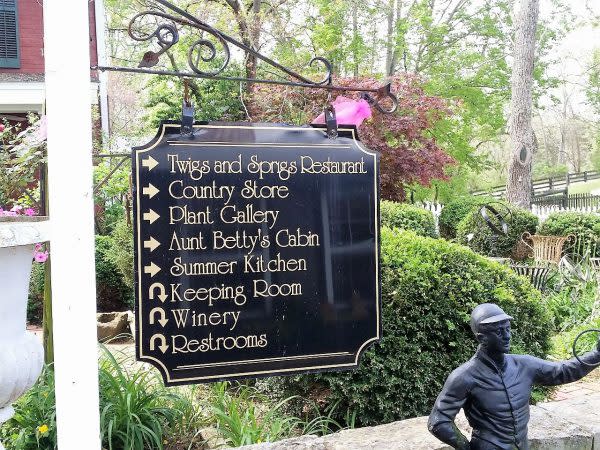 So Much to See
1. Twigs & Sprigs Restaurant Serving lunch 11am-4pm, Wednesday-Saturday 11am-4pm and Sunday 12pm-4pm (hours change seasonally). Lots of choices, salads (Blueberry Walnut!), sandwiches, BBQ (farm smoked), specials and yummy desserts (Blackberry Cobbler big enough to share.) Fresh ingredients, herbs, wine and beautiful edible garnishes.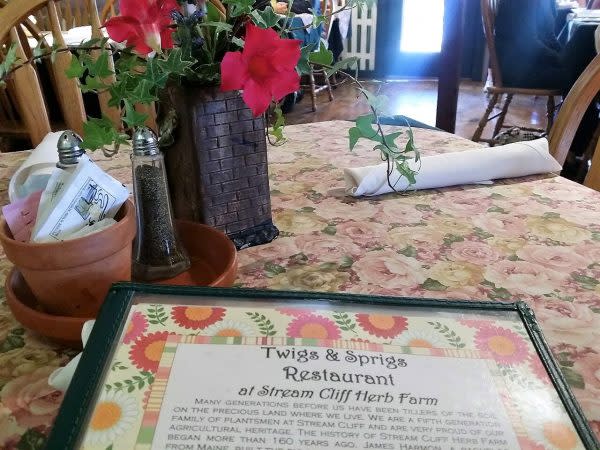 Lots of Choices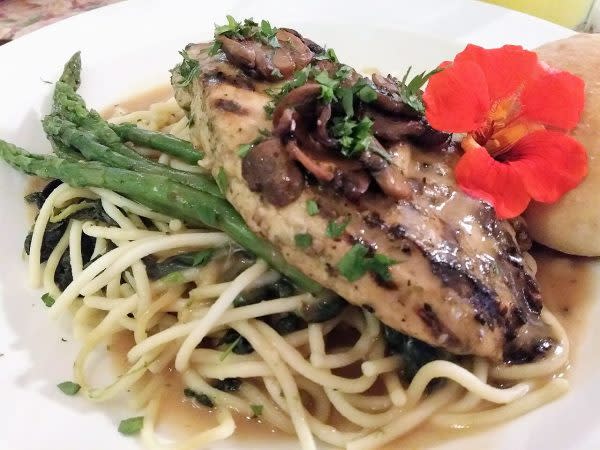 YUM!
2. Stream Cliff Farm Winery Wednesday-Saturday 10am-5pm and Sunday 12am-5pm (hours change seasonally). Large selection of wines from dry reds (Martha bought the Iron Hand Cabernet Sauvignon) to dry whites and sweeter fruit wines. Look for pairing suggestions on the Twig & Sprigs menu. Member of the Indiana Wine Trail.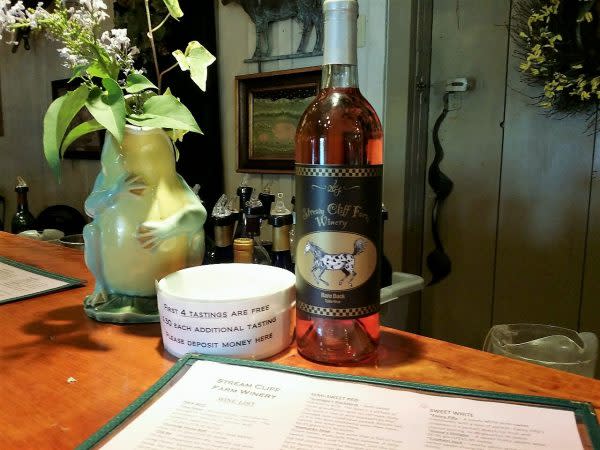 Pick Your Favorites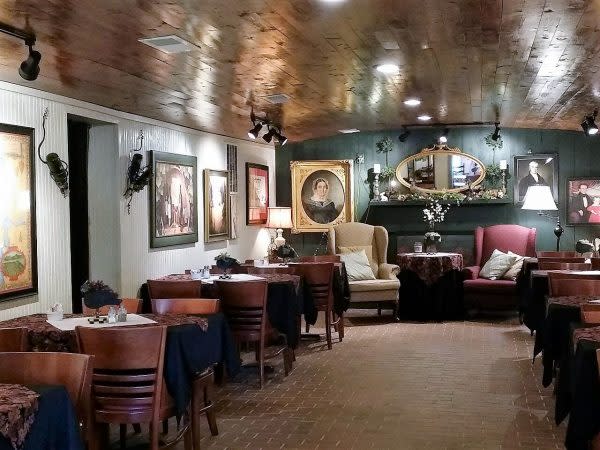 Relax with a Glass of Wine
3. The Gardens & Plants One of the country's oldest herb farms, you'll find a huge selection of plants (annuals & perennials) for sale including culinary herbs along with pots, soil, etc. Take some inspiration from the gardens – Quilt Gardens, Bridal Garden, Sanctuary Garden, Bluebird Arbor Trail and Fairy Garden.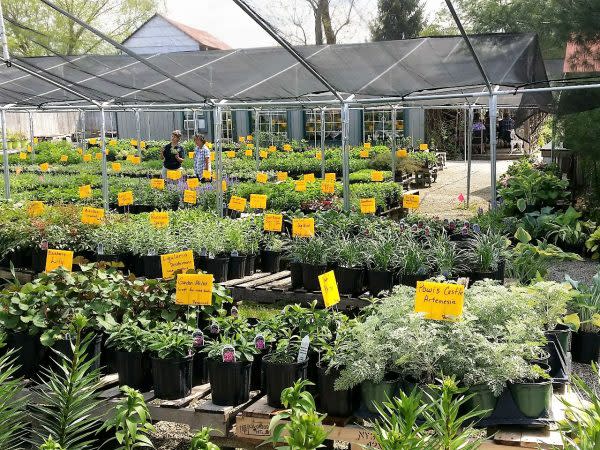 I Got Mine!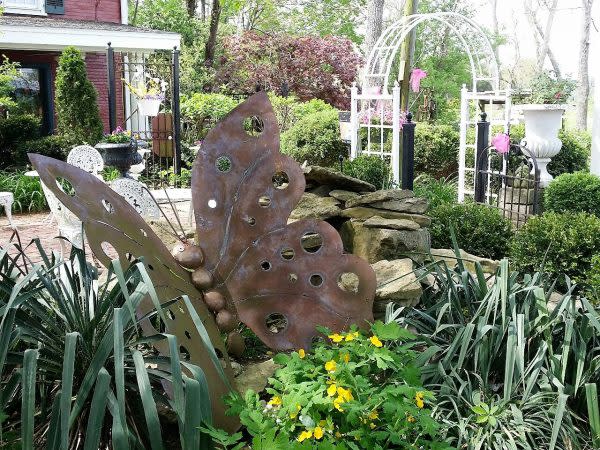 Get Inspired!
4. The Country Store Large selection of garden inspired gifts, soaps, country decor items, cook books, kitchen items, prints, and more.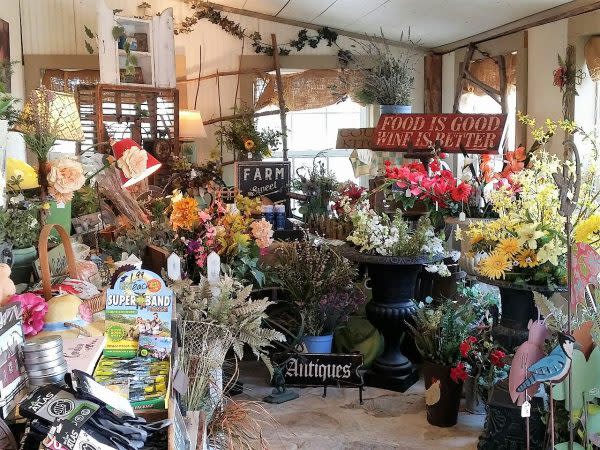 Shopping!
5. Keeping Room Antiques Primitives, antiques, a selection of Betty Manning's cards & prints of her primitive paintings, and accessories with a rustic flair.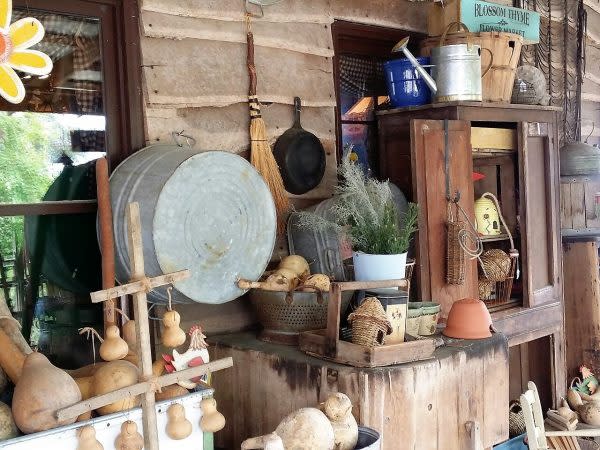 Keeping Room Antiques
6. Little Chapel at the Farm One of the newest additions to the Stream Cliff family, this little chapel is beautiful. The 20 foot sliding door opens into the Bluebird Arbor and Log Cabin Quilt Garden - a beautiful spot for your wedding or special event. I'd get married here if anyone asks!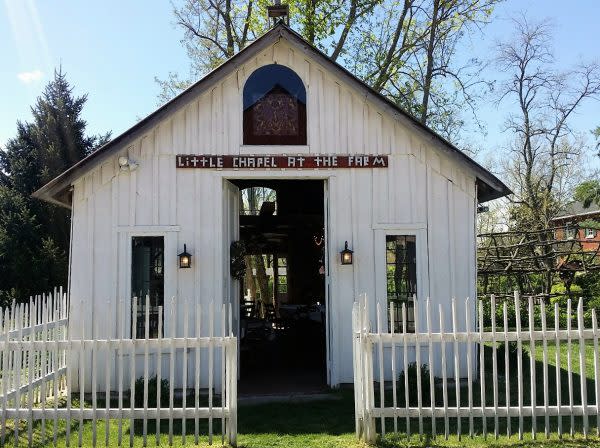 I DO!
This 1821 farm is located in Commiskey just off SR 3 in rural Jennings County. The civil war era farm is on the original route of Morgan's Raiders who came though the farm on July 11, 1863. It is owned and operated by the Manning Family and has nurtured seven generations, so far.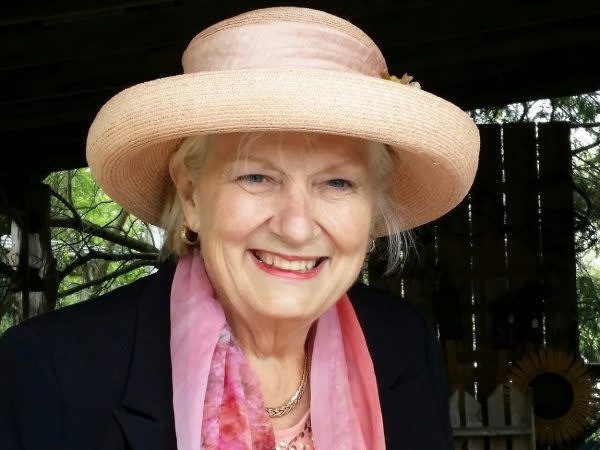 Betty Manning
Through the years, Betty (look for the lady with the hat) and family have restored and repurposed the old farm buildings: the corn crib is The Little Chapel, the granary is home to Keeping Room Antiques, the summer kitchen is the Country Store, an old blacksmith shop houses Stream Cliff Farm Winery and Twigs & Springs Restaurant began life as a greenhouse. In 2017, the oldest and largest farm building, the 1821 old barn will find a new purpose. It is being readied to host something new - three Old Barn Markets & BBQ events in June, September and October. The Old Barn Markets will include a variety of vendors, demonstrations and music. Even Great Grandpa's horse drawn wagon will be transformed into a chuck wagon serving farm smoked BBQ.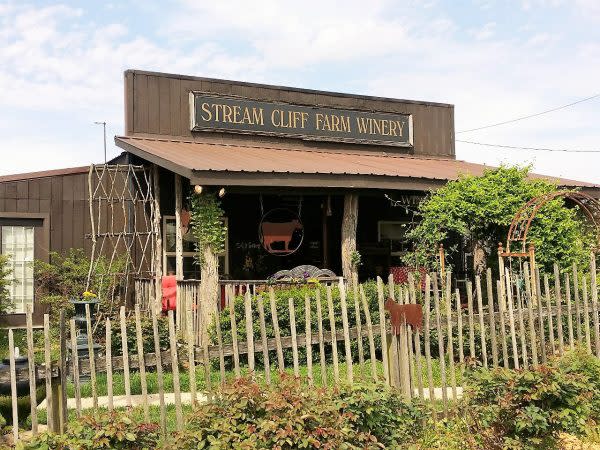 If you want to bring a group or host a shower, Stream Cliff has group packages available for you. A great Girl's Getaway!
Ann's Tips: If you are dining, put your name on the list for Twigs & Sprigs Restaurant first thing, especially if it's a busy day. Eat the flowers, save room for dessert (Hummingbird Cake!), try the afternoon tea (2-4pm).
I always get a couple of plants even if I don't plan to - usually herbs, specifically tarragon. This staff can answer all your questions so, ask them!
Take time to walk in the gardens. You'll need a break so chill out in the County Gathering area or maybe at the Winery with a little pick me up.
If you're staying for the weekend, Madison is about 30 minutes away.