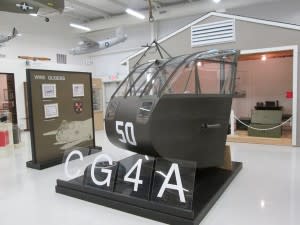 Gliders are part of WWII history at Atterbury-Bakalar Air Museum.
In our continuing quest to discover Indiana's gems we visited the city of Columbus. Located approximately 1 hour south of Indianapolis in Bartholomew County, it had several places that we enjoyed.
Atterbury-Bakalar Air Museum was someplace we headed since we are an Air Force family. Adjacent to the Columbus Municipal Airport, it honors local aviators and others who have contributed to military life from 1942-1970. The F-4 static display greeted us outside the front doors. Inside we saw artifacts from World War II through Vietnam. Atterbury was the place where thousands of soldiers received their discharges during World War II.
One of the most fascinating displays was an actual glider cockpit. Since gliders had a rough life (landings often meant crashes!), few survived. This is one of the nicest military museums we've visited and we learned much about aviation history from our visit. Another great thing about this museum—there is no admission charge!
For lunch we walked a few hundred feet to Blackerby's Hangar 5 Restaurant. It was nearly a full house at 1pm, but we were seated immediately in a booth that looked out over the airport's runway. The food was low-priced and delicious.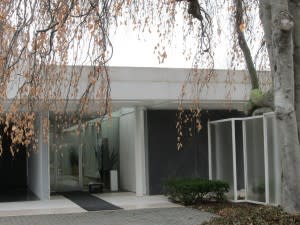 Miller House and Garden is architectural marvel.
Next we visited the Miller House and Garden  in Columbus. This National Historic Landmark showcases the work of 20th-century architects and designers Eero Saarinen, Alexander Girard, and Dan Kiley. Miller House and Garden is owned and cared for by the Indianapolis Museum of Art.
This is just one example of dozens of pieces of art created by recognized architects. Columbus is ranked 6th in the nation for architectural design. In fact, the city has more than 80 buildings and pieces, including churches, government buildings, even parking garages! Everywhere you look in downtown you see a building with that is gorgeous.
Book a tour of Miller House and Garden through the Columbus Area Visitors Center . This is a beautiful gift shop with Chihuly glass art and prints and architecture books, as well as local artisan merchandise.
We stopped off at an eating place we had heard about for years—Zaharakos Ice Cream Parlor and Museum.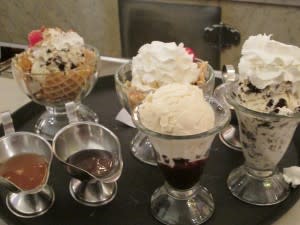 How much can you eat at Zaharakos Ice Cream Parlor and Museum?
We were not disappointed! It was a marvelous old-fashioned ice cream parlor. The interior with its antique musical machines that played a variety of musical instruments for a quarter was worth a visit.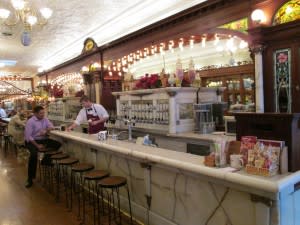 Zaharakos Ice Cream Parlor gleams with anticipation of filling sweet tooths!
The ice cream made it doubly worth it!
We walked downtown Columbus to The Commons. There we saw Chaos—a sculpture you've never seen the likes of, I can guarantee it. It is comprised of scrap metals and other items that might have been discarded. Together it is a sculpture 'in motion' that is fascinating to watch. Call the Visitor Center to find out times Chaos is in action as it may only be a few times a month.
Across the street was the Kidscommons – this museum-like atmosphere has a fitness area, technology lab, climbing wall.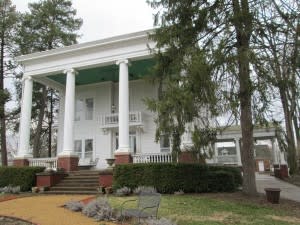 Ruddick-Nugent House was as elegant on the inside as it looks from outside!
After our busy day, we took our bags to the lovely Ruddick-Nugent House for an overnight stay. After a comfortable night, we were treated to a full breakfast of pina colada pancakes, glazed bacon, fruit, juice, pastries, coffee.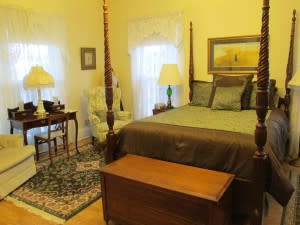 Our room at the Ruddick-Nugent House was comfy and gorgeous!
We hated to leave the fascinating city of Columbus, but we did so, impressed with the city's glamour, innovation and history. I should mention that, while we didn't visit there, the popular Edinburgh Outlet Mall is located eight miles from Columbus at Exit 76B.
Go to the Visitor Center, open 7 days a week, to sign up for a guided tour of the area. You won't want to miss a thing!