The Oooohs and Ahhhhs of Winter have arrived! Charlie Brown might not have liked Snoopy's decorated doghouse, but the rest of us have really come to love the festive illuminations. You'll definitely get into the spirit of the season when you check out this year's holiday light displays in Indiana. 
Follow along from north to south as you plan your getaways of "wow, that's amazing"! Note that some are on weekends only, so check the official event information before you go.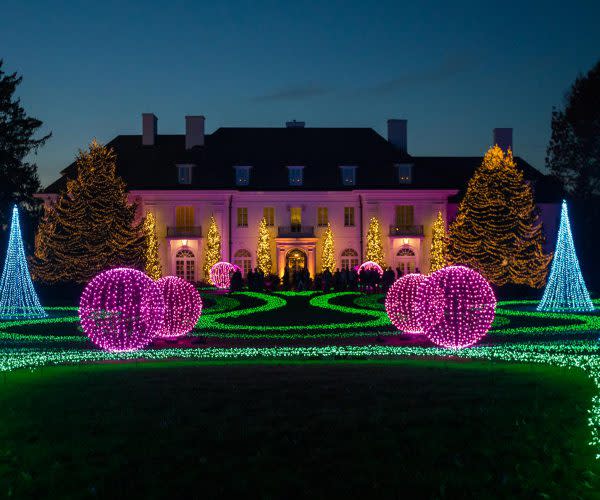 Light Displays in Indiana
Shipshewana Lights of Joy, 11/18-11/20, 11/25-12/31 - A mile and half-long drive-through with more than 2 million lights creating a symphony of colorful light scenes. When you arrive, tune your radio to the Christmas music broadcast and soak in the Christmas spirit!
Ritzy's Fantasy of Lights, Evansville, 11/241/1 - Garvin Park will be filled with more than 70 beautiful light displays, and Tri-State residents are invited to drive the 1-mile park route from Thanksgiving to New Year's Day. Colorful animation gives the illusion of movement to many displays! Tickets are available at the gate or in advance online.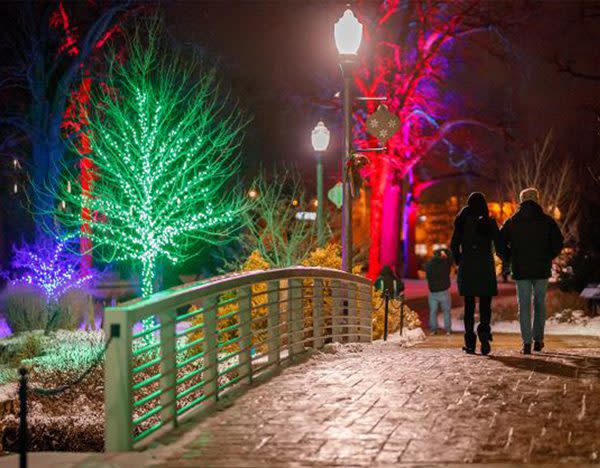 Wellfield Botanic Gardens' Winter Wonderland Holiday Lights
Wellfield Botanic Gardens' Winter Wonderland Holiday Lights, Elkhart,  November 25-26-27, Dec 2-3-4, 9-10-11, 16-17-18-19-20-21-22-23- A ½-mile Promenade Pathway will transport you to a magical setting of lights, sound, and beauty. Featuring professional light displays accentuating the natural beauty of Wellfield, the Pathway is aglow with color and texture, framing the Garden spaces as you've never seen them before!
Walkway of Lights, Marion, 11/19-12/31 - Walk along the Mississinewa Riverwalk or enjoy the nearly 2.5 million lights from inside your car! Viewing nearly a hundred-holiday displays is hard work, so take a break before you leave by visiting Walkway of Lights Gift Shoppe in Matter Park. Season passes are only $5 per car!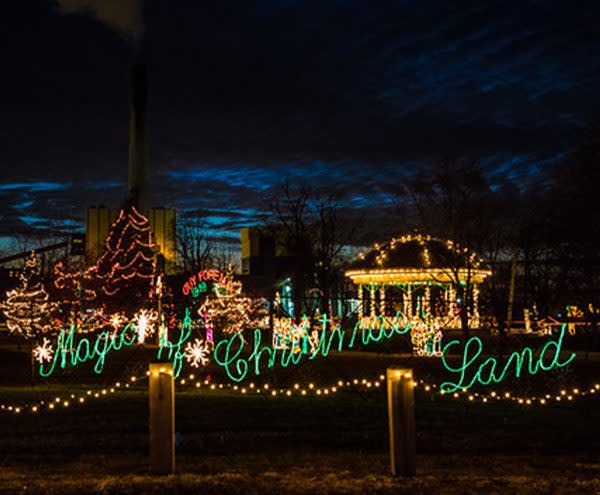 Festival of Lights in Michigan City
Festival of Lights, Michigan City, 12/3 - 1/6 - The largest, free, drive-through light exhibit in the Midwest. Nearly 30 acres of decorations, 40 displays, 2 miles of extension cords, and millions of bulbs will be found. Lights will be on every evening!
Christmas at the Zoo, Indianapolis, 11/19-12/30 - Christmas at the Zoo has been voted in the top five of USA Today's 10 Best Zoo Lights for three years in a row! Even more, lights are being added this year to fill the Zoo with a warm glow. Plus, the wintertime animals add to the atmosphere of holiday magic.
Winterland Holiday Light Show, Danville, 11/18-12/24 - A beautiful drive-through display in Ellis Park. A 30-foot Christmas tree with lights synchronized to your favorite Christmas music will be on display!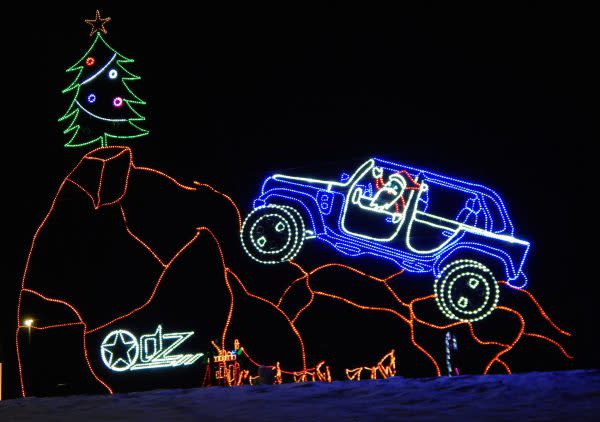 The Blue Jacket's Fantasy of Lights in Fort Wayne.
Blue Jacket's Fantasy of Lights, Fort Wayne, 11/20-12/31 - Franke Park is turned into a spectacular winter wonderland at this drive-through event in Fort Wayne. With over 110 larger-than-life displays and 270,000 LED lights, as well as an interactive experience in the Pond Pavilion, the experience is better than ever!
Enchanted Luminaria Walk at Minnetrista, Muncie, 12/2-12/3 - Enjoy sweet treats, winter crafts, enchanting lights, and holiday music in celebration of the season. Embrace the sounds and spirit of the holidays at this free community event! Plus, the Bob Ross Experience is now open!
Merry Madison & More Lights Tour, Madison, 12/1-12/31 - Madison is all lit up for the holiday season! Choose one of three ways to guide you to all the points of interest in this magical driving tour experience. From Main Street, the Historic Broadway Fountain, Festival of Trees, the Riverfront, Hanover Tinsel Twinkle Trail to all the businesses and residents taking part in the tour. Click here for more info.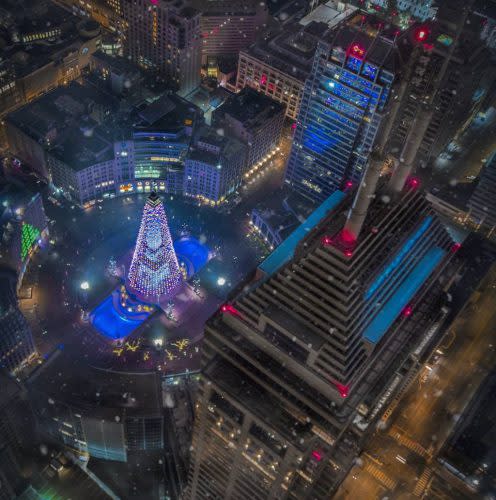 Circle of Lights on Monument Circle. Photo by @mattytatty_creates on Instagram.
Circle of Lights & Holidays on the Circle, Indianapolis, 11/25-01/13 - This year, the Circle of Lights event that traditionally fills Monument Circle will be a special made-for-TV-only event. Instead of congregating Downtown, the show will be viewed exclusively on WTHR Channel 13 on November 27th at 7 pm. However, sightseers will be able to take in this brilliant spectacle throughout the holiday season in person.
Mooresville Christmas Light Tour, 12/2-12/31 - Homes and businesses all throughout Mooresville are decked out in the most amazing Christmas decorations. Take a tour through town and see them all! You can vote for your favorite Christmas light display online.
Charley Creek Gardens Yule Time Stroll, Wabash, 12/13-12/23 - The Gardens will feature casually lighted pathways for guests to walk through with families, friends, and thermoses of hot cocoa. The Yule Time Stroll is completely free! Stop by the Education and Resource Center for a special holiday treat.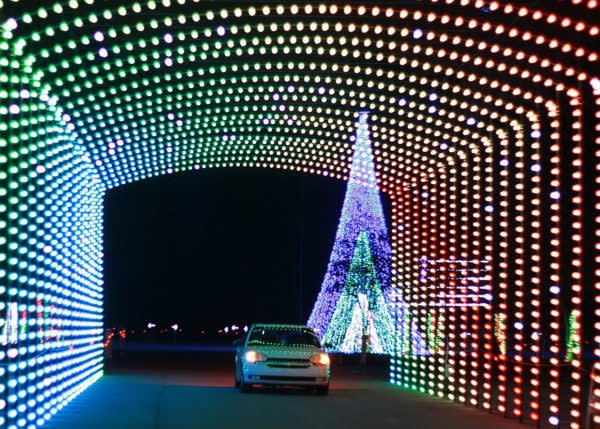 Christmas Night of Lights at the Indiana State Fairgrounds.
Christmas Night of Lights, Indianapolis, 11/11-1/1 - Indy's largest synchronized light show is returning with over 1 million lights at the Indiana State Fairgrounds. Get ready to jam to some Christmas music played through your car stereo!
A Merry Prairie Holiday, Fishers, 11/25-12/18 - Conner Prairie's new hit holiday festival, A Merry Prairie Holiday, is returning for its second season, where glittering lights, thoughtful storytellers, and warm fires transport you from your day-to-day into the stories of yesterday and the traditions of tomorrow. Advanced tickets are required.
Canopy of Lights, Bloomington, 11/25-12/31 - Downtown Bloomington is illuminated with the Canopy of Lights on the Courthouse Square! No traditional festivities are happening in the square this year, but you can still view the beautiful scenery.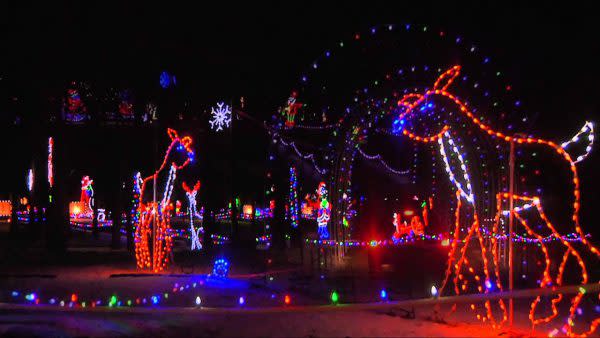 Santa Claus Land of Lights
Santa Claus Land of Lights, 11/24-12/26 - Follow the Shining Story of Rudolph on storyboards and brilliant light displays! Located inside Lake Rudolph Campground & RV Resort, this custom drive-through outdoor light show is one of the largest in North America. Admission is $15 per vehicle.
Winterlights at Newfields, Indianapolis, 11/201/8 - Experience the wonder of over a million and a half lights glittering on one-hundred-year-old trees during a stroll of the historic garden. Old favorites return, including Landscape of Light dancing to the Nutcracker with the historic Lilly House as the backdrop. New this year, Huckleberry Funk's cover of Donny Hathaway's "This Christmas" will be added to the Landscape of Light.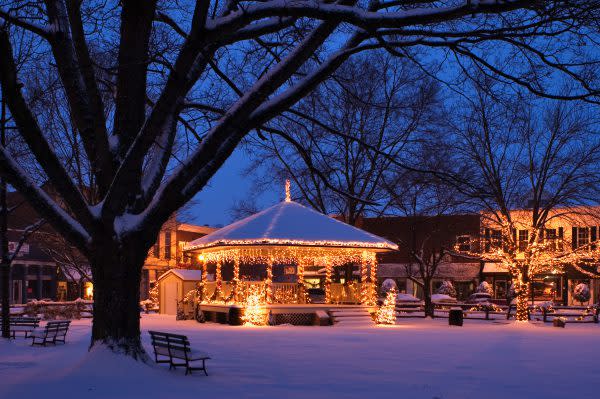 Light Up Corydon
Light Up Corydon, 11/26-12/31 - The beautiful Historic Square in Corydon will once again brighten the night with the holiday spirit! The initial lighting will take place on Facebook, but afterward, you can take a stroll downtown and enjoy the displays any evening during the holiday season.
French Lick Resort, French Lick, 11/12 & 01/9 - The holidays haven't truly arrived until you've viewed the grandeur of decorations at French Lick Resort. The West Baden Springs Hotel tree will be lit up on November 14th, and the French Lick Springs Hotel will reveal its tree on November 21. Both events are limited to overnight guests only, but the lighting will be streamed live on Facebook.
Wilstem Winter Fest
Wilstem Winter Light Show, Paoli, 11/11-12/31 - A NEW one-and-a-half-mile-long drive-through light display in Southern Indiana! This unique experience starts with a 200-foot tunnel. Follow through to the beautiful covered bridge and trees wrapped in lights, animated horses, and so much more.
Festival of Lights, Martinsville, 11/26-12/31 - Holiday light displays are a tradition at Jimmy Nash City Park. There is a sleigh near the Family Pavilion that you are welcome to use for photos.
Light Up Ohio County Residential Holiday Decorating Contest, Rising Sun, 11/3-12/02- Homes around Ohio county are competing to have the best decorated home! Participant addresses will be released to the public in December. Click here to stay up to date.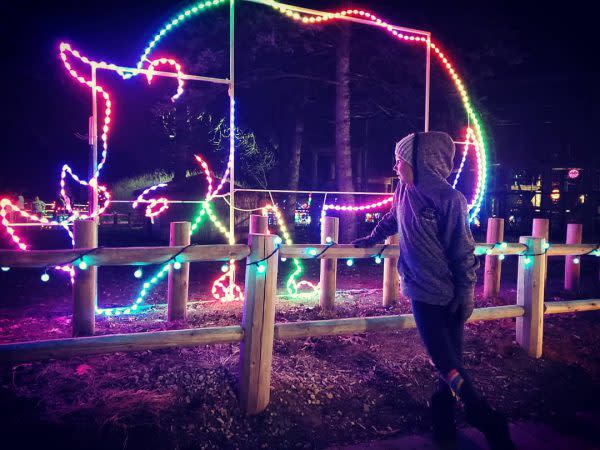 Potawatomi Zoo Gift of Lights. Photo by @christiecolpaert on Instagram.
Potawatomi Zoo Gift of Lights, South Bend,  11/25-12/18 - More than a million lights will be wrapped around trees and in free-standing displays at Potawatomi Zoo! Santa will be in the Red Barn every night from 6-8 pm. Timed tickets are required to be purchased online. No in-person ticket sales.
A Community Christmas, Union City, 11/25 - 12/31 - You won't want to miss this 60-acre drive-through light display in Harter Park!  The Gift Shop, housed in the enclosed shelter house near the horse arena, will be open each Friday and Saturday.