Bees. Most people are scared of them, but they do produce one of our most nutritious foods - honey. My daughter and I had the privilege of visiting and touring a local honey farm a few weeks ago - Hunter's Honey Farm (just southwest of Indy).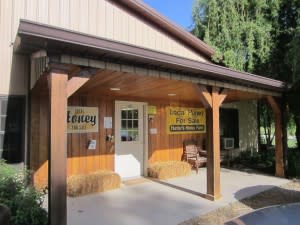 Here's the thing about Hunter's Honey Farm -  they are all about education. Not only has the farm been in the family since 1910, but the current owners are both school teachers who love to educate and teach individuals all about bees and what they do.
We called ahead, and they recommend you do too, for a tour. Hunter's offers a variety of tours: barn tour, candle rolling tour and beehive tour just to name a few. We did the basic barn tour which included some great features.
When we first arrived, another beekeeper had just gotten there to pick up some bees for purchase so we got to watch the transfer of bees. Did you know when they sell bees they do it in pounds? This particular beekeeper was buying three pounds of bees which is roughly about 9,000-10,000 bees all held in these containers.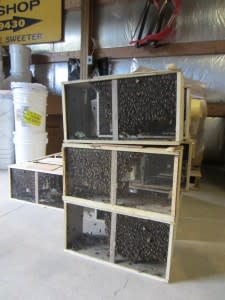 We made our way through their "barn" which has been renovated in order to accommodate tours and showcase each step of their production.
We saw raw honey ...
We walked through their candle dipping area ...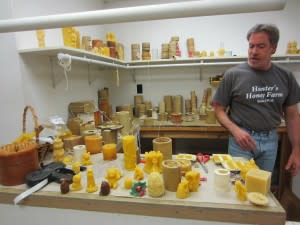 And got to see where they bottle the honey (which apparently I forgot to take a picture of!). But, what tour is complete without a visit to the gift shop?
Not only do they have all sorts of flavors of honey (clover, alfalfa, blueberry and watermelon to name a few) taken from the flowers that are closest to the hive, but here are a few bee products you can purchase that you may not be aware of:
Since not all tours involve a visit to an actual bee hive, they have one right inside the gift shop that is set up for visitors to observe ...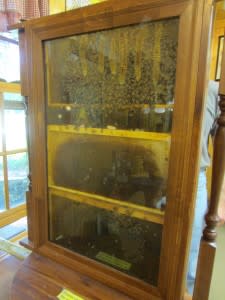 Maggie's favorite portion (by far!) was the honey punch and she isn't even a big fan of sweets!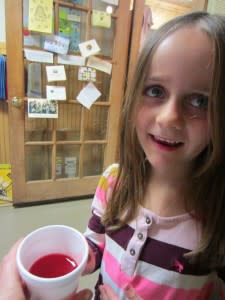 A great experience for us and a wonderful way to spend a Saturday morning. For more information on Hunter's Honey Farm, be sure and visit their website. For more attractions in the area, be sure to Visit Morgan County.