Once you get on the interstate it's easy to get in a hurry to reach your final destination and grab food from one of the many fast food restaurants. What you may not know is that there are some fabulous places to eat that are located just seconds off of Interstate 69 and well worth the stop. Whether you have time for a full scale meal or want to call ahead and carry it out, I've compiled some of the area's favorites and how to best fit them into your trip.
Caruso's Restaurant, EXIT 350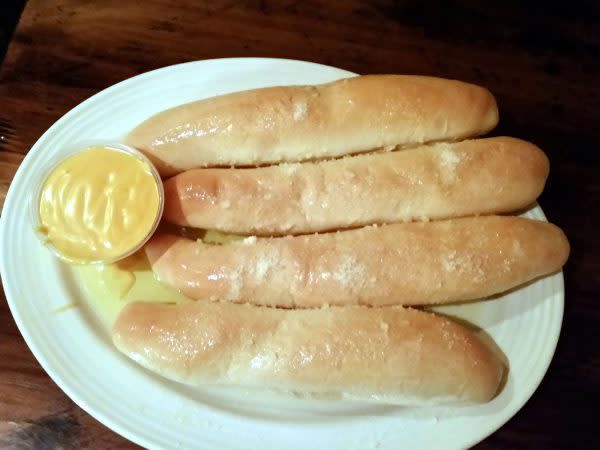 Ask anyone about Caruso's and they will recommend the breadsticks.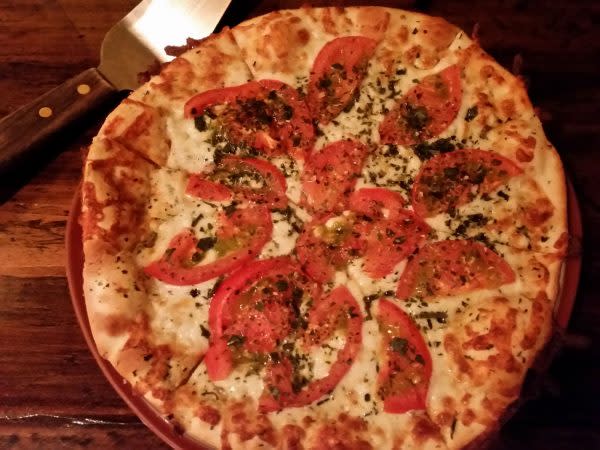 There's a separate entrance for convenient pizza carry out.
This amazing Italian eatery is located in Steuben County in the Lake James area and is a popular spot year-round even after the lake crowds leave in the colder months. They have a great selection of pastas, pizzas, torpedoughs (toppings and cheese wrapped in pizza dough) and sausage rolls. Mention the name Caruso's and the breadsticks always are the topic of conversation. The order of breadsticks comes on a warm plate drenched in butter and it's sinfully delicious. Their pizzas are very popular and they have a separate take out area if you want to call your order in and grab one for the road. I would recommend giving yourself a little extra time if you want to dine in since there may be a short wait.
Cork and Cleaver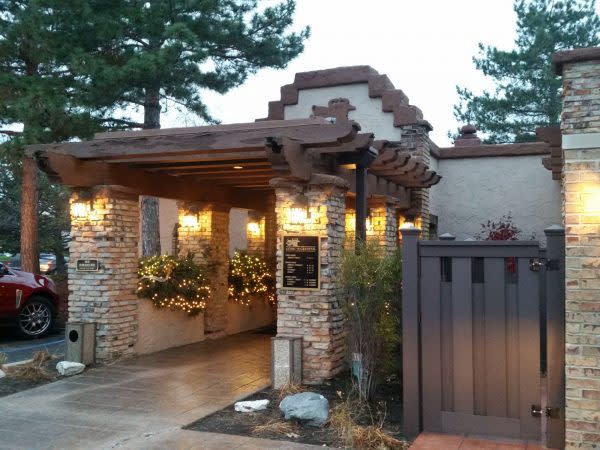 Cork and Cleaver is a long-standing Fort Wayne favorite.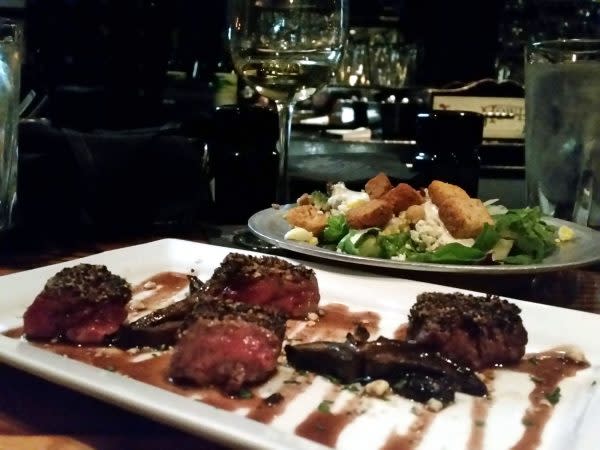 Dinner at the bar: coffee crusted beef medallions appetizer and salad bar.
Cork and Cleaver has been a long-standing Fort Wayne fine dining favorite and remains one of the top restaurants in the city. The atmosphere is classy and cozy and worthy of a romantic dinner or a family celebration but could also be a stop with drinks and dinner in the bar. Cork and Cleaver is known for their hand-cut steaks, fresh seafood and one of the best salad bars I've ever had - the salad bar has ice cold plates and did I mention that it includes caviar?
It's a quick jump off the highway to enjoy this amazing restaurant, but I strongly recommend making reservations a few days in advance or calling ahead so that you don't miss out on this experience.
800 Degrees Three Fires EXIT 305A ILLINOIS ROAD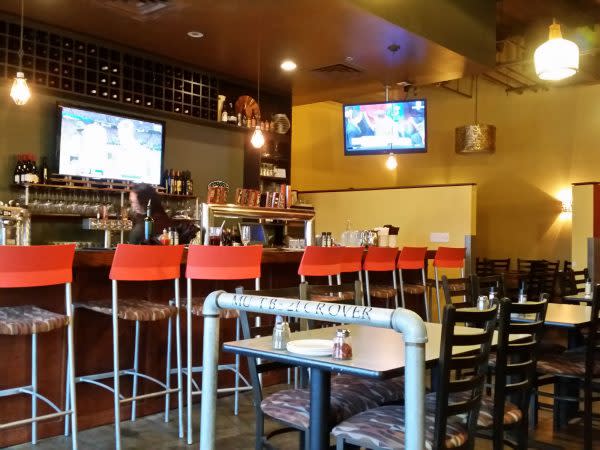 800 Degrees is bright and industrial chic.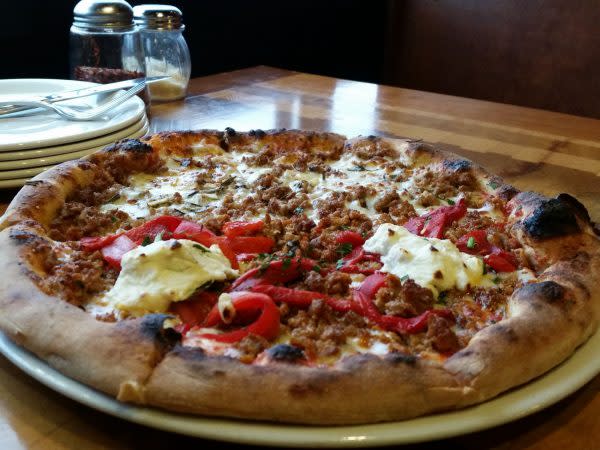 These gourmet pizzas are cooked to perfection in the 800 degree oven.
What impresses me the most about 800 Degrees Three Fires in Fort Wayne is the high quality ingredients that go into making these amazing pizzas. I couldn't decide on which version to get so I had them do half "Salsiccia" and the other half with the spicy "800." Both sides were equally satisfying. The restaurant is bright and industrial and the kitchen is open so that you can see the 800 degree oven in action. There's a carry out window just inside the door in case you are in a hurry and want to call in your order. Plus, they have free chocolate chip cookies by the register. This is a local favorite and once you stop you will know why.
Payne's Restaurant EXIT 259 SR 22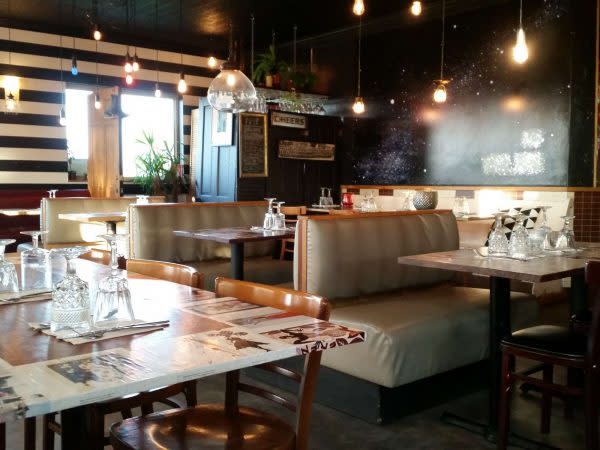 You will immediately feel at home in the eclectic dining room at Payne's.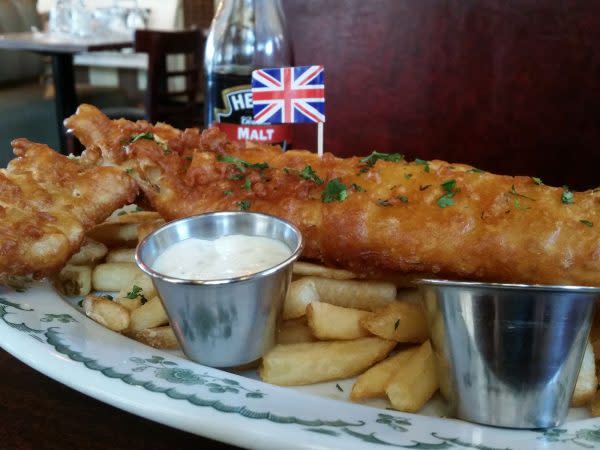 The famous fish and chips from Payne's.While the billboards on the highway get your attention, you might not otherwise notice this gem of a restaurant tucked in behind the Cracker Barrel off this exit. I've polled a few people about including this restaurant on the list and everyone was a solid "YES!" I would highly recommend the fish and chips as the billboards recommend - the batter coating is phenomenal and the portion size is enormous. The restaurant has this wonderfully casual, eclectic vibe that makes you feel at home the minute you enter the doors. They also have a great selection of sandwiches and soups that others rave about but I seem to be stuck on the fish. Carry out is available.