Tuesday morning found Ben and me where you'll always find us at a Hampton Inn — downstairs at the breakfast buffet. No matter where we're going or what we're doing, the Hampton Inn breakfast is always one of his favorite places. So we loaded up on sausage and eggs like we were never going to see them again.
Today was going to be a short day, as we were only going to travel to Princeton and Petersburg to pay homage to Gil Hodges for the second day of the Indiana Baseball Heritage Trail.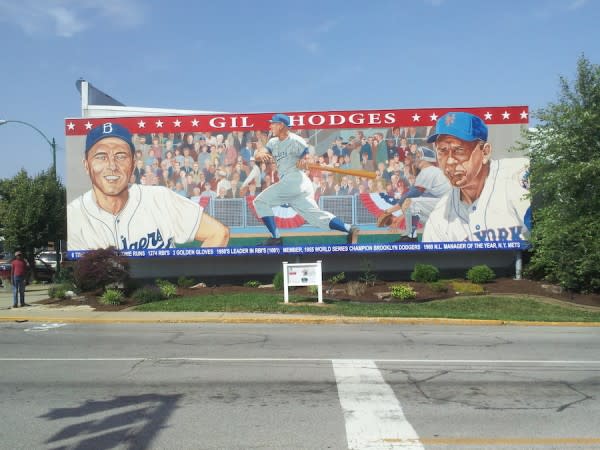 The mural sits on the intersection of 2 state highways, which can get a little busy.
Who Is Gil Hodges?
Ask anyone, Gil Hodges is the most talented baseball player to come out of our state, a state that has produced plenty of stars and all-star managers — Don Mattingly of Evansville is the skipper of the Los Angeles Dodgers. Gil Hodges stands above them all.
Hodges originally played baseball in 1942 and 1943 for St. Joseph's College in Rensselaer, before being spotted by a scout for the Brooklyn Dodgers. He signed a contract, but played only one game at third base. Hodges then joined the Marines (he was in Marines ROTC at St. Joseph's), and went to Okinawa with the U.S. Navy, earning a bronze star before being discharged in 1946.
Hodges returned to the Dodgers, and made the switch to first base. By 1949, he was considered one of the league's finest first basemen, and became one of the leagues best hitters. He hit 30+ home runs every year from 1950 – 1954, hitting 40+ in two of those years. He had 1,001 RBIs in the 1950s, more than any other player in the league, and was an All-Star from 1949 – 1955 and 1957.
He moved with the team when the Dodgers betrayed New York moved to Los Angeles, and played three more seasons, before playing for the New York Mets in 1961. He played until 1963, before becoming the manager of the Washington Senators until 1967. After that, he became the general manager of the Mets in 1968, and led them to the World Series Championship in 1969.
Gil Hodges died in April 2, 1972, of a heart attack, two days shy of his 48th birthday. He is considered to be the greatest ballplayer to never be elected to the Baseball Hall of Fame, and fans of all ages continue to lobby for Hodges' inclusion in Cooperstown.
This is the man we were going in search of.
Gil Hodges' Mural and Bust, Petersburg
We got a good look at Gil in the Indiana Baseball Hall of Fame. As one of Indiana's famous sons, he holds a place of prominence in the hall. And his hometown isn't that far Jasper either. After breakfast, Ben and I hopped into the car, and pointed it west on SR 56. Petersburg was just 25 miles away, and it took us about 30 minutes to get there.
There, we met R.C. Klipsch who worked for the town of Petersburg. Jessica Lindauer of Visit Dubois County had arranged for R.C. to meet us and show us around.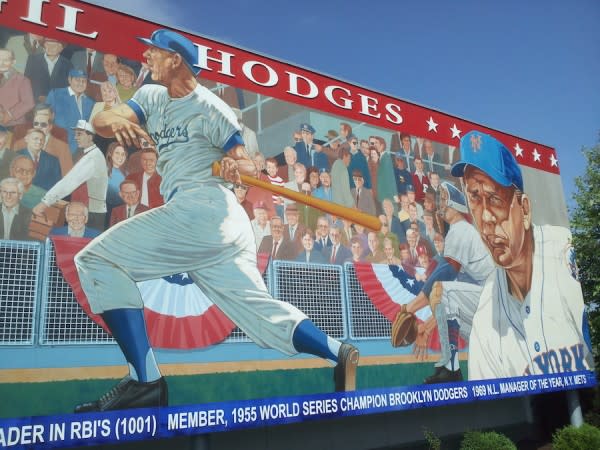 Hodges batting at Ebbet's Field
Petersburg is not a very big town, so we were able to visit R.C.'s office, go see the mural, and then head over to the Pike County Courthouse to see the Gil Hodges bust, all in one block.
The Gil Hodges mural was painted by professional muralist, Randy Hedden, who was originally from Petersburg. The mural is 52 feet wide by 16 feet high, and it was dedicated in 2009. It shows pictures of Hodges as a Brooklyn Dodger, batting at Ebbets Field, and managing the New York Mets.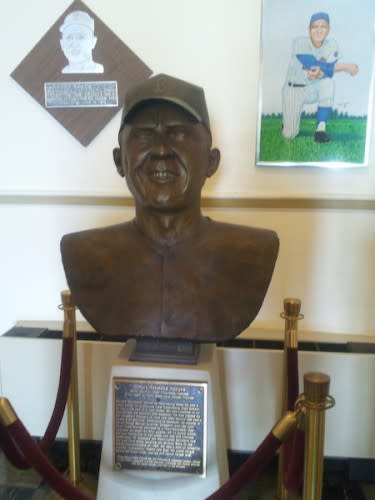 R.C. pointed out to us many of the faces seen in the crowd scene are actual members of the Petersburg community. He showed us several people who knew, people who were friends of his, of Hedden's, and even Hodges. The mural sits there on the intersection of SR 61 and SR 57 to remind people of the crime of Gil Hodges' exclusion from the Baseball Hall of Fame.
When we were finished, R.C. took us through the Pike County courthouse, where we got a glimpse of Hodges' bust there on the main floor.
Gil Hodges Ball Park, Princeton
For the last part of our journey, Ben and I hopped back in the car and drove over to Princeton meet Eric Heidenreich, executive director of the Princeton Convention & Visitors Bureau. He wanted to show us the next-to-last stop on the Baseball Trail, the Gil Hodges Ball Park.
While it's a small, unassuming ballpark, it's notable for a "George Washington Slept Here" type of fact: Hodges played there in 1941 when he played American Legion baseball. And given that this is where Hodges was born, the park and the city need to be commemorated.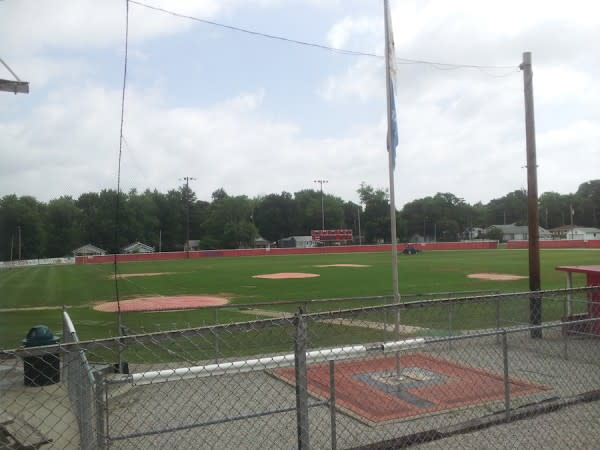 Gil Hodges Field. Hodges played here in 1941. Afterward, Eric took us on a special trip to Lyles Station, Indiana, Indiana's first black settlement after the Civil War. We also had a chance to meet Stanley Madison, the founder of the Lyles Station Historic Preservation Corporation and the chief curator and executive director of the center.
I'll have more on Lyles Station in another blog post.
After this, our trip was done. Normally, the Baseball Trail would end at Bosse Field in Evansville, but there were no Evansville Otters' home games at this time, so we hopped in the car and headed home. We took the new I-69 home and Ben fell asleep on the way, worn out after two days of being dragged around to learn about our baseball history.
My only hope is that one day, Ben takes his own kids on the trail one day, and that it's much larger and longer than when we went, because so many more baseball players came from that part of Indiana.
And most of all, I hope they've updated the signs so they say "Hall of Famer Gil Hodges."
Photo credit: Erik Deckers (used with permission)