The first Indiana drive-in, Triple XXX, opened in West Lafayette in 1929. As one could imagine, pork tenderloins, root beer, and burgers were and still are menu staples for Indiana drive-in restaurants. Even though a lot has changed since then, there are still many historic Indiana drive-in restaurants offering carhop service reminiscent of their early days. The food is incredible, and the experience is second-to-none. Plus, most drive-ins and carhops are low-contact, which can be great if you are trying to social distance. We've listed 21 of them, and while not every single one still has carhop service, your taste-buds will thank you later. Beyond our list, The Indiana Foodways Alliance  "Just Cruisin'™" Trail" features some more Indiana drive-ins worth a visit. Learn about the trail here. 
A history lesson: Before the modern-day drive-thru, drive-ins and carhop service dominated American culture. In 1921, the first-ever drive-in opened in Dallas, Texas. Since cars were still a novelty then, the owners of Kirby's Pig Stand theorized that people would probably prefer to stay in them and enjoy their grub. Carhop service was thus invented, with food being delivered on trays that hooked onto car doors. The first drive-ins were boxy buildings that could be built in a short amount of time, but the designs quickly evolved into beautiful structures with dazzling neon lights.
Indiana Drive-In Restaurants and Carhops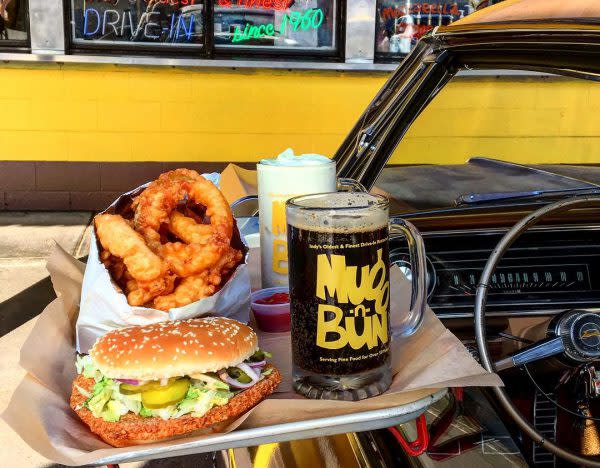 Photo by @edibleindy
On the west side of Indianapolis, the famous Mug-n-Bun has been serving up massive tenderloins for over 50 years. All of the tasty food is best washed down with homemade rootbeer! If you prefer to eat in your car, just flip on your lights, and a server will come out to take your order. But, a beautiful summer night might be the perfect chance to eat in their outdoor picnic area.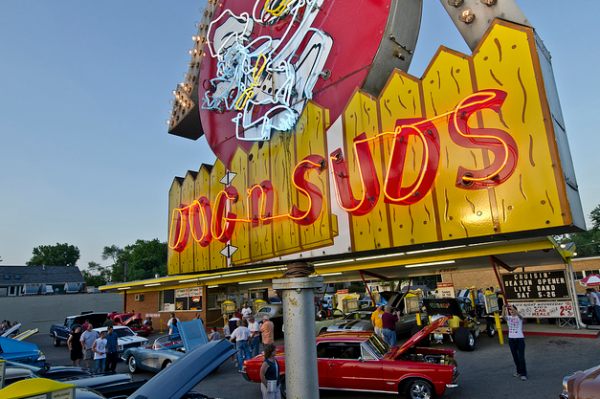 There are many Dog n Suds locations throughout the Midwest, but the restaurant in Lafayette has been locally owned since 1956. It's so popular that a second one opened in West Lafayette in the early 2000s. Staying true to the  Dog n Suds roots, these locations serve classics, including the "World Famous" Coney Dog and the Boilermaker. Finish off your meal with the iconic Dog N Suds root beer!

Chili dogs and creamy root beer are the signature items at The Port Drive-In. There have been a few different owners over the past 70 years, but history is still honored at The Port. Friendly carhops will meet you at your car and deliver food to the comfort of your vehicle. Want in on a local secret? Fried options, including "mouse ears," will satisfy your county fair cravings. While in the area, a trip to Indiana Dunes National Park has to be on your itinerary.
Photo by Dale Pickett
Anderson is known for classic Americana dining, including Lemon Drop and, of course, Gene's Root Beer and Hot Dogs! This old-fashioned drive-in is perfect for fried grub, homemade root beer, and ice cream. There is a pretty good chance that you'll find a few classic cars parked in the lot at Gene's.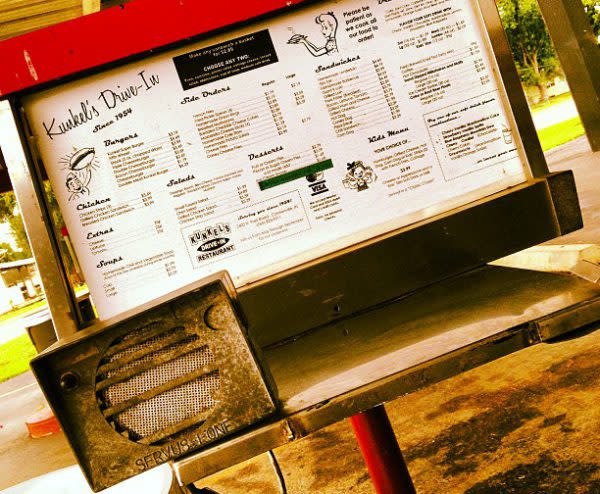 Photo by @merkermark
Serving Connersville since 1954, Kunkel's Drive-In has a nostalgic ordering process that probably hasn't changed all too much since they opened. We recommend planning out the day you visit due to their yummy daily specials and pie. The specials include the Kunkelburger special, beef manhattan, and half-price tenderloins. Dig in on the pie of the day, including chocolate, coconut cream, peanut butter, lemon, and butterscotch.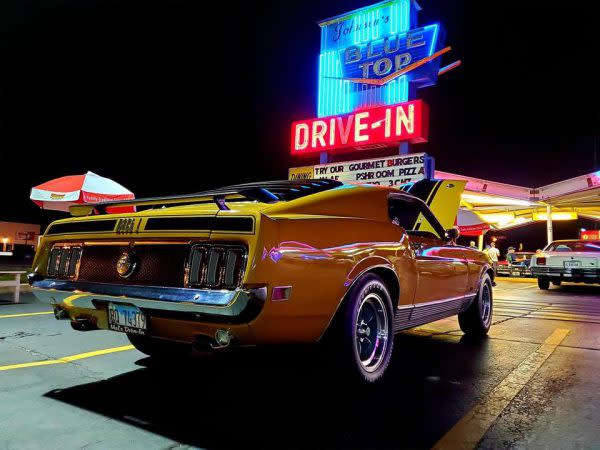 As the Blue Top Drive-In was being built decades ago, locals thought that a church was being constructed due to its wavy roof. Little did they know that a historic drive-in was just beginning to form! The iconic Blue Top sign is constructed of ceramic steel with hundreds of feet of neon tubing. Today, their most popular burger is the "Cruiser," which weighs about 1/2lb. Come on the right night, and you might see a classic car show!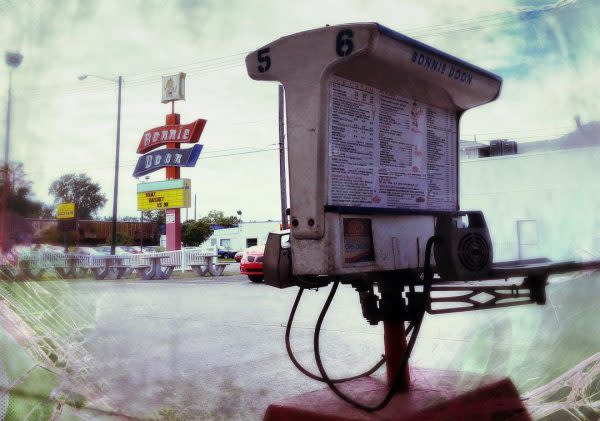 Photo by @jamppafl
At its height, there were nine Bonnie Doon locations in St. Joseph and Elkhart counties. Now there's just one, but their old-timey joint still offers classic American fast food. Now in its 82nd year of operation, you can still order a burger or treat through Bonnie Doon's intercom any day of the week.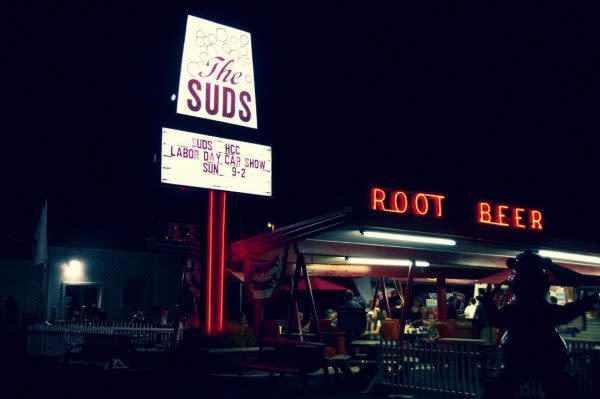 Photo by @breiana.brown
Opened initially as a Dog N Suds, this restaurant has been visited by hundreds of thousands of classic cars and trucks since 1957. The Suds is a traditional style drive-in, but it just feels different. The decor mixed with its car culture makes it a great place to bring the family on a summer evening. A burger and shake are about all you need!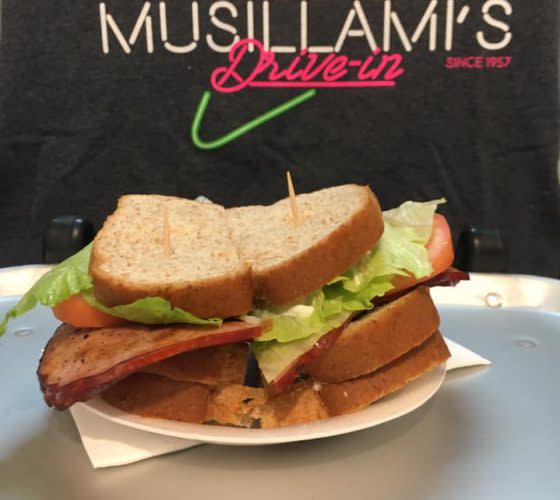 Nostalgic taste buds will be satisfied at  "The Home of the Pizza Burger." A little bit off-the-beaten-path in Columbus, Musillami's Drive-In is an absolute gem. Beyond the pizza burgers and cheeseburgers, their fried mushrooms are just fantastic.  Take a car side tray and enjoy!

Three generations of the Ragsdale family have run this locally-owned drive-in since 1960.
Bo-Mac's Drive-In
offers carhop service along with outdoor patio seating. While shakes, sundaes, and sandwiches are on the menu, the onion rings are a local favorite!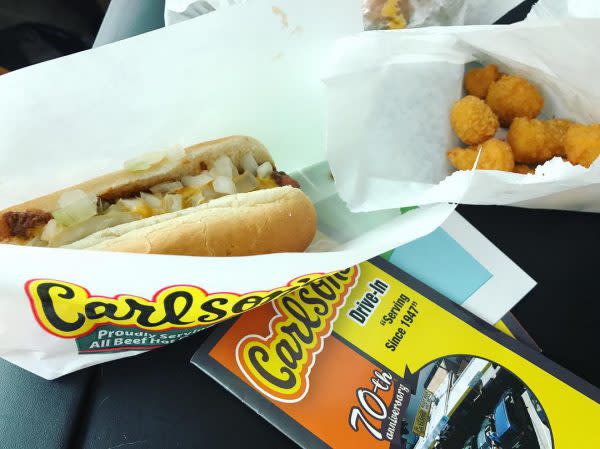 On-site homemade root beer is served in a tall frosty mug at Carlson's Drive-In! Time-honored traditions are kept at this restaurant, including trays clipped to the side of your vehicle by a carhop. Known for their all-beef Eckrich hot dogs, Carlson's franks can be covered with their broad array of toppings.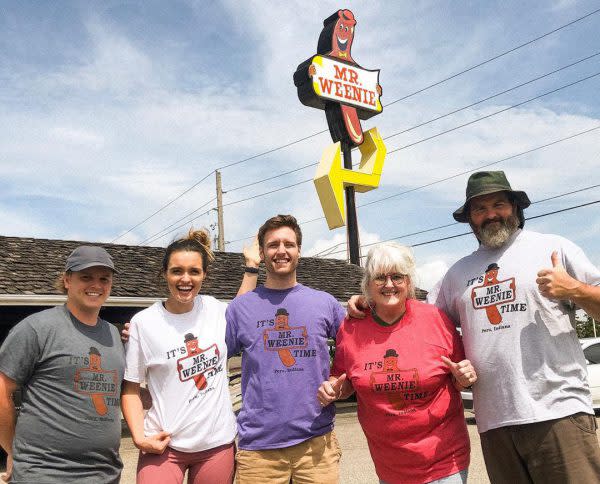 Photo by @gabe_ho
You won't miss Mr. Weenie if you are driving on  North Broadway Street in Peru as the sign is an eye-catcher. This hot dog stand features all kinds of concoctions, including a great "Chicago Dog." All you have to do is turn on your lights to receive carhop service. After your mouth-watering meal, pick up one of the "It's Mr. Weenie Time" t-shirts!

The Steer-In is a staple on the east side of Indianapolis. A vast American menu of omelets, fried chicken, pizzas, and pies are offered. From 1960 to the mid-1980s, carhop service was provided. Due to the COVID-19 pandemic, they have now revived this carhop service! The Steer-In was also featured on Guy Fieri's acclaimed show, "Diners, Drive-Ins, and Dives."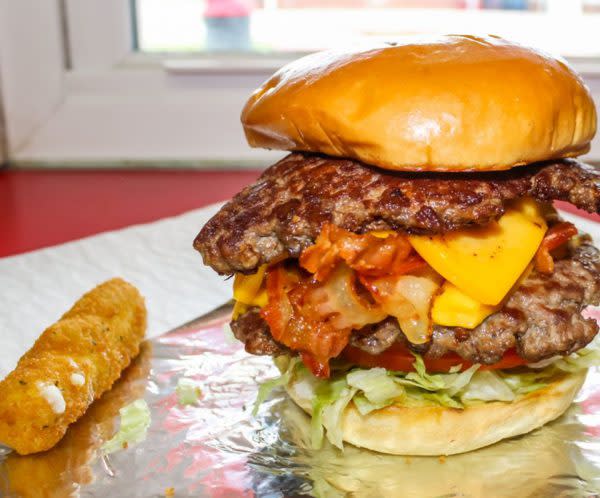 The Tasty Freeze in Montezuma has some of the best hamburgers in the entire state. We didn't even mention the ice cream! They've been open for about fifteen years, which is a bit newer than others this list, but the charming restaurant is just so much fun.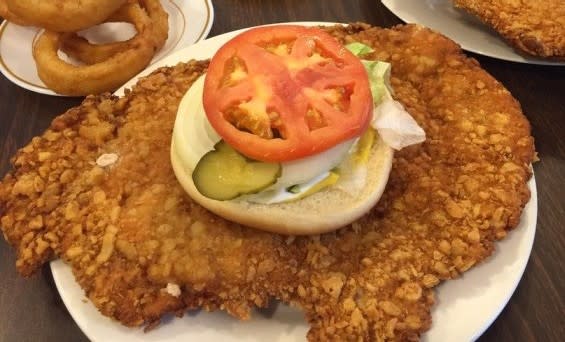 The gigantic King Tenderloin is what puts Ray's Drive-In on the map. Have you ever seen one that large? The drive-up car hops make eating at Ray's enjoyable and fun. While there is comfortable sit-down dining, we recommend enjoying a homestyle meal here outside.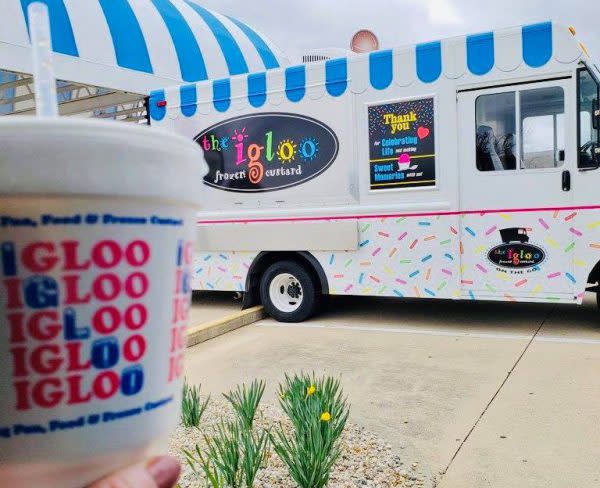 The first Igloo was opened by Charles and Florence Kirkhoff in 1932. The two Igloo Frozen Custard locations in Lafayette currently serve classic frozen custard, fruit drinks, ice cream, and sandwiches. You'll find options for covered patio seating and drive-up dining. Its mottos is "We dip up smiles" and "often imitated...never equaled"!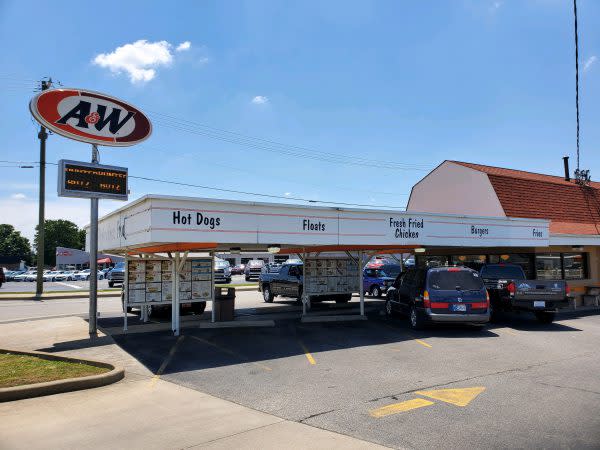 A&W might be a fast-food chain, but Fry's A&W is family owned and offers a local flair that you can't find elsewhere. Beyond the standard cheeseburger, root beer, and hot dogs, you have to try their homemade fresh fried chicken. Seriously, it's fantastic. While you're in Greensburg, also be sure to stop by the courthouse to see a tree growing out of the very top!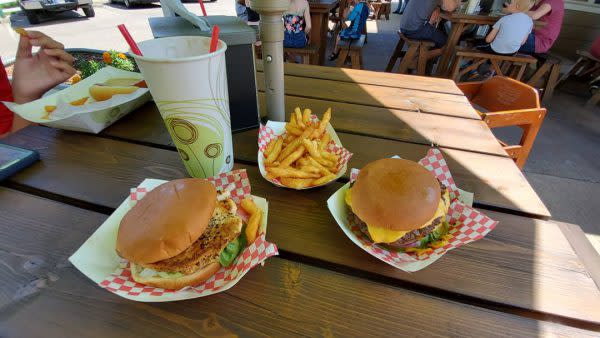 Photo by @andy.m.parrish
The Mug, called The Frosty Mug initially, served residents of Greenfield for over 50 years before it closed its doors in 2013. In the summer of 2014, Chris Baggott decided to turn  The Mug into a more modern, farm-to-curb concept.  A fresh and locally-sourced menu consists of fast-casual burgers, hot dogs, specialty sandwiches, fresh-cut fries, and more. Pull your car up, and one of the "Mug Hops" will greet you to take your order!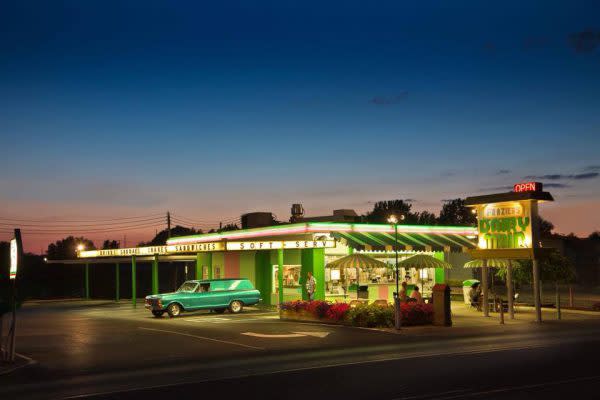 Photo by Dale Pickett
Frazier's Dairy Maid has been whipping up delectable ice cream treats for Madison county since 1954. The feel of the 1950s pervades throughout this ice cream shop with beautiful colors and lights adorning the outside of the building. Frazier's might be one of the most 'Instagrammable' Indiana drive-ins!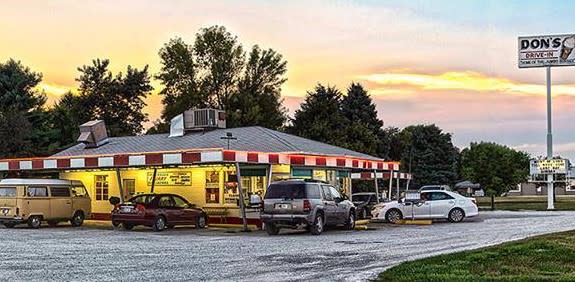 Initially, a Tastee Freez, this 50s-style drive-in uses an intercom system and carhops. Since becoming Don's Drive-In 1974, the restaurant has been a staple in Kentland.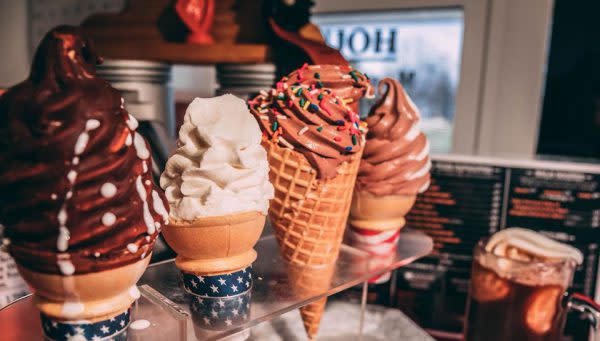 Established in 1956, Muncie's B&K Root Beer & BBQ has gone through many owners over the years but has always maintained its status as a drive-in destination for the south side of Muncie. The current owners have added delicious barbecue to the classics of root beer, coney dogs, and ice cream.