By Sarah Maddox
I've always had a love-hate relationship with winter here in Indiana. The snow is picturesque, but it often lasts for a long time and is typically severe, causing me and many others to stay indoors. But there's no better place to embrace winter than the Indiana Dunes.
This year I challenge you to make the trip to the dunes and enjoy cross-country skiing, sledding down a sand dune, ice skating and more. And don't forget to view the amazing ice mountains that form along the shore of Lake Michigan once winter hits.
Cross-country skiing, sledding and shelf ice at Indiana Dunes State Park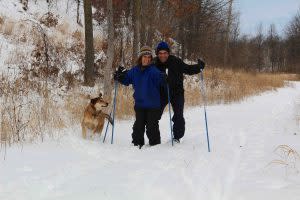 Cross-country skiing is great in the Indiana Dunes.
Indiana Dunes State Park, located at 1600 N. 25 East, Chesterton, is beautiful any time of the year, but the park transforms into a beautiful landscape of white once the snow has fallen. The park remains open to the public all year long with free entry during the week in the winter months, Hiking paths transform into great cross-country skiing and snowshoeing paths, offering guests the opportunity to see wildlife in the dunes during the winter months. Devil's Slide turns into a thrilling sledding experience that is sure to get anyone smiling. Lastly, make sure you check out the shelf ice for a view like no other.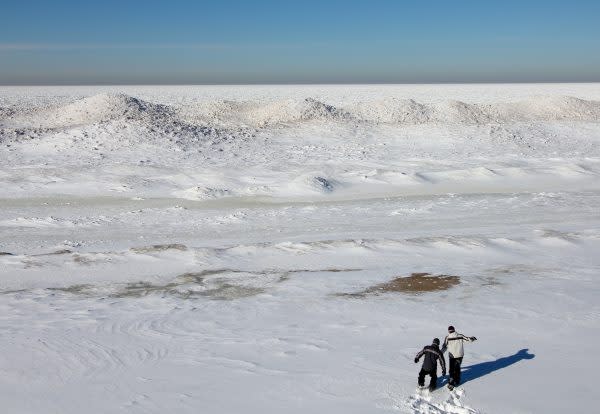 People come to the Indiana Dunes to cross-country ski and view the mountains of ice that form along Lake Michigan.
Coffee Creek Watershed Preserve
One of my favorite hiking trails that offers great diversity and a nice distance transforms into an excellent cross-country skiing trail once the snow falls. Located at State Road 49 and Voyage Boulevard, Chesterton, Coffee Creek Watershed Preserve is open from dawn to dusk. The trial is five miles of adventure and travels through wetlands, creeks, prairies and woodlands, so you are sure to see wildlife.
The park is free to the public, and offers shelter with a fireplace for guests to warm up after their winter explorations.
Glenwood Dunes
This park is authentic, allowing guests the opportunity to ride their horses through the snow covered trails. Glenwood Dunes is located at the corner of U.S. 20 and Brummit Road, Chesterton, and is open sunrise to 30 minutes past sunset. The park offers visitors the opportunity to hike and horseback ride in the spring, summer and fall, and to cross-country ski in the winter, while offering different levels of difficulty. The trails range from one to six miles, with different variations of inclines and slopes.
Sledding in Valparaiso at Forest Park Golf Course and Rogers-Lakewood Park
Some of the best sledding spots are in Valparaiso, a 20-minute drive from the dunes. Forest Park, located at 1158 Harrison Blvd. in Valparaiso, is fun for the entire family. Forest Park offers visitors the opportunity to use the golf course as their very own sledding or tubing hill once the course closes for the season. No matter your age, sledding down a big hill with family and friends is always fun. The park is open to the public from dawn to dusk and is free.
Rogers-Lakewood, located at 5320 N. Meridian Rd. in Valparaiso. offers sledding, tubing, cross-country skiing and ice fishing. The park is free to the public in the winter and is open from dawn to dusk.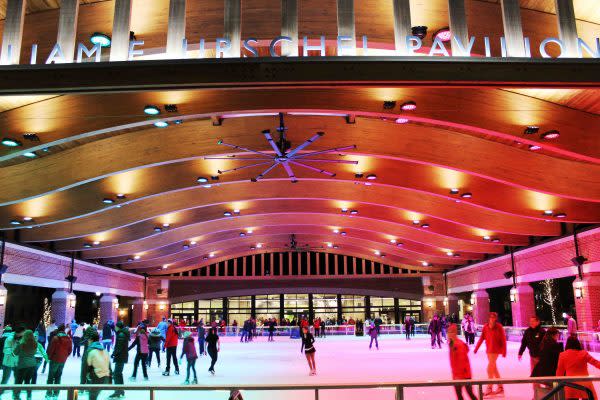 The ice rink in downtown Valparaiso opens in November for a four-month season.
Ice Skating at Central Park Plaza Ice Rink
Ice skating is one of my favorite winter activities, and thanks to Central Park Plaza ice rink there is more time than ever to ice skate. Central Park Plaza is open for several months each season and is located at, 70 Lafayette St, Valparaiso. This ice skating rink offers a wide variety of options to choose from, including open skating, open hockey and events. The rink is open seven days a week. Lessons would be great for first time skaters that are nervous about skating, and more intermediate classes offered to skaters that are more skilled.
Winter lights
Fun for the entire family, the Winter Lights Night Festival offered many great holiday activities all in one place. The festival is always in mid-November at Sunset Hill Farm County Park, 775 Meridian Rd., Valparaiso. Â Although the fest is over, Â the amazing lights displays remain up for viewing the entire holiday season.
Christmas Eve Morning Stroll
Christmas is just around the corner and a favorite event is the Christmas Eve Morning Stroll, set for 10 a.m. Dec. 24 at Indiana Dunes State Park. Join a naturalist for this traditional stroll in the woods.
Lodging
This winter experience the history and beauty of Indiana Dunes Country in some of the coziest B&B's in the area.
Riley's Railhouse Bed & Breakfast, located at 123 N. 4th St., Chesterton.
Located in the heart of downtown Chesterton, Riley's gives guests the opportunity to venture through historic downtown. Riley's sticks out among other B&Bs due to their unique lodging options. Guests have the opportunity to stay in real train cars renovated to meet modern needs, which are decorated with train antiques. Rooms range from $120-$190 a night, depending on the time of the year and the day of the week.
Duneswalk Inn at the Furness Mansion, located at 1491 N. Furnleigh Lane, Chesterton.
Beauty and history come together at the Duneswalk Inn, offering guests the opportunity to stay in an historic mansion, located only minutes form the beach. The entire mansion can be rented or just a suite dependent on the type of getaway. Prices range from $125 to $195 a night for rooms and suites and from $745 to $850 a night for the entire mansion. Guests can warm up after winter excursions in in-room whirlpool tubs or by the fireplace.
Pikk's Inn- Located at 62 W. Lincolnway, Valparaiso.
Located in Valparaiso's historic downtown and only minutes from Valparaiso University, Pikk's Inn guests have the opportunity to experience all the great dinning, arts and activities that Valparaiso has to offer. Located just above Pikk's Tavern, guests can order food through room service or experience the great atmosphere of the restaurant. Rooms are reasonably priced around $100 a night.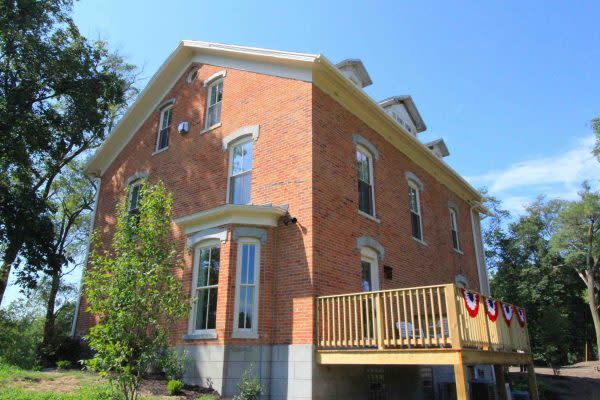 DunesWalk Inn, in the heart of the dunes, is a lovely place to stay.