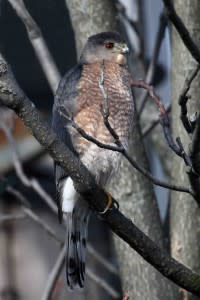 The Harrier Hawk is one of the nearly 400 species of birds that can be found in the Indiana Dunes area. Photo by paulkemielphotographics.com
For an avid birder like Brad Bumgardner, the best thing about working at Indiana Dunes State Park is that his binoculars never have to collect dust -- even if it's not the busy spring and fall bird migration times.
"There's something going on every month. Any time of year, you can see something," said Bumgardner, an interpretive naturalist for Indiana Dunes State Park.
"The Indiana Dunes, for birdwatching, is the top spot in Indiana. We're one of the best spots on Lake Michigan and one of the top three sites in the Midwest or Great Lakes for birding."
Just like in real estate, good birding is all about location, location and location.
The Indiana Dunes' location at the southern tip of Lake Michigan creates a "funnel effect," funneling birds along the shoreline as they migrate. And even in the winter, when birders put up their binoculars in other parts of the Midwest, dunes birders are rewarded with sights like snowy owls.
Bumgardner said there are at least 369 species of birds identified in the dunes area. Not only does the dunes area boast a variety of birds, but it also shows higher numbers of them than in other Midwest locations.
"People come from several states to bird the dunes," Bumgardner said.
"We have gotten folks from all over the world."
Indiana Dunes State Park is a popular stop for birders because it has so many habitats, so it attracts many species. He said the opening of the bird observation platform on the west side of the park is just one more way to enhance the birdwatching experience.
The park offers regularly scheduled hikes that are good for birdwatching, bird-related events and a field trip to see the tens of thousands of sandhill cranes that come to Jasper-Pulaski Fish and Wildlife Area.
"Sandhill cranes are Indiana's claim to fame, or one of them," Bumgardner said.
There is also plenty for birders to see at the nearby Indiana Dunes National Lakeshore sites as well, Bumgardner said.
"Most birders will travel several sites while they're here," he said.
National Lakeshore Supervisory Park Ranger Bruce Rowe said the Great Marsh Trail is a great trail for waterfowl, and Portage Lakefront and Riverwalk has become a popular spot when birds are migrating. The Heron Rookery is another great birding spot, he said.
To enhance the birding experience, Bumgardner recommends people pick up a birding field guide and Kenneth J. Brock's book Birds of the Indiana Dunes.
For more information about birding in Indiana Dunes Country, visit
www.indianadunes.com/beyond-the-beach/birding or read the Indiana Dunes Country Birding Guide at www.indianadunes.com/destination-guides/electronic-guides/. Visit www.in.gov/dnr/parklake/2980.htm to see Dunes State Park's monthly calendar.