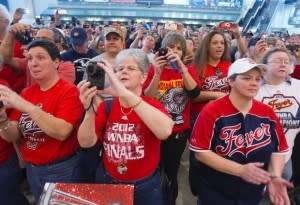 Indiana Fever fans during the WNBA Championship.
What a year to go to my first Indiana Fever game! I was lucky enough to attend on the last night of the regular season. This was fan appreciation night. The fans who attended the game were a small, but passionate fan base and the Fever did a great job of recognizing.
Tamika Catchings, the teams star player, took the arena microphone and thanked fans for continued support throughout the season. She said the team could not have accomplished all that they had without their support.  This is a fun comment to look back on considering that the Fever are now WNBA Champions.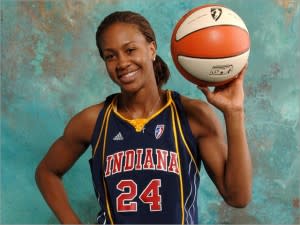 Tamika Catchings is the star player of the Indiana Fever. She is a WNBA Champion and an Olympic gold medalist.
The game was a great experience and everything about stadium and my night was great. Since the Fever do not use the entire Bankers Life Fieldhouse (it's too big), every seat in the arena had a great view and the atmosphere was more charged.
I was amazed at the high level that each of the teams played at. The game is a lot faster than it appears on TV and is very physical. I was lucky enough to see a Fever win in front of a great home crowd. For the sake of evaluation, I decided separate my experience into categories and rate them.
Ease 10/10
There was virtually no hassle involved with this game. I was able to park close and obtain a ticket very easily. My seats were easy to find and there was not heavy traffic on the way back from the game.
Environment 7/10
Fan appreciation night was a great day to go. I was surprised at the unique marketing efforts they used to engage fans. In addition to giveaways and raffles, stadium employees actually parachuted merchandise down to fans from the top of the stadium. I have never seen this at any game I have been to.
Even though the attendance was not great. The fans who did come were passionate and on the edge of their seats throughout the game. This is something that cannot be said for many franchises in the sports world.
Concessions 8/10
Just like most sporting events, the prices at the concession stand were incredibly high. Having said that there were lots of great choices and fun vendors such as SweeTies and Sun King.
Team 10/10
It really showed during the playoffs, but the Feverare a really fun team to support. They are a group of women all dedicated to a common goal of winning. This team is joy to watch and represent themselves, and Indianapolis well. We are lucky to have them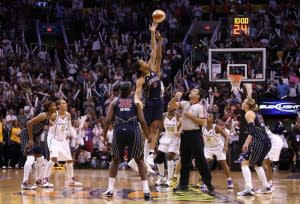 Tipoff at the Indiana Fever game.
 Overall 8/10
I had a good experience at my first ever Indiana Fever game. This is not something I see myself going to often, but I do want to back. The tickets are cheap, the team is good, and this is a really fun way to spend a night.
Final Thoughts
I would recommend an Indiana Fever game to anyone who is a sports fan, or simply a fan of our city. This is a fun way to spend a night and something that people of all ages can enjoy.