There is saying that a picture is worth a thousand words, but when it comes to the glass exhibits at the Fort Wayne Museum of Art, nothing could be further from the truth. This year's Summer of Glass exhibits are worth every penny of a visit. The museum is hosting the 42nd Annual international Glass Invitational Award Winners exhibit as well as Peter Bremers: Inward Journey installation.
Dutch artist Peter Bremers gleans inspiration from the world around him. Many of the pieces on display were inspired by his travels to Antarctica, Africa, New Zeeland, and Asia. It is easy to see the influences of nature in his kiln cast glass work. Pieces like "Icebergs and Paraphernalia 202 and 251" share many qualities with ice. The sheer scale of the work is impressive; Bremers is a master of color and has a miraculous attention to detail. The pieces range in shape and form, from simple oval or square shapes, to intricate spiked creations.
Some of the pieces almost appear to be water frozen in movement and time. The textures  become clearer the closer you get and the pieces are beautiful and unique from every angle. Walk around the pieces to watch the light reflect and the colors change.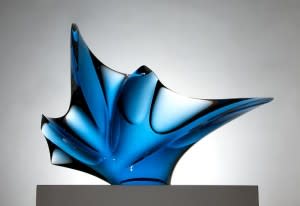 Peter Bremers "Icebergs and Paraphernalia 11-202"
The second room of the exhibit is home to glass sculptures that seem to mirror the colors of the American Southwest. As you move from one side to the other of "Avalanche," for instance, the colors fade from a dusty orange to red and brown and back to orange.
The closer you get to the pieces, more and more details become visible. Bubbles, a hidden warp or contour, a new shade, or a rough or beveled area reveal themselves. Bremers tells us, "reflections of my inner travels mirroring my outer travels come alive in these sculptures."
Moving from the cool blues of icebergs through the warm oranges of the American Southwest, you come to the International Glass Invitational Award Winners exhibit. Featuring 26 of the best international glass artists, this exhibit offers a unique look at the evolving practice of glass art.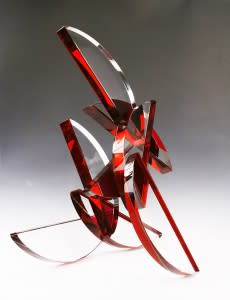 Taylor "Inertia"
There are so many unique and eye-catching pieces in this exhibit that walking in is a bit of a sensory overload. Once you stop at each piece, though, it is easy to see why they were awarded a spot in this exhibit. Pieces on display are from American, Japanese, Danish, Swedish artists and more! Some of the pieces bring in other mediums as well like wax, steel, and clay. These thought-provoking sculptures play with shape form and medium. They push the limits of glass art and display a creativity and inventiveness that makes them truly remarkable.
Both exhibits are well worth the price of admission. I could have spent an entire day just walking back and forth, seeing new elements on each look. If you leaving feeling so inspired, check out Visit Fort Wayne for a list of area glass studios and sign up to learn the art yourself!