Is your family looking for something fun to do but the weather isn't cooperating? If you answered yes like our family, you'll love the four ways we found to have an active day of indoor fun in Hamilton County, Ind.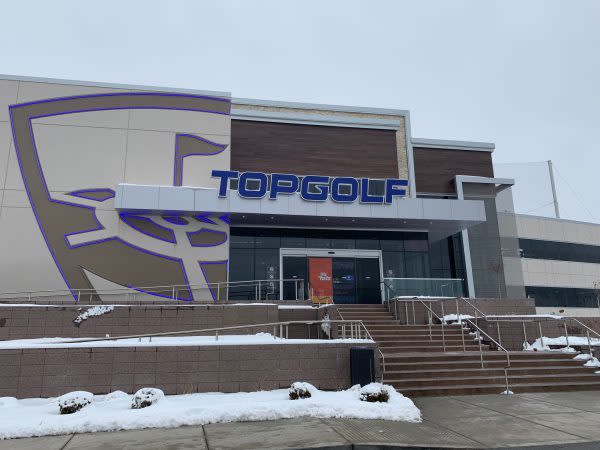 First stop - Topgolf
Whether you're an avid golfer, just beginning or in between, you'll enjoy competing for the most points at Topgolf. When we arrived, it was obvious that Topgolf is a popular place. We stood in the line for a few minutes until it was our turn to be helped at the Guest Services Desk. We signed up to play one hour and were told which bay we were at, then each member of my family received a set of golf clubs. I would encourage you to ask for a bay with low seats if you're bringing younger children.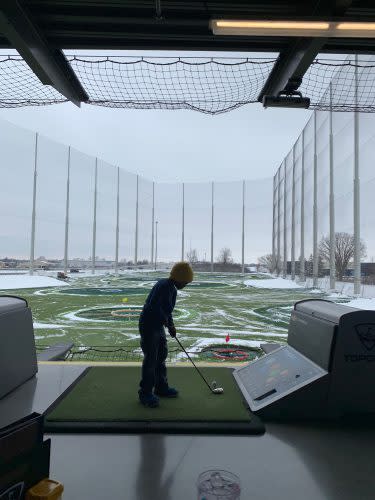 Although it was cold outside that day, we stayed warm and toasty under the heated lamps at our bay. Mike and the boys really took it serious and worked hard to get the most points. I had fun trying to perfect my swing. And, we had to try the injectable donuts with the Bavarian cream (so delicious). Be sure to check the times before you choose a date to visit because certain times of the day are cheaper than others.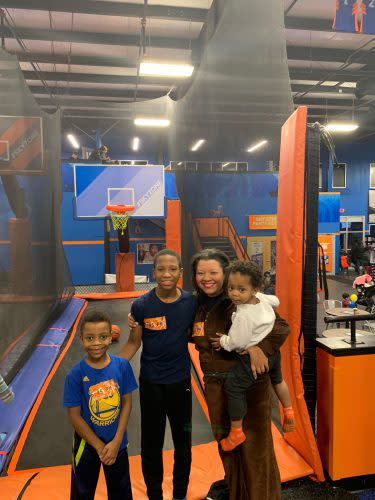 Second stop - Sky Zone
If you've never been to Sky Zone before, I strongly encourage you to visit soon. Not only are you going to have fun, but I guarantee you will be sweating by the time your hour or more is up. Once we checked in and purchased Sky Zone required socks, we headed straight for the freestyle jump area. In this area you can run, jump, hop, skip, bounce, fall and so much more. Jayden and Chase couldn't wait to battle each other on the Skyjoust. But, it didn't take long for Jayden to knock Chase off, I mean he is the oldest. The boys then headed to the Ninja Warrior Course. Jayden was so excited when he completed the course (see video). Chase absolutely loves the Skyhoops area and we all had a blast in the dodgeball area. For a complete list of attractions visit skyzone.com.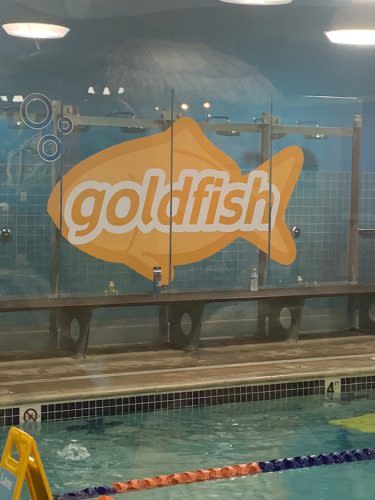 Third stop - Goldfish Swim School
While it was definitely too cold for us to swim outside, at Goldfish Swim School in Fishers the pool is always a warm and shiver-free 90 degrees. My family and I decided to take part in one of Goldfish's Family Swim sessions. Our boys take swim lessons at the school and always have so much fun. I wanted to find out just how great that water felt and I was not disappointed. It felt amazing. The boys and I practiced many of the skills they've been learning in class. I definitely got a work out in too. If you're not a member, don't worry. Goldfish encourages families wanting to learn more about their facility to try a Family Swim session. Each Friday from 6:30 - 8 p.m. the family can swim for just $15 and members can swim Monday through Friday from Noon - 1 p.m. for free.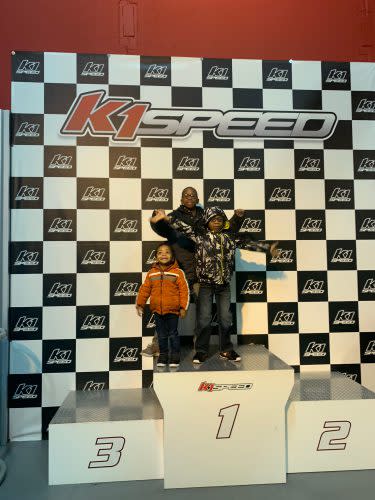 Fourth stop - K1 Speed
The day we visited K1 Speed it was snowing outside, but that didn't stop us from getting out of the house and doing something we've never done before. Once we checked in, the boys were assigned to two races and given racing hats to protect their head from the helmets. I sat out with Kaleb because there is a 48" minimum height requirement for juniors to race. I really loved the interior of K1 Speed.
Of course they paid homage to the Indianapolis Motor Speedway and the Indy 500. There were nice and comfy leather couches, an arcade game area, air hockey, a pool table and they even had two massage chairs. Jayden & Chase couldn't wait to get in their go karts.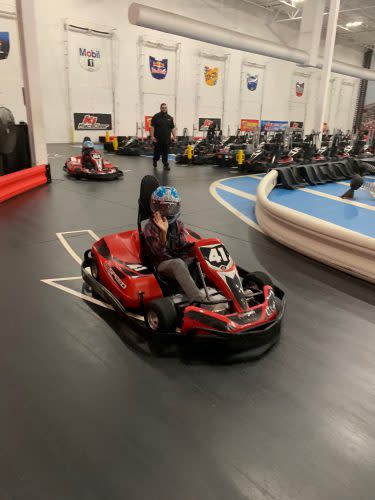 I was surprised to see how quickly they got the hang of it. I think after about a lap or two they were competing for the win. Kaleb and I were their biggest cheerleaders on the sideline. The first race Jayden came in second and Chase came in fourth. The second race Jayden came in second and Chase came in third.
All three of these stops are great ways to get out of the house no matter what the weather holds and stay active along with making memories that will last you a lifetime.