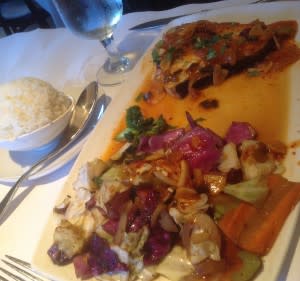 Our daughter has lived in Asia for several years. While our intent has been to visit her in her second home, our budget has not allowed it. A tasty alternative was to visit Asparagus Restaurant in Merrillville located in the northwestern part of the state.
Asparagus is a restaurant with Asian influences. Its owners are Vietnamese but there are Thai influences as well.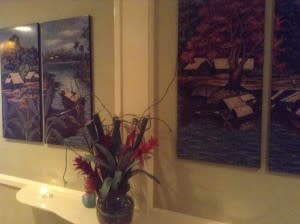 My husband, a friend and I arrived early on a recent Friday evening. The interior entrance was impressive with bamboo décor, paintings of Asian boats drifting on water, and a lion statue to greet us.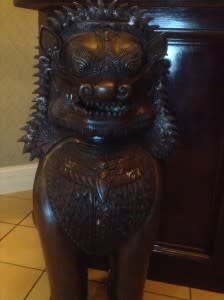 We were seated immediately and handed elegant menus. We were admittedly not familiar with every item on the menu, so it was helpful to have descriptions of each item, including appetizers, provided.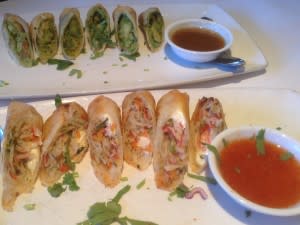 We began with appetizers. The Asparagus Crispy Rolls -- fresh asparagus and bacon dusted with parmesan cheese, wrapped in rice paper with citrus dipping sauce – and Crab and Cream Cheese Crispy Rolls (I'm a sucker for anything with cream cheese) were exquisite. The crab meat and cream cheese with carrot, cabbage and noodle were light and delicate, while the combination of asparagus and bacon was a surprisingly good duo. We ate every bite!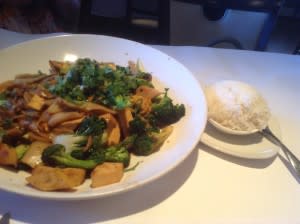 For our main dishes we had an interesting assortment. Our friend ordered a vegetarian dish called Pad See Eiw (don't ask me how to pronounce it). It consisted of stir-fried flat rice noodles with scrambled eggs, broccoli, baby bok choy in a sweet pepper soy.
My other companion ordered Mojito Halibut Steak pictured at the top. It was pan-seared and served with an exotic spicy mojito sauce. He ate every bite.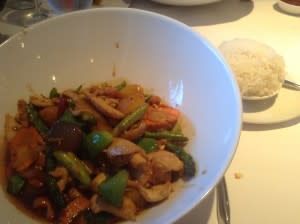 My Pineapple Cashew Chicken was sautéed with asparagus, mushroom, pea pod, pineapple, red pepper & cashew in Thai chili paste. Our waiter had said it could be slightly hot/spicy, but I didn't notice. Yum!
The portions were massive and the waiter helpfully boxed up what we could not eat to enjoy at a later time.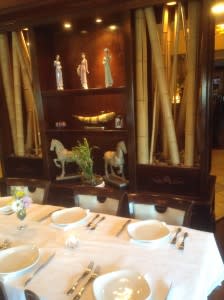 Asparagus is a beautiful restaurant with several dining rooms. The décor is tasteful and appropriate. The full bar accommodates a good-sized group that may be treated to live music on weekends.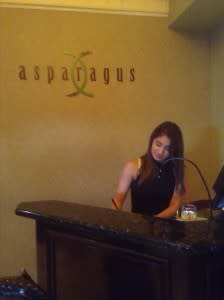 The Asparagus Restaurant ranks high on my list of favorite restaurants in northern Indiana. I'm already planning a second trip!
7876 Broadway, Merrillville, IN 46410
219.794.0000