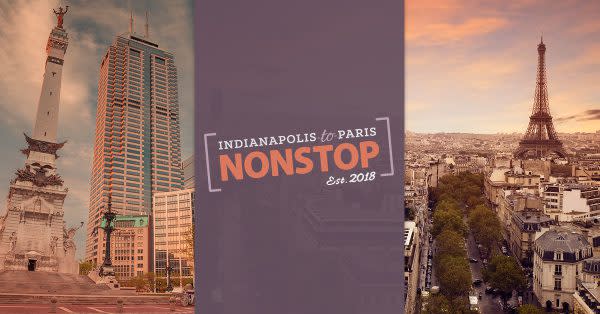 Beginning May 24, 2018, direct flights from Indianapolis International Airport to Charles de Gualle Airport in Paris will be available at least three times per week via Delta Airlines. The flight connects passengers to and from Indiana to 100 destinations in Europe, Africa, the Middle East and India. 
The Indianapolis International Airport has been named the best airport in North America for the fifth consecutive year by Airports Council International. Including this new route, the airport has added 37 nonstop flights since 2014, increasing its service to a total of 48 nonstop destinations.
Delta's Indianapolis-Paris service is scheduled as follows: departing Indianapolis at 6:20 p.m. and arriving in Paris at 8:45 a.m. the next day; departing Paris at 1:15 p.m. and arriving in Indianapolis at 4:35 p.m. The onboard experience will be equipped with 25 fully lie-flat seats in Delta One, 29 seats Delta Comfort+ and 171 seats in the Main Cabin. Every seat has access to Wi-Fi, free personal in-flight seatback entertainment screens as well as power ports. Complimentary meals and beverages will also be provided in all cabins of service.