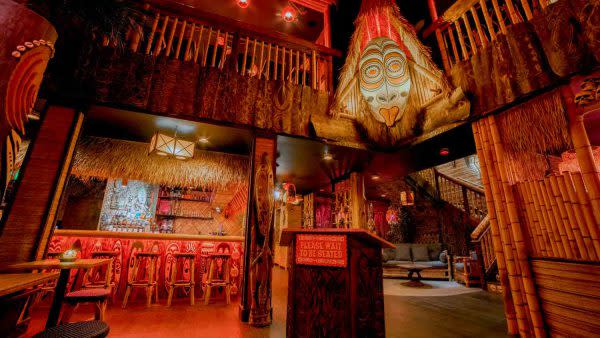 I love places where you walk in the door and are immediately transported to a completely different place. That's what you get when visiting the Inferno Room in Indianapolis. It's part tiki bar and part museum with a huge collection of artifacts purchased from a private collector who spent a significant amount of time in Papau New Guinea. In fact, it's one of the largest collections of Papau New Guinea native art that exists outside of a museum.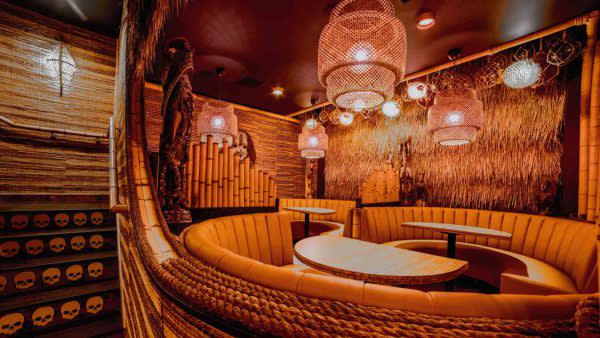 Have a seat at the tiki bar and you sink further into that feeling of being in a tropical paradise as you sip on classics, like the mai tai or daiquiri. Other signature cocktails include sweet ingredients and spirits - passion fruit, guava, mango, pineapple, grenadine, blue curacao, campari - that take you to an island far, far away. There's also a tremendously large selection of rum.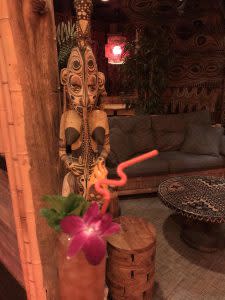 Sip on a classic cocktail or a signature drink while admiring the decor. The tiki bar has one of the largest collections of Papau New Guinea art that exists outside of a museum.
My visit was brief and I only had a cocktail, but the food menu has a fun, eclectic mix of cuisine that matches the atmosphere - Spam sliders, yuca nachos, jerk chicken kabobs, pineapple fried rice, fried plantains, coconut empanadas and other small bites, shareable and sandwiches.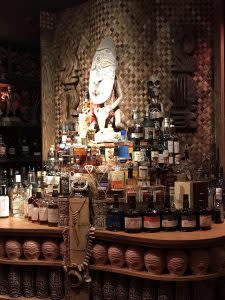 Bits of Papau New Guinea are at every turn in the Inferno Room. They've also got a huge collection of different types of rum for guests to enjoy.
The Inferno Room is located in the city's trendy Fountain Square neighborhood. The Luau Room pays homage to Indiana-native Steve Crane, a B-movie actor who opened several tiki lounges, including The Luau in Beverly Hills.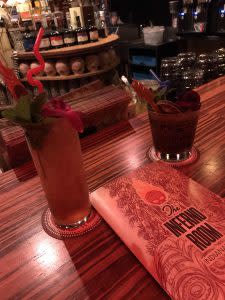 The Inferno Room has a number of classic cocktails dating back over a half-century that were popular in tiki lounges of the time as well as some creative house specialties. There's also an eclectic menu of sharables, small bites and sandwiches that follow along with the theme.
For more information, visit theinfernoroom.com.