A historic town on the Ohio River, Madison is a wonderful place to visit, and it is home to great shopping and art. One shop provides great antiques and the ability to channel your inner artist.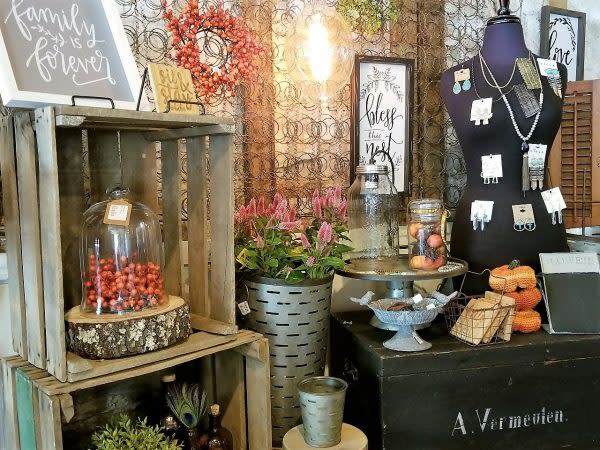 Little Golden Fox
Little Golden Fox is one of Madison's favorite places to shop for antiques, handmade treasures, jewelry, clothing, seasonal décor and more. It's one of those fun places you love to shop.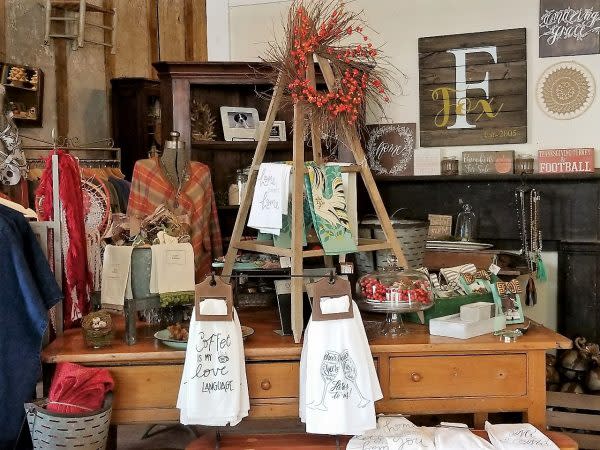 Ready for Fall
It's also THE place for fun art classes for kids (Birthday Parties) & adults (maybe because wine is sometimes involved). They offer a variety of classes every month (check the schedule at Art on Vine): painting, glass mosaics, personalized sign boards, milk painting…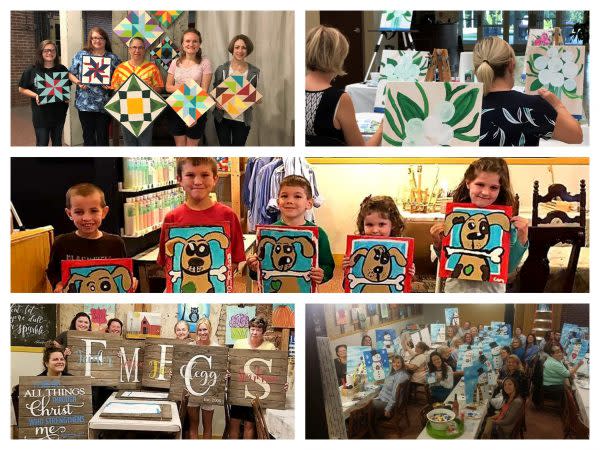 Art Classes*
Martha & I have been trying to coordinate our schedules for months so we could take one of their classes but we just couldn't get it together for a class so we decided to try our hand at pottery painting.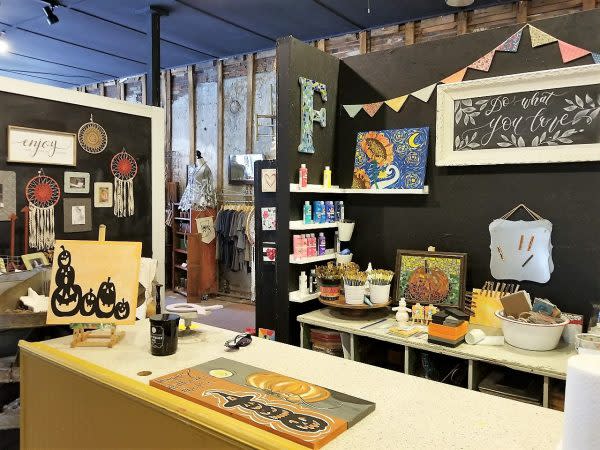 Getting Ready to Paint
Pottery painting is available at Little Golden Fox every day during shop hours – Mon 11am-5pm, Thurs – Sat 11am-7pm, Sun 1-5pm. We got there about 11am with not a clue how to proceed. Cara Fox got us started and gave us a short intro.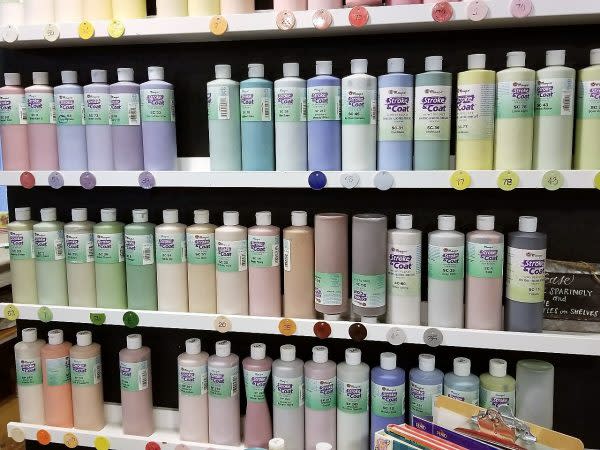 Yikes! Lots of paint choices.
We agonized over which piece to paint (there's a variety of choices with a wide price range), tried to decide what to paint (yes, we were over thinking), then chose our paint colors (huge selection) and went for it. Luckily, Cara was available for questions and encouragement.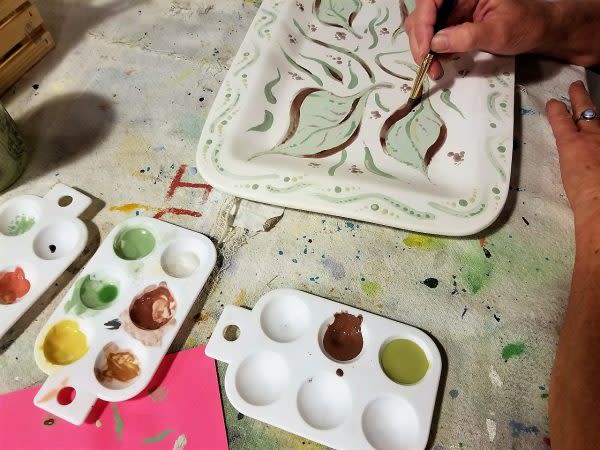 Masterpiece in Progress
A young lady & her grandmother joined us but they actually seemed to know what they were doing!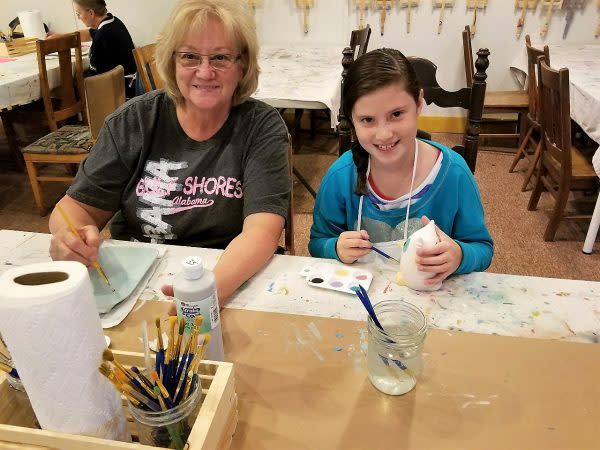 Fun for All Ages!
The longer we painted, the quieter we got. Suddenly, it was 3 hours later and we were getting hungry. I finished mine and kibitzed on Martha's until she finished. We signed our masterpieces and left them to be fired. Our finished work will be ready in one week.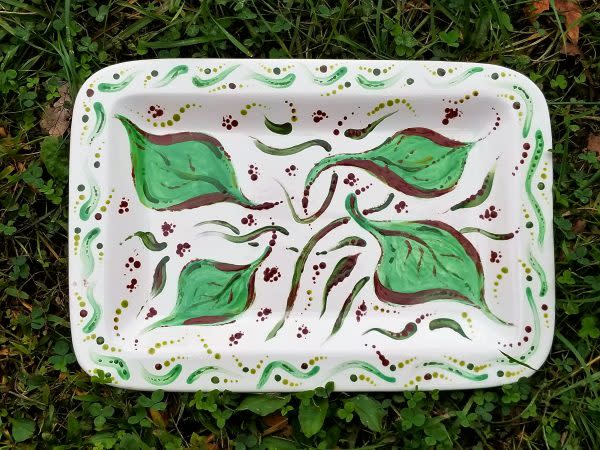 Ta-da!
Don't leave yet! You still have some time for shopping. I found some great Christmas gifts (Psycho but Cute socks) for friends, really beautiful handmade puppets and a faux suede/shearling vest for ME!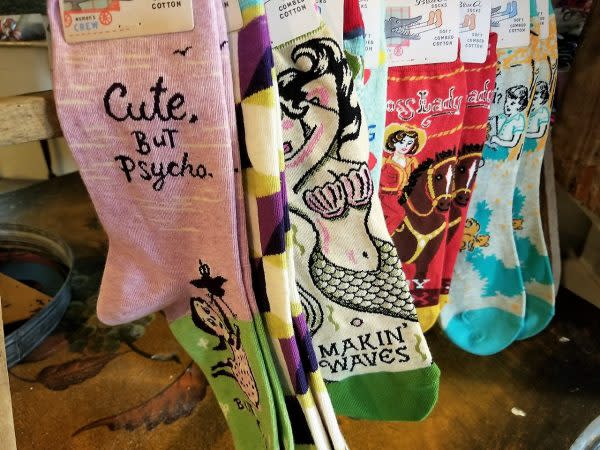 Perfect for My Friends!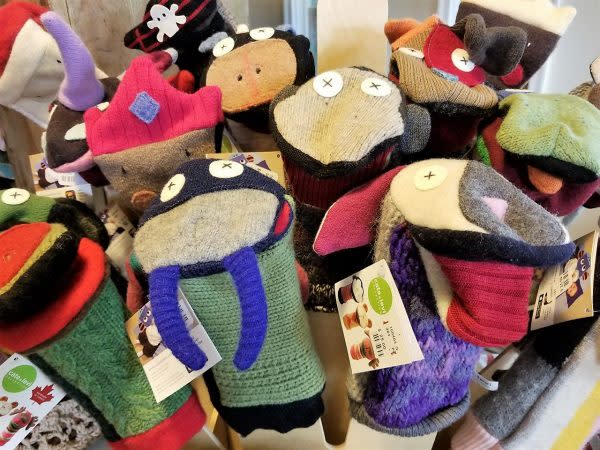 Fun Puppets!
ANN'S TIPS:
Go early unless you know what you're doing.
Go easy on the paint – it doesn't take a lot.
Have some clue what you want to paint. There's a lot of great stuff in the shop so look around for inspiration.
Don't over think! Nice repetitive geometric patterns would be a good first choice.
Your piece will look better after it's fired! Really!
Go with friends, you'll have a great time.
For the ultimate good time, grab a group of friends, stay at one of Madison's great guest houses, bed & breakfasts (take over the whole place!) or hotels. Make advance arrangements for a private class at Little Golden Fox (you only need 8 people), pick up a couple bottles of wine at one of Madison's wineries, check out all the local shops, dine at the local restaurants and enjoy the local entertainment. Find all your choices at Visit Madison.
Looking for more pottery painting? Check this out Winter Family Fun in Lafayette - West Lafayette. Or if you're looking for inspiration, check out Art Aficionados: Top 5 Indiana Stops.
BONUS STOP: You know we were hungry so we stopped at Off Broadway Tap Room on Main Street in Madison.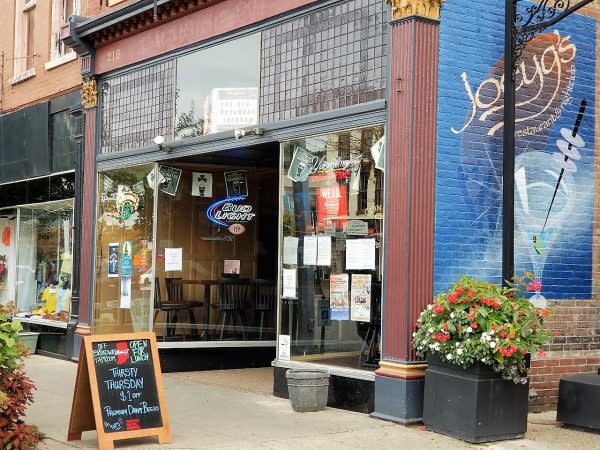 Off Broadway Tap Room
It's a little bit hard to find but look for the sandwich board on the south side of Main in the first block west of Jefferson Street (it's the former Joey G's location & there's a mural on the outside west wall). Warning – it's 21 and over so not a place to bring the kids. They specialize in Panini, sandwiches, burgers, appetizers, tacos, craft beers, full bar and live entertainment. Their menu is just a little bit different – house made hummus, veggie choices, house made chips and specials (Taco Tuesday). Plus, the artwork inside is really cool!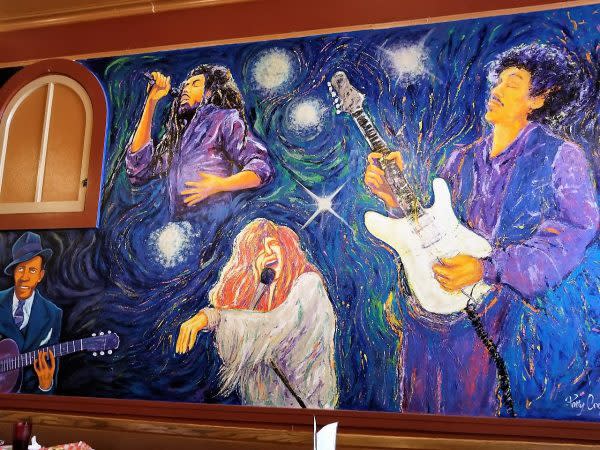 Off Broadway Tap Room
My all time go to favorite is the Fried Green Tomato BLT but this time I added the fried egg. I'll never order it without the egg again - decadent!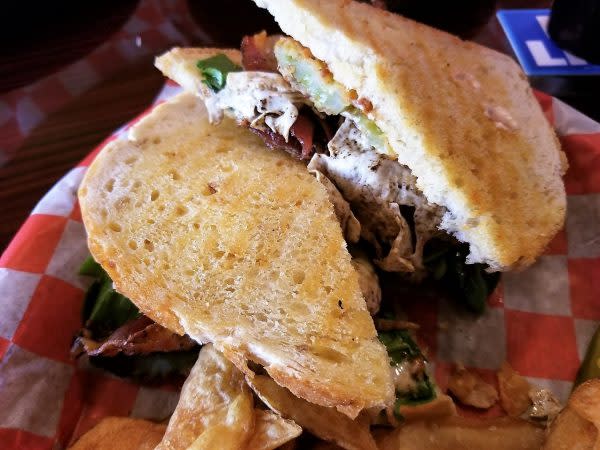 Fried Green Tomato BLT with a Fried Egg!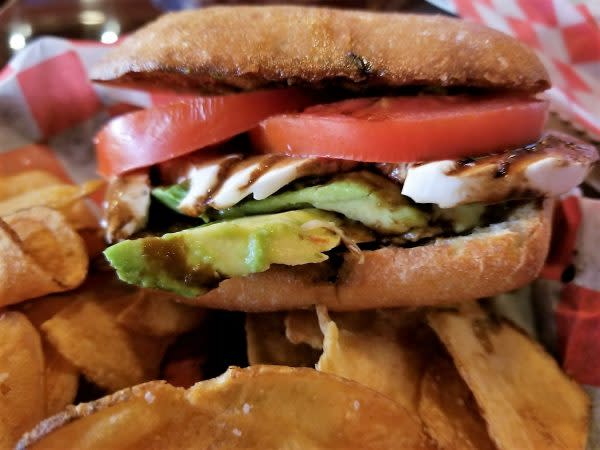 Avocado Caprese Panini
We also tried the Hummus Platter (loved it and the chips) and the Avocado Caprese Panini (fresh basil, yum).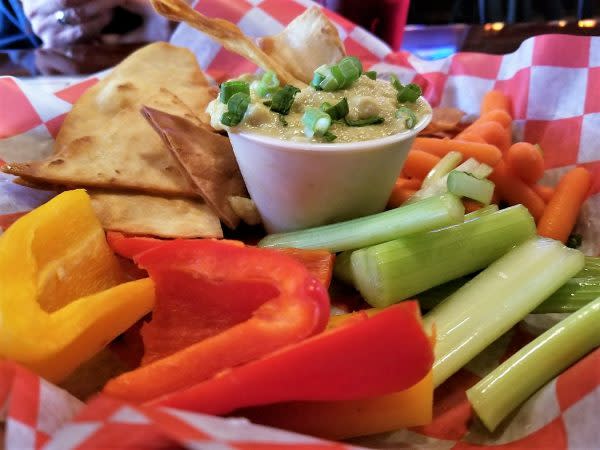 House Made Hummus!
This was Martha's first time at Off Broadway and she gave it a definite 2 thumbs up!
*photos courtesy of Little Golden Fox