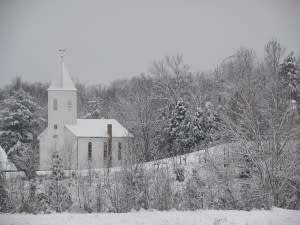 The historic Santa Claus Church sits on the grounds of the Santa Claus Museum & Village.
Understanding the essence of Christmas can be tricky. In 1965, Charles Schultz's iconic character Lucy van Pelt described the magic of the season as "Santa Claus and ho-ho-ho, and mistletoe and presents to pretty girls." While Lucy's statement is reflective of the sense that the holiday season is becoming over commercialized, she did get the "Santa Claus and ho-ho-ho" part right. And soon enough, her little brother sets things straight when he observes that the true spirit of Christmas holds a deeper meaning centered on home, family and friends. In Santa Claus, Indiana, we hold this Christmas magic near and dear to our hearts, especially during the month of December. You can buy presents for pretty girls in Santa Claus, but you will also find the quieter, small-town meaning of a Christmas spent with friends and family.
Santa Claus is a community steeped in holiday tradition. Each year, the town hosts the annual Christmas Celebration during the first three, full weekends of December. The smell of fresh-baked Christmas goodies wafts from homes and businesses on chilly December days while twinkling Christmas lights color the night sky. Saturdays and Sundays are filled with parades, pageants and holiday activities. You can find chestnuts roasting on an open fire at Santa's Candy Castle and visit the big guy in the red suit at the Santa Claus Christmas Store.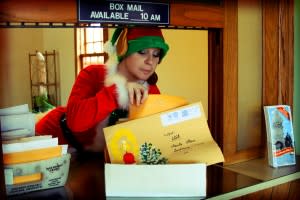 Holly the Elf helps Santa sort through the letters that arrive from all over the world
However, one of the town's most beloved traditions stretches nearly a century. Every year since 1914, this little town in Southern Indiana has received thousands of children's letters to Santa Claus. In December, letters flood the Santa Claus Post Office, each one filled with Christmas wishes, concerns about the naughty list, and a glimpse into the hearts and homes of children everywhere. And for nearly 100 years, the town of Santa Claus has pulled together to help Santa answer these letters. Santa's Elves, a non-profit organization made up of dedicated volunteers, spends countless hours and thousands of dollars each December helping Santa write responses to boys and girls from all over the world. The Elves are headquartered at the Santa Claus Museum & Village, where children can also come to write their letters, penning their wish lists while seated at antique school desks in the Original Santa Claus Post Office.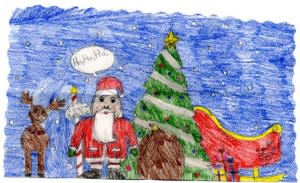 A colorful example of one of the thousands of letters that arrive in Santa Claus, Indiana, each holiday season.
While many letters contain the standard list of requests (there are usually scores of children who want puppies and iPhones), others carry pleas that speak to the deeper meaning of Christmas. "Dear Santa, all I want is to help others," writes one little boy. Another asks Santa to bring his Daddy home safe from Afghanistan. The Elves do not send money or toys—that is Santa's job—and they cannot work miracles or ensure the safety and happiness of others. But they can deliver a smile and perpetuate an enduring belief in Santa Claus.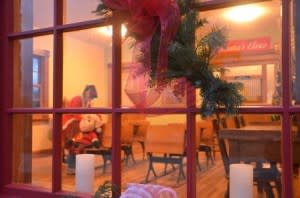 The festive interior of the Original Santa Claus Post Office, the headquarters for Santa's Elves. Children can sit at the antique school desks and write their letters to Santa.
Finding a place to discover—or rediscover—Christmas magic is as important now as ever. After Ebenezer Scrooge makes this journey in A Christmas Carol, Charles Dickens writes of Scrooge that, "it was always said of him, that he knew how to keep Christmas well, if any man alive possessed the knowledge." May Dickens' words be true for all of us. We keep Christmas well here in Santa Claus, and it is only a short journey to pay us a visit this season and discover the Christmas hometown that is at the heart of the season.
Learn more about the Santa Claus Christmas Celebration or call the Spencer County Visitors Bureau at 888.444.9252. For more information about letters to Santa, visit the Santa Claus Museum website or call 812.544.2434.

Emily Weisner Thompson is the Director of the Santa Claus Museum & Village and author of the new book, Images of America: Santa Claus. She looks forward to the arrival of the Christmas season each year. Merry Christmas from Santa Claus, Indiana!