We spent a full, and I mean full, day in Columbus, Indiana last week. I love Columbus. I always have and with it being only a one hour drive south of my house in Indy it was the perfect way to spend a beautiful day!
Since my mother-in-law and my four-year-old daughter were with me, I wanted to make sure we had some fun for all parties involved and it was perfect! We loaded up and headed south with visions of large toilets, architecture and ice cream in our heads!
As I promised my daughter, our day began at kidscommons, the community children's museum. This is the location of the giant toilet! It did not disappoint and I think my daughter went down it multiple times ... it's a beautiful thing to turn a toilet into a slide!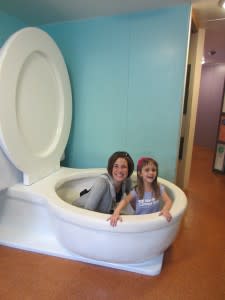 For me, the best part was the bubble-ology room. Seriously I've never seen such huge bubbles in all my life. When they couldn't find me, that is where I was hanging out!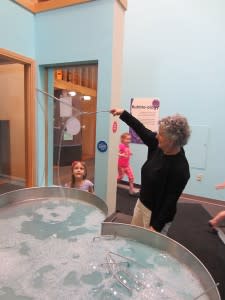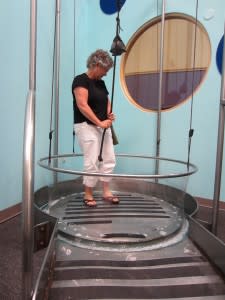 We spent a good couple hours at the museum and since lunch was calling, we made sure to get our hands stamped so we could come back later.
There is no shortage of dining in downtown Columbus, but we decided on Tre Bicchieri, a local Italian restaurant. My mother-in-law said the salad was delicious, but my daughter and I wouldn't know since we polished off a pizza!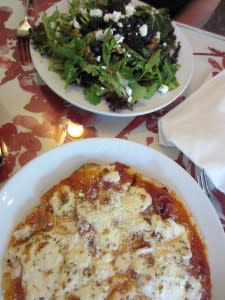 Before heading back to kidscommons, we had to check out The Commons. Not to be confused with the children's museum, The Commons is located directly across the street from the museum and is a community building offering rental spaces, a wedding venue, restaurants, but most importantly a playground! And do I mean playground!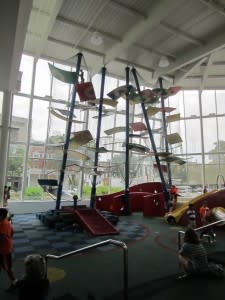 While my daughter played and played and played, my mother-in-law and I took advantage of Columbus' Tour by Cell Phone. We knew we wouldn't have time (or the patience of a four-year-old) for the entire two hour architecture tour. So, for $10 you can get a set of keepsake cards with information on 11 local structures. Once at the structure, you dial in to learn more about the history and creator of each masterpiece. Lucky for us, one of the structures is located right by the playground so we took turns listening to the info and watching the playground. Once Maggie was done we were headed back to kidscommons but with one quick stop at the Bartholomew Courthouse and Veterans Memorial.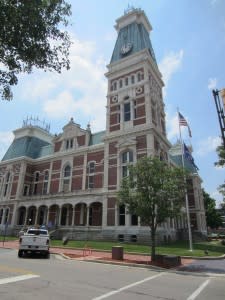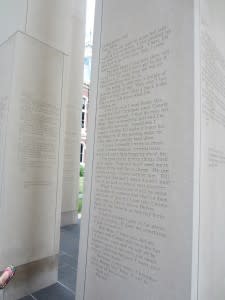 Both were located on the Tour by Cell Phone, so we were able to enjoy the day, walk around the courthouse and read letters from veterans to their family members that are etched in stone. A very cool memorial that I would highly recommend visiting.
Then, back to kidscommons for one more run through the museum. Did I mention they have a cool art/craft area for kids to create masterpieces? A huge hit.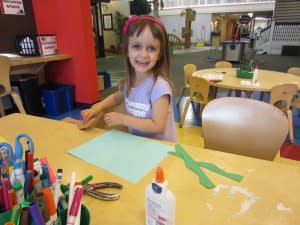 One of the stops we knew we had to make (and were happy to do so!) was Zaharakos Ice Cream Parlor.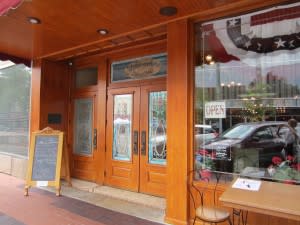 Zaharakos has been around since 1900 serving up ice cream, shakes, malts, banana splits, ice cream sodas, you name it.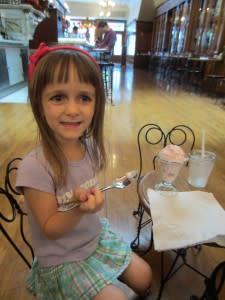 They even have a "museum" of sorts featuring antique ice cream parlor machines.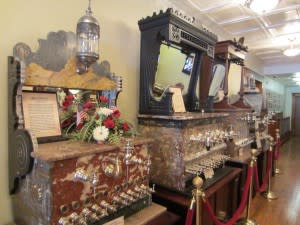 But the day wasn't finished yet! We still wanted to hit a few more sites on the Tour by Cell Phone and since my daughter was starting to fade, she sat and got pushed while we visited the Former Irwin Union Bank, the First Christian Church (pictured), the Cleo Rogers Memorial Library and of course the Dale Chihuly piece (pictured) at the Visitors Center.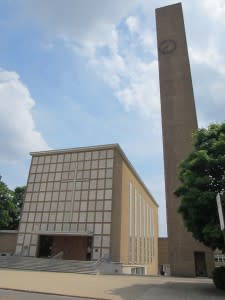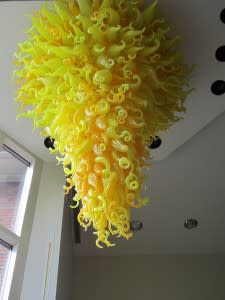 It really was a perfect way for us to learn more about Columbus' fabulous architecture in a limited amount of time.
Before we headed out we had heard their Wednesday Farmer's Markets had started downtown so we made a quick trip through and got some yummy bread from Savory Meadows Farm (which will soon be opening a store front in downtown!).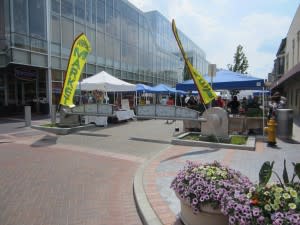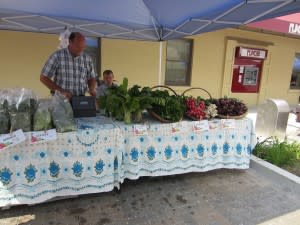 It was a big day, as evidenced here.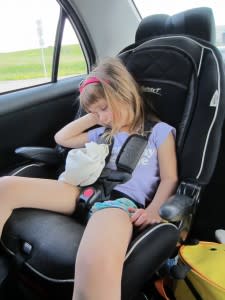 We already have a list of what we are going to conquer on our next visit. Thanks Columbus Convention and Visitors Bureau for helping us plan a wonderful day!