I recently went on a day of exploring in Madison County and what I discovered was a fantastic set of experiences for a winning day of fun with the girls. The day took me out to the country for tastings at Madison County Winery, into town for chocolate at Good's Candy Shop and onto the quaint downtown streets of Pendleton for shopping. What a wonderful surprise to find all of these adventures within close proximity and located just moments off of Interstate 69 just north of Indianapolis!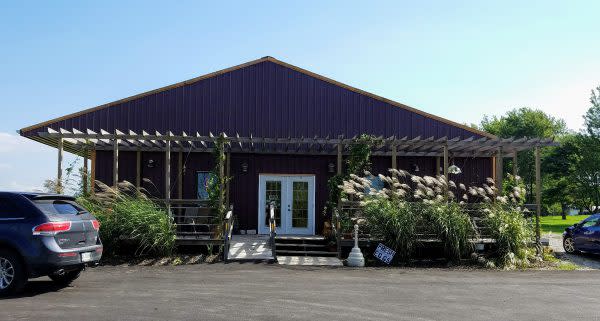 Head past picturesque horse farms and fields to this charming winery in Markleville for a relaxing afternoon of wine tasting. The winery is just a few miles out of town down a quiet country road and from the moment you arrive you'll feel at ease at this cozy country location.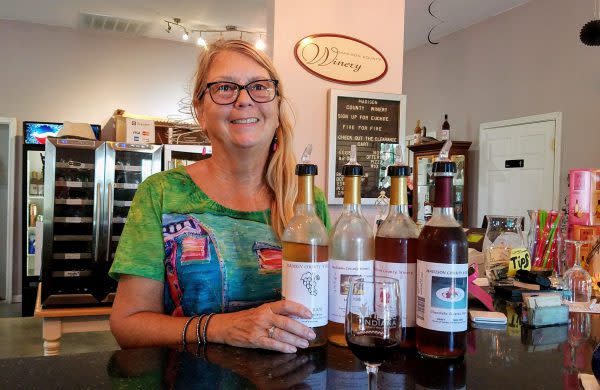 It's just $5 to sample five wines and they have a nice selection of varieties to try from dry wines to semi-sweet, sweet and ports. One of the owners explained all of the wines to me and I fell in love with several including their Blank Blanc, Chocolate Covered Pear and their Chocolate wine. They also have several flavors of hard ciders and wine slushies. While you are there, browse through their adorable gift items and grab a glass and find a cozy spot out on their porch. Like to travel via RV? The Madison County Winery is adding on site RV campsites in Spring of 2019 so that you can enjoy the country in style.
Oh, Good's, why am I just now stopping here for the first time! This chocolate shop is the real deal folks and if you've been driving down I-69 and haven't stopped at least once, you must add it to your next trip.
The elegant and charming exterior really sets the stage for this chocolate shop in Anderson, Indiana. It is outside that you must make your first decision before you enter - ice cream side or the candy shop?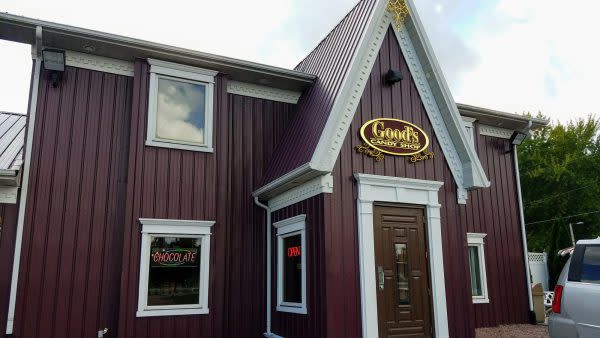 I decided to hit the candy shop first and opened the door to this exquisite showroom that smells of deliciousness. It really is quite beautiful inside - almost like a jewelry store - and the chocolates are displayed like jewels. And they are as delectable as they are beautiful. Sample a few and pick your favorites. From caramels to filled chocolates, toffee and truffles, there's plenty of options to make any chocolate lover swoon. I really loved their signature toffee and the saratogas, which are filled with caramel and mocha with a milk chocolate and nutty covering. Good's rounds out it's selection with fudges, brittles and a number of other candies and popcorn flavors.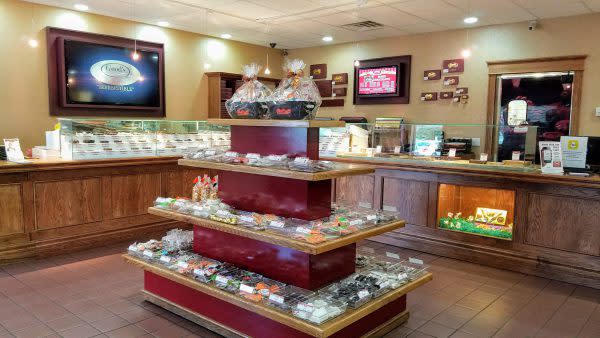 After picking out goodies to take home, consider venturing over to the ice cream shop and have a treat. Again, the interior is quite elegant  and the staff are able to move seamlessly from one side to the other to help customers. There's a huge list of mouthwatering flavors including delicious Blue Moon, Toffee Chocolate Chip and Vanilla Cherry Chocolate Chip - the best part is that many of them can be made into soft serve. I landed on a turtle sundae, which was huge, and the caramel sauce was some of the best I've had.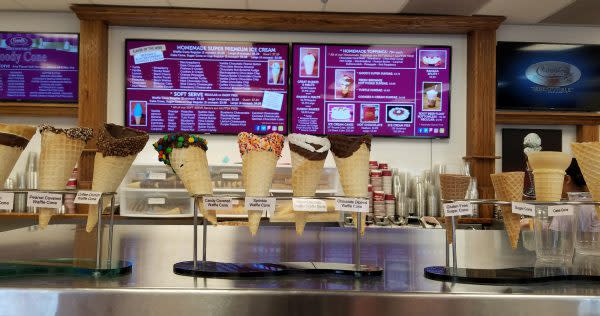 I was quite captivated by the Good's Candy and Ice Cream Shop and have already been telling all of my friends up north about it. Although I won't be sharing my chocolate - it's just too good. In between visits, feel free to order chocolates online from their website.
Shopping in Downtown Pendleton
I checked out the Anderson/Madison County Visitor Bureau site and found a number of boutiques in the area, so I headed to downtown Pendleton for an afternoon of shopping. Like many towns in Indiana, Pendleton is a Main Street Community focusing on revitalization and the place is oozing with charm. There are several shops and dining options right on State Street in the downtown area so plan to spend some time making your way down the street.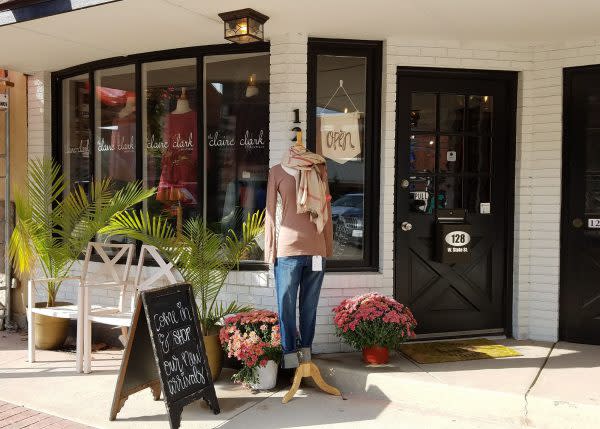 The Claire Clark Boutique is a trendy boutique filled with women's clothing, accessories and gifts.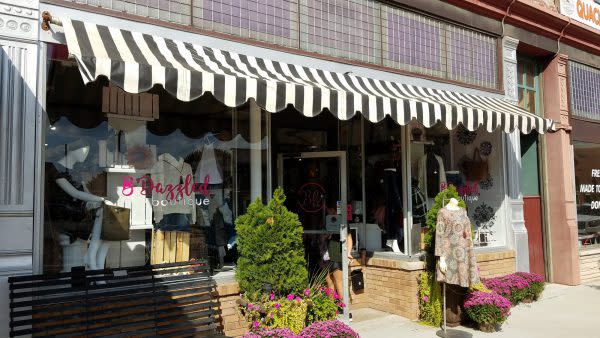 B'Dazzled Boutique is just a few doors down and has a huge selection of ladies clothing and accessories. They do a fair amount of online sales as well and will let you look through the items.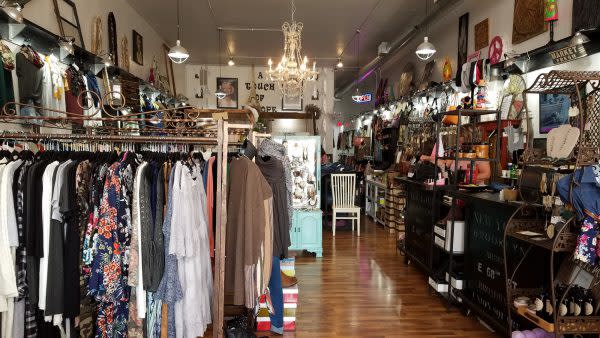 You'll enjoy the large selection of items in this downtown shop, B'Dazzled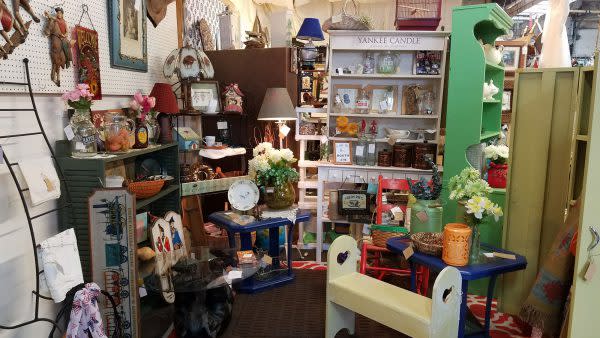 Burmeister's Olde Towne Antiques  - Weave through several rooms of antiques in this bright and welcoming antique shop on the strip.
When a restaurant mentions on its website that it was voted the best sit down restaurant in the county, it seems like a no brainer that you must stop in for a meal. The restaurant is located in the old Pendleton Bank and Loan building that was built in 1910. There's a lovely patio out front but I chose to sit inside on this chilly fall day. The menu features a selection of salads, sandwiches and entrees with upgraded flavors and ingredients. For example, they offer a fresh spin on a grilled cheese sandwich that includes cheddar and raclette cheese and a blackberry peppercorn sauce. I selected the beer battered cod with fries and corn fritters. The tarter sauce has a nice addition of a slight dill flavor which made it light and flavorful. The corn fritters were spectacular with it's soft center filled with sweet corn pieces and they took the top place as my favorite part of the meal.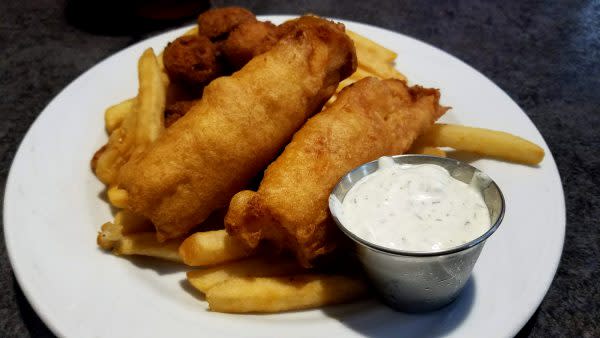 Had a late lunch at The Bank Restaurant in downtown Pendleton. Loved the fish with fries and corn fritters.
I truly enjoyed my meal and the restaurant was quite busy even late in the afternoon between mealtimes. The restaurant is open daily for lunch and dinner and features an upstairs bar that opens for dinner.
Altogether, my day in Madison County was quite special. I'm quite impressed with all of the wonderful experiences just off the highway and just a short distance from Indy. I came home with several purchases including several bottles of wine and beautiful earrings. A day out could easily be combined with a visit to Hoosier Park Racing and Casino in Anderson to round out the weekend. To find even more shops and stops in the county, visit the Anderson & Madison County Visitors Bureau. or follow their Facebook page for information on attractions and events.