If you loved The Andy Griffith Show growing up, you'll be pleased to learn you can have your own taste of Mayberry in downtown Danville, Indiana, in Hendricks County (west of Indianapolis). With home cooking and Andy Griffith Show nostalgia around, the Mayberry Cafe has been serving a taste of small(er) town life since 1992.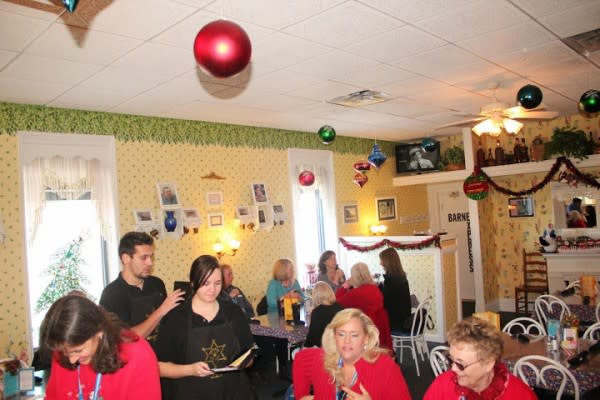 The Mayberry Cafe in Danville, IN. The TV in the upper corners are ALWAYS playing the Andy Griffith show. While I was there in December, I saw the episode where Barney tried to sing opera, and they all learned Gomer could sing.
But if you can't get enough of Mayberry with regular visits to the Cafe, then you need to visit the very first Mayberry in the Midwest Festival, on May 17 and 18, 2014. Mayberry Cafe owners, with the help of the Downtown Danville Partnership, will hold the festival in downtown Danville.
"For years, people would ask us why we didn't have a Mayberry-themed festival here in town," said Christine Born. "We have been thinking about this for a while because the Mayberry theme really meshes well with Danville's hometown values. Danville knows how to put on a festival, so we feel the time is right for this to be successful and sustainable."
The festival will be held right in the middle of downtown Danville, around the Hendricks County Courthouse Square, with several themed activities, and appearances by two original cast members, Maggie Peterson, who played Charlene Darling on the show, and Rodney Dillard, who portrayed one of the Darling boys. There will also be tribute artists reprising many of the show's characters, including Barney, Floyd the Barber, Otis, Goober, Gomer, Ernest T. Bass and others.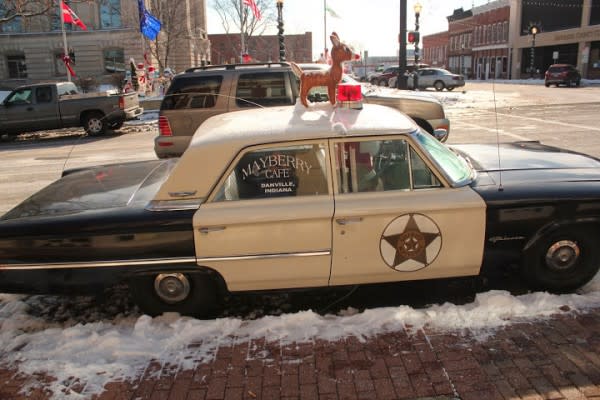 I took this shot in December, when there was snow and ice on the ground. Despite the weather we've been having this winter, it should all be gone come festival time.
There are a cool dozen contests for everyone to participate in. You can click on one of the links for more information, or to register for the contest.
Other activities will include a parade, Opie's World for kids, a concert at Ellis Park featuring Rodney Dillard and his band, and a church service on Sunday morning by Rodney Dillard, who is now a minister.
You can find more details about the entire festival at the Mayberry In the Midwest website.
Photo credit: Erik Deckers