My figs are starting to leaf out so spring must be trying to arrive in southeast Indiana. That means it's time to start planting, so I'm off to visit McCabe's Greenhouse & Floral, 1066 W Eads Pkwy in Lawrenceburg.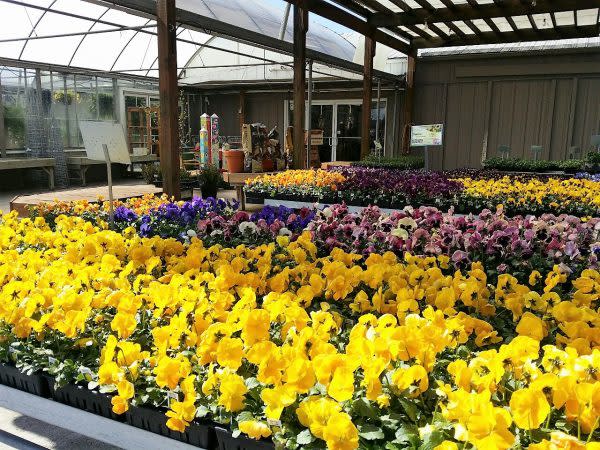 I Love Pansies
This family owned and operated business began in 1974 on the family farm and in 1978, moved to the present location in Lawrenceburg. This is your "go to" place for bedding plants, grown in their own greenhouses behind the retail store. In addition to the huge selection of bedding plants, hanging baskets, herbs and more, McCabe's offers a full garden center and floral department. The retail store is filled with beautiful and colorful displays of garden/home accessories and gifts for the garden lover.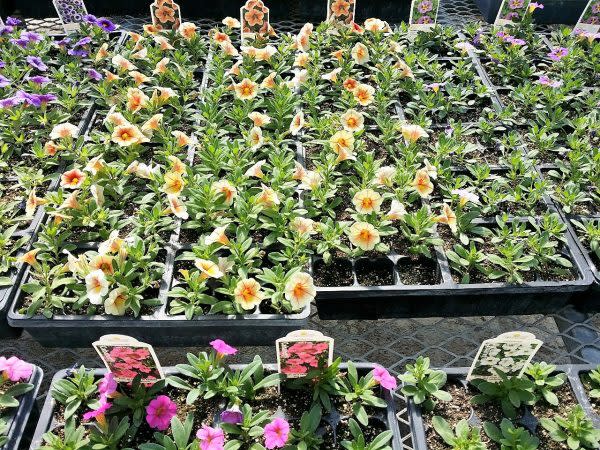 Bedding Plants - Just a Sample
What a surprise to find out that McCabe's makes its own fudge! There are 15-20 varieties of fudge, all created in McCabe's new fudge kitchen. Doesn't everyone want a fudge kitchen? My rationale - you're going to be expending all those calories gardening, it only makes sense to bring home a little gourmet fudge. Dark Chocolate Caramel Sea Salt – I've already been back for more!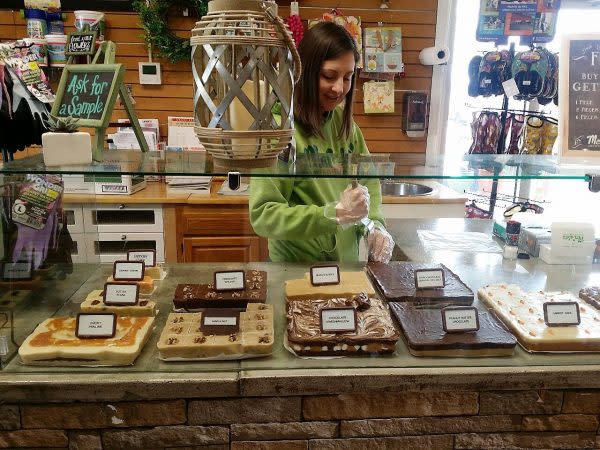 Addictive!
McCabe's also offers a variety of family friendly classes and workshops during the year. The gift shop is now stocking Illustrated Faith products and Bible Journaling classes are scheduled for the last Wednesday of the month. There are Mommy & Me classes in March where the kids learn about gardening and plant a hanging basket that McCabe's will care for it until it's ready for Mother's Day. Kids love (and who wouldn't?) the fudge-dipped apple workshops in November & December. Last year, Fairy Garden and Make & Take a Porch Pot classes were big hits. Classes aren't just for kids, older "kids" will enjoy them, too.
Find all the latest information for this year's classes on McCabe's Facebook page or give them a call at 812-537-4525. If you have a group of friends, you can call to make arrangements for private classes or checkout Tour Southeast Indiana for your group options.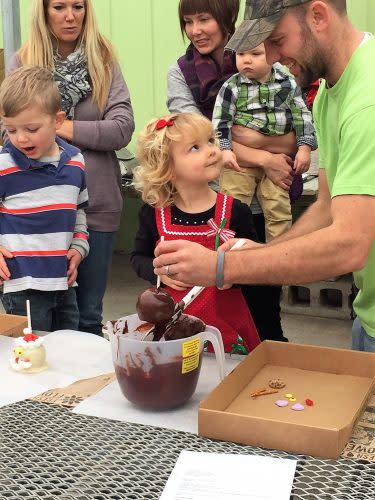 More Fudge, Please!*
Find some inspiration at Taltree Arboretum or tour the Quilt Gardens in Amish Country!
Make it a whole weekend or girlfriend's getaway, find places to stay & more things to do in: Lawrenceburg/Dearborn County
*Photo provided by McCabe's Greenhouse