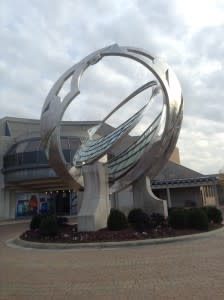 Have you heard of a place for years and never visited it and when you finally did, you went 'Wow!' That's what I felt when I recently toured the place called Minnetrista in Muncie.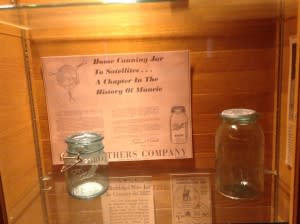 The word Minnetrista means 'gathering place by the water'. It refers to the 40-acre place in Muncie where the five Ball brothers and later the Ball Corporation established their worldwide headquarters. The Ball name became famous as the brothers invented Ball canning jars. The food preservation method is still popular as a cranberry sauce canning workshop is offered at the location on November 17.
The Minnetrista building has a modern look with this sculpture in front. Parking in the adjacent lot is free and relatively close to the front door. The building contains large rooms where I was told community events are held.
I was intent on touring the century-old home called Oakhurst Home and Gardens. The admission price for the tour is $5.00 for adults and $3.00 for children. Take advantage of the personal guide who may be available during slower sessions to offer an inside look.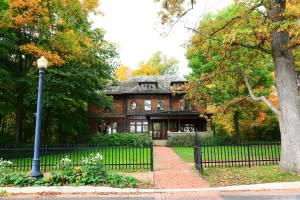 The Ball State University student drove us in a golf cart the short distance to Oakhurst, the home of George, Frances, and Elisabeth Ball. George Ball was one of the five Ball brothers. The boys must have been good friends because they all constructed homes next to each other. Oakhurst is the only one available for touring.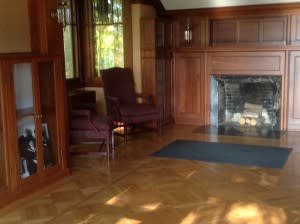 Oakhurst Home was built in 1894. It's a lovely two-story home so-named to reflect its oak grove surroundings. This home is undergoing reconstruction so it is not decked out in its full splendor, but I still enjoyed walking through the spacious rooms, many of which featured inlaid wooden floors and a variety of wood trim used throughout the home. George, Frances, and Elisabeth Ball lived in the home until Betty, the last living member of the family, died.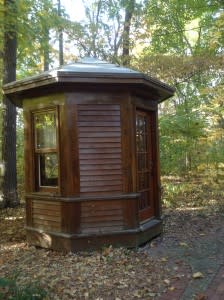 That was not the only building on the tour. Betty's Doll House is a tiny building in the woods behind the home. It is where Betty went to write letters. One of her letters was displayed inside on a small table.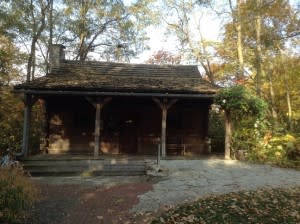 Even further back in the woods was the most surprising building of all.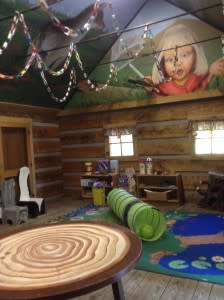 Nicknamed 'Discovery Cabin', this building today is a child's haven. It is decorated so kids can get excited about the creative process. Children are encouraged to go in to play, draw, read. Betty had seen a cabin like it in Brown County and had one built as a get-away.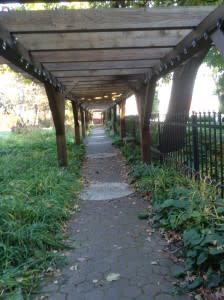 The gardens may not be in full splendor today, but several aspects are interesting. Can you imag a bride walking through this pergola to join her future husband and preacher?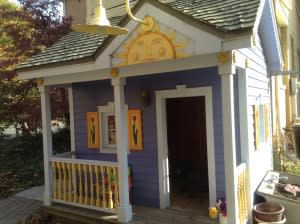 Another area in the gardens behind Oakhurst is available for small children to play and create. This playhouse really captures my attention. Wonder what the age limit is for going inside?
Tours are not all going on at this east central Indiana location. The Minnetrista Farmers Market continues during winter on the third Saturday of each month. The Orchard Shop at Minnetrista has beautiful items for gifts.
Also, on December 4-5, the community is invited to Minnetrista to participate in a free Luminaria Walk. Theater performances, carriage rides, and holiday music in celebration of the season will be offered along with treats, games and crafts from 6-9:00 pm.
Keep in mind the asphalt trail that runs through Oakhurst Gardens is part of the 62 miles that make up Cardinal Greenways.
Minnetrista hours:
Mon-Sat 9am-5:30pm
Sun 11am-5:30pm
Closed Thanksgiving, Christmas Eve and Christmas Day, New Year's Day, Easter.
1200 N. Minnetrista Parkway
765.282.4848
The End