Just before the December 26 grand opening of the National Mascot Hall of Fame in Whiting, I attended media day to get a sneak peek of this long-awaited attraction located just beyond downtown near Whihala Beach. Children from local schools were there on a field trip to get a first glimpse of the exhibits before opening to the public and it was fun watching them explore.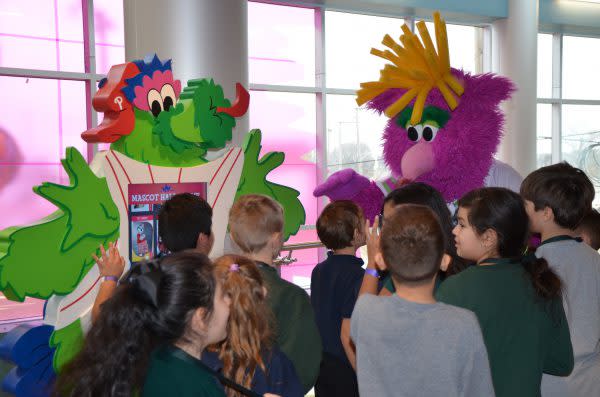 The Mascot Hall of Fame has its own mascot, Reggy, who enjoys interacting with visitors.
It made me wish it had opened just a few years earlier because it's the kind of place my kids would have loved when they were in elementary school. Even now as teens there are features they would love - like the game where you fire a cannon at a screen to launch virtual t-shirts like the real mascots do. I tried it out myself and I could have been entertained for quite a while.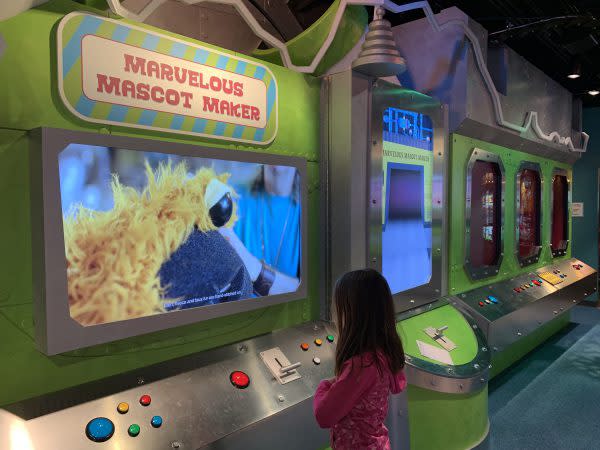 Build your own Mascot in the "Marvelous Mascot Maker"!
The place is filled with interactive exhibits and honors some of the collegiate and professional mascots which enliven our experiences at sporting events. The Build-A-Bear® kiosk allows visitors to create their own souvenir to bring home. There's a little indoor play area for active little ones to climb and crawl around in.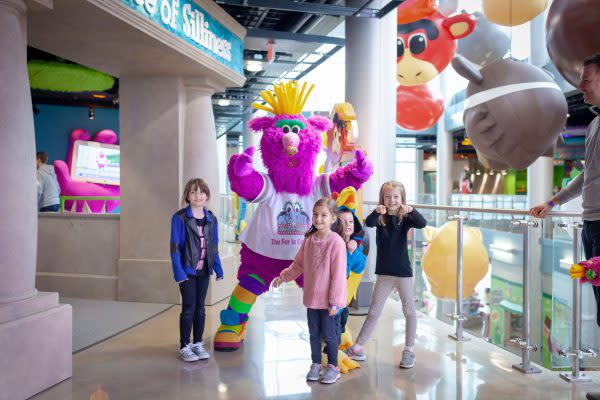 Mascot Hall of Fame
My favorite part was the Parent's Penalty Box - an area with very comfortable theatre-like seating situated between two exhibits where parents can get off their feet and chill out while keeping an eye on their kids. I've been to a lot of children's museums and never seen anything quite like it - it's really wonderful to have that available when you've been standing over your child for an hour watching them play.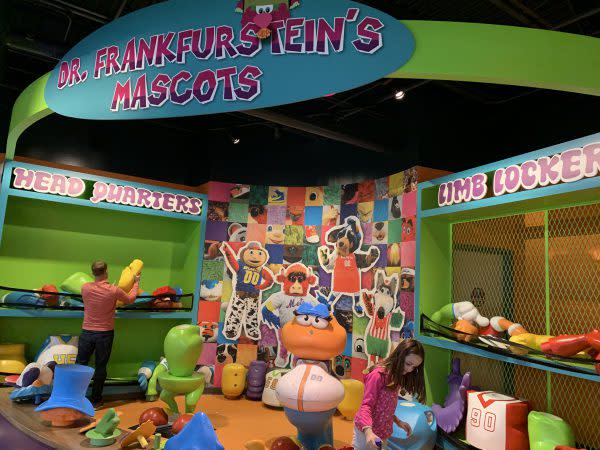 Build Dr. Frankfurstein's Mascot using parts from your favorite mascots.
Hanging in the three-story atrium are large, colorful inflatables of current inductees. New mascots will be inducted into the MHOF annually.
Whiting is a great community with a lot to draw in visitors - Oil City Stadium, a historic movie theatre, some fabulous restaurants and cafes, a craft brewery, the annual Pierogi Fest and of course, the Lake Michigan lakeshore and WhoaZone floating water park. The addition of this new interactive children's museum helps round out the community and draw in visitors all times of the year.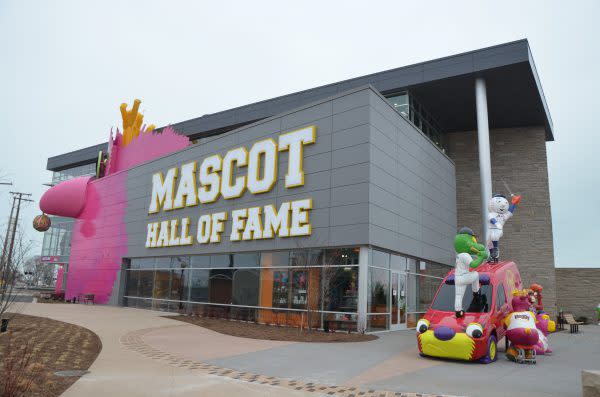 The colorful exterior of the Mascot Hall of Fame in Whiting is a welcoming sight for visitors to the new attraction.
Here are the details to help you plan your visit:
National Mascot Hall of Fame 1851 Front Street Whiting, IN (219) 354-8814 mascothalloffame.com
Hours: Check website for hours of operation 
Admission: $10, kids under 2 are free. Memberships are available at four levels -individual, family, grandparent and an Association of Children's Museums Reciprocal membership.