There is never a bad time to take to the woods, and this nature preserve in Owen County is exactly the outdoor adventure you've been looking for!
Green's Bluff Nature Preserve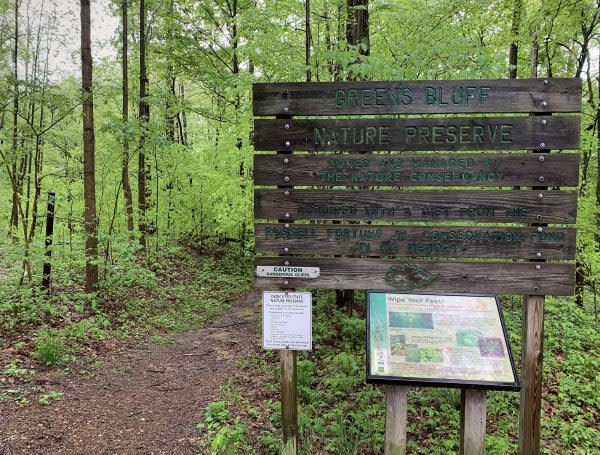 Green's Bluff Nature Preserve is a true Indiana treasure.
Start the morning early in downtown Spencer. Local vegetables, crafts and other treats abound at the Saturday Farmer's Market. Stop in for breakfast and coffee at Main Street Coffee or the Spencer Coffee House on the town square. Then make your way to Green's Bluff Nature Preserve.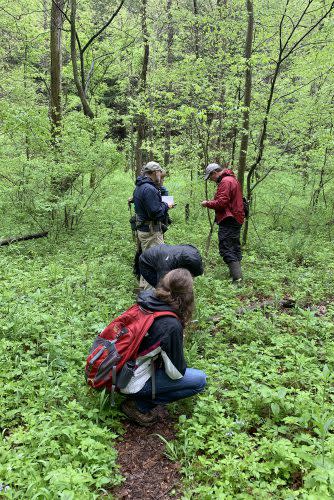 The group stops to identify surrounding wildflowers like the drooping trillium.
Wildflowers, Ferns and Beautiful Views
The trail from the small parking lot leads into a mesic upland forest. Steep ravines along the trail highlight the rich woodlands. Indiana is the home to 80 species of ferns. Eastern hemlock trees, uncommon Indiana relics of the glacial age, grow on north-facing slopes along sandstone bluffs.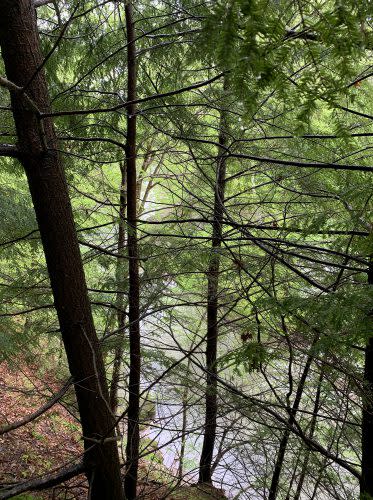 Eastern hemlock trees line the bluffs above Raccoon Creek
Raccoon Creek meanders through a floodplain forest below the bluffs. A stunning display of wildflowers and ferns line the trail along the creek. The preserve is home to numerous amphibians and reptiles, birds and wildlife, as well as a great blue heron rookery. Remnants of a mid-1800s grist mill can still be seen along the creek.
The trail is rugged. Keep your eyes and ears open for the Wood Thrush and the Red-eyed Vireo. For a splendid classic Indiana outdoor experience, put this 563-acre property on your bucket list!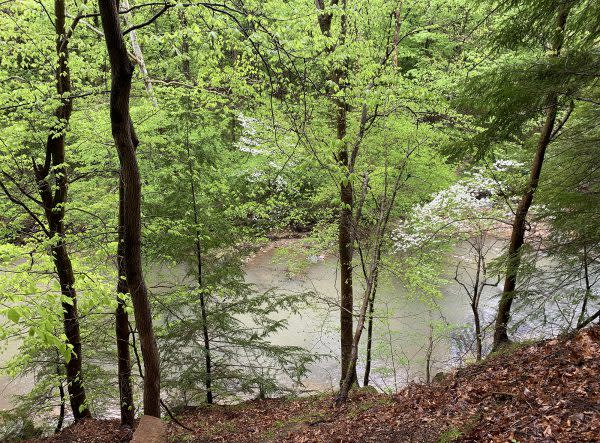 A Nature Partnership
Several organizations work together to protect the rare species and special habitat of the preserve. The partnership includes the Indiana DNR Division of Nature Preserves, The Nature Conservancy and the Indiana Heritage Trust. Check the Department of Natural Resources website for guided hikes at unique properties like this one.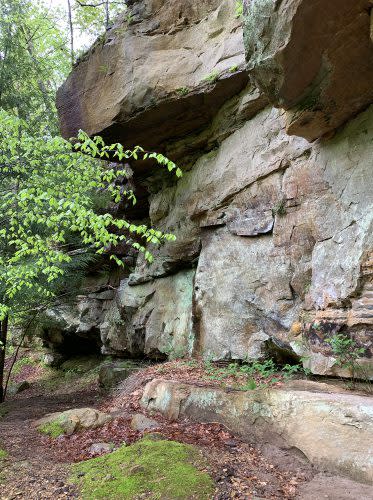 Relax after the Hike
After your adventure at Green's Bluff Nature Preserve, relax with a glass of wine at nearby Owen Valley Winery. Have lunch at one of the coffee shops, Chambers Smorgasbord or nearby Canyon Inn at McCormick's Creek State Park. Walk around the square in Spencer and check out the unique and charming gift shops.
Even in the rain, beauty awaits in Indiana!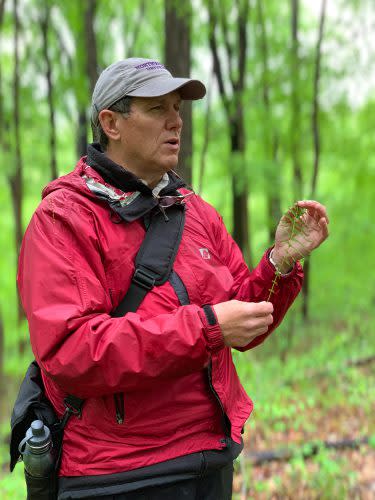 Guide Roger Hedge explains how to identify the silver glade fern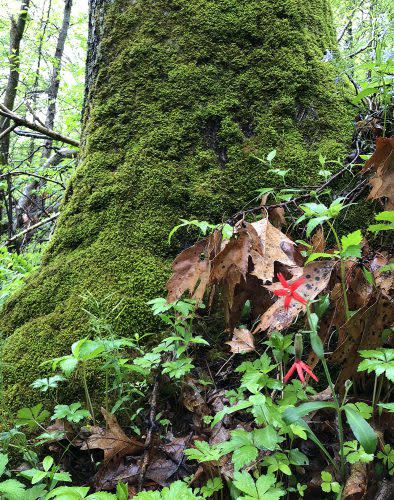 Firepinks and mosses (Photo: Joanna Suitors)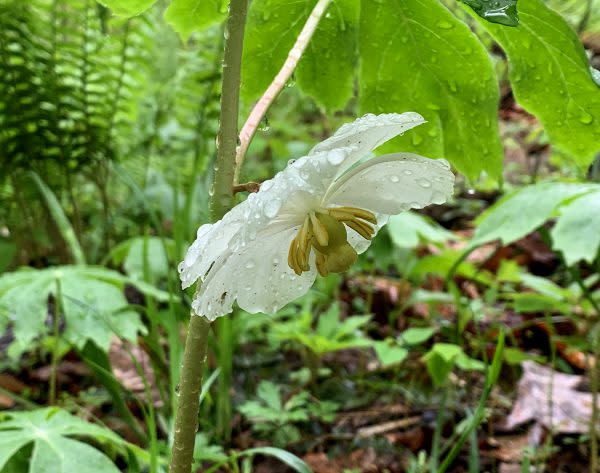 Mayapple blossom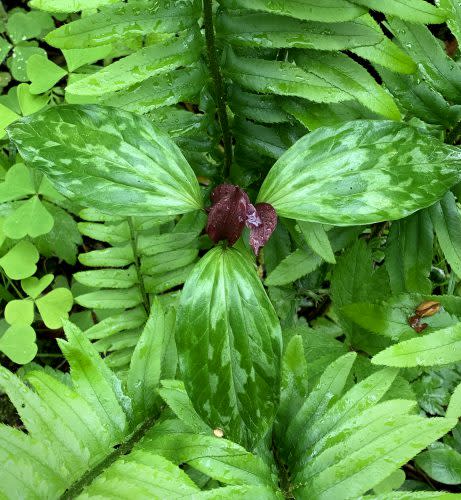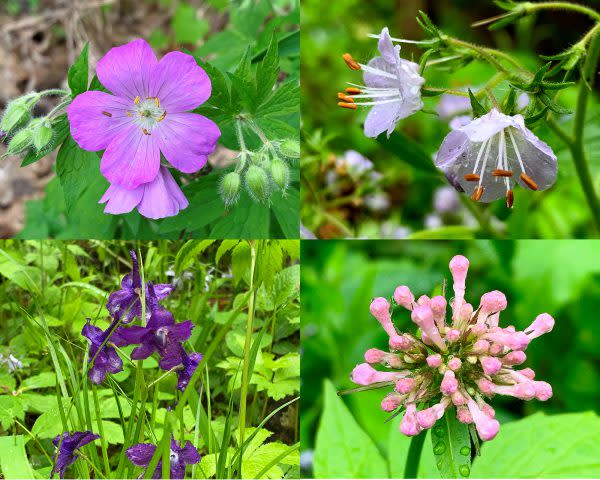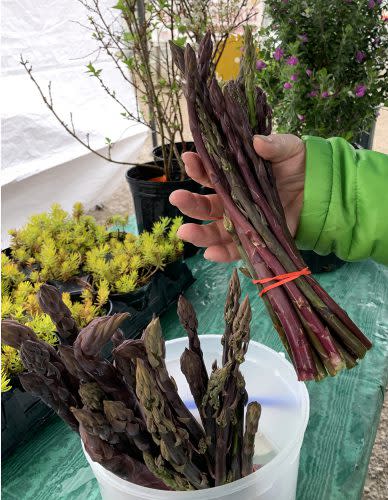 Fresh asparagus at the Owen County Farmer's Market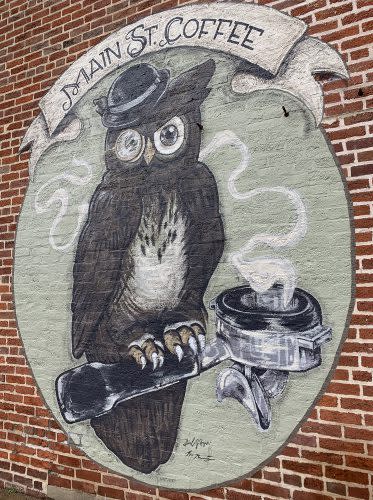 Main Street Coffee on the square in Spencer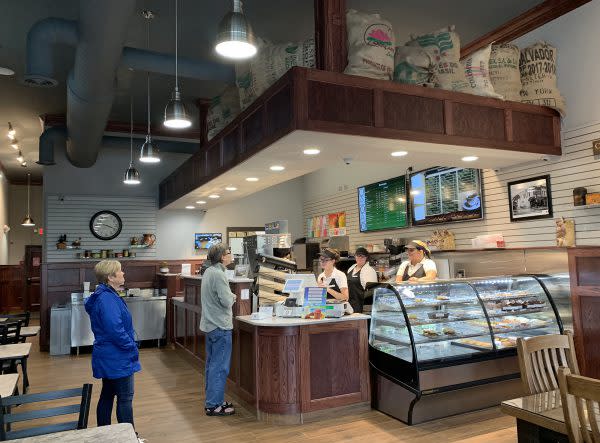 Spencer Coffee House on the square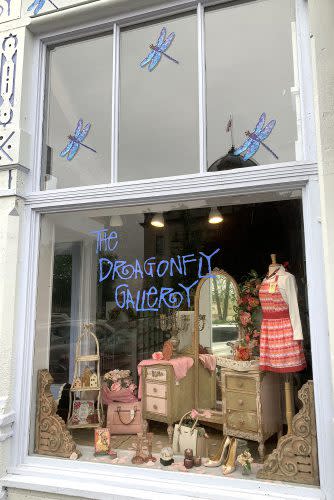 One of many cute boutique shops on the square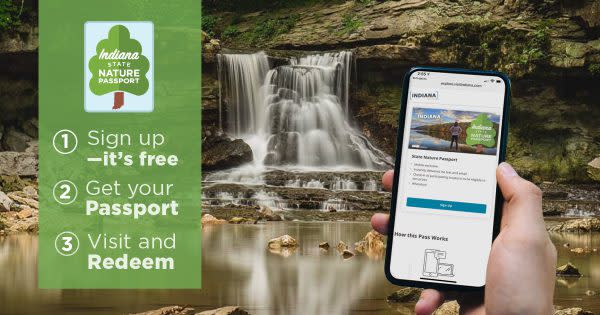 There are 59 destinations on the Indiana State Nature Passport! Check-in and explore participating locations throughout the state to earn great prizes! The more you visit, the more you win. This program is 100% free, but property entrance fees apply when you visit. Learn More.