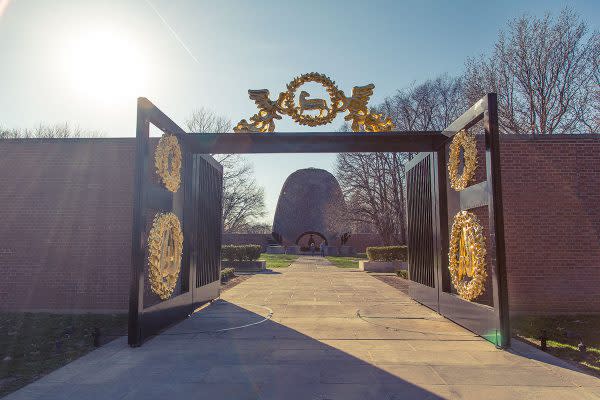 Without a doubt, one of the greatest places to visit in southern Indiana is the village of New Harmony in Posey County. New Harmony is a relaxing weekend getaway for couples, or families wishing for a slower paced mini-vacation and a great way to experience a unique aspect of Hoosier history.
New Harmony features a plethora of yearly activities, public art and architecture, gardens, shopping, fine dining, a wonderful inn, live music, museums, a brewery, coffee shops, nature places, and an abundance of history kept visible by the good stewardship of New Harmony's residents.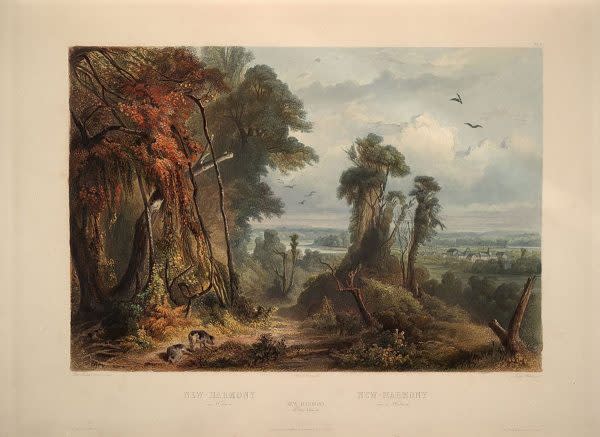 Karl Bodmer's idyllic painting of New Harmony
New Harmony was originally settled by a communal German religious group known as the Harmonists (or Rappites) in 1814. Sitting conveniently on the Wabash river a mere twelve miles away from the Ohio river, the original settlement allowed the Harmonists strategic access to trade and transportation.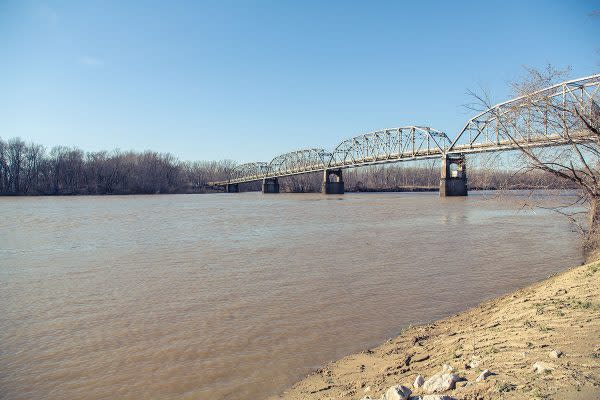 The closed Harmony Way Bridge into Illinois, over the Wabash River
The Harmonists were Christian pietist separatists who fled Germany in 1803 under the direction of their leader George Rapp. After a brief settlement in Pennsylvania, the Harmony Society established themselves in the Indiana territory. The Harmonists believed in nonviolence, the imminent second coming of Jesus, and celibacy. By 1820, Harmonie (as it was first called) was a bustling village along the river with about 100 residents that worked in mills, tanneries, breweries, distilleries, and farms - a way of life not that dissimilar to the other pioneer communities in Indiana.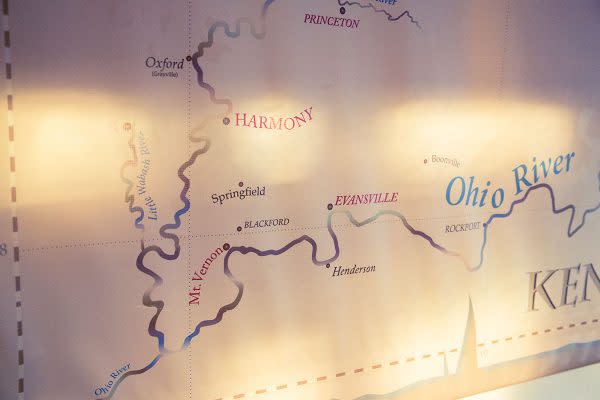 A map of Indiana's 'toe' in Sara's Place.
However in 1824, Rapp led the Harmonists back to Pennsylvania to be closer to eastern markets and communities with higher German populations. Rapp sold the land to the socialist visionary and textile businessman, Robert Owen. Owen believed in a secular utopian socialism that valued workers' rights, an eight hour work day, and communal living. Owen's purchase of Harmonie allowed him to test out his socialist theories. He rechristened the community New Harmony in 1825. The Owenite community didn't last long for a variety of reasons, essentially failing as envisioned by Owen in the late 1820s.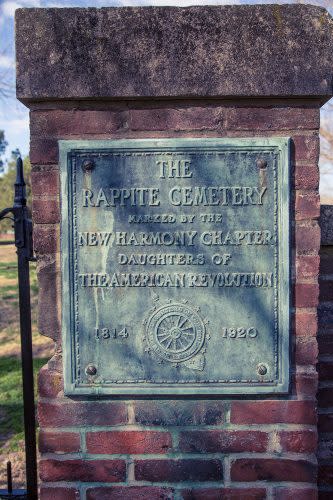 Rappite Cemetery
While the religious and socialist experiments failed, the atypical history renders New Harmony a truly unique experience for visitors. The village is keenly aware of its history and has done an excellent job in retaining not only the historical character and charm, but maintaining a state of genuine tranquility that stands apart from our modern way of life - all of which is accessible via golf carts conveniently made available from the New Harmony Inn.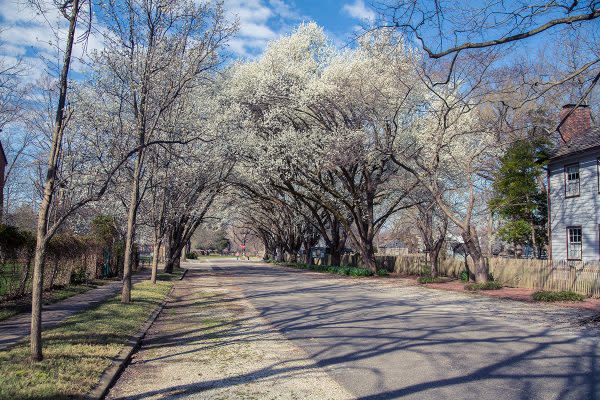 Spring in New Harmony
Despite its small size, there are many things to do and see in New Harmony - it's hard to know where to begin. It should be noted that, while Posey County isn't exactly sunny Florida, spring does arrive in Southern Indiana a few weeks earlier than it does in the northern part of the state.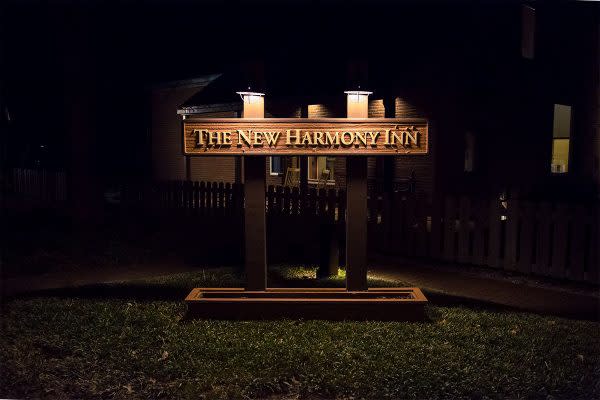 New Harmony Inn
For those wishing for a great place to spend the weekend, or even a week - the place to stay is the New Harmony Inn Resort and Conference Center. The motto reaffirms the conviction of this author that the New Harmony Inn is an "oasis of tranquility and true relaxation." Prices are extremely reasonable given the value of the place and the inn has fantastic ratings on Expedia and Trip Advisor. Just be mindful when booking that the Inn fills up frequently during wedding season. New Harmony also has several bed and breakfasts including Cooks on Brewery, Leather Leaf Inn, and the Old Rooming House.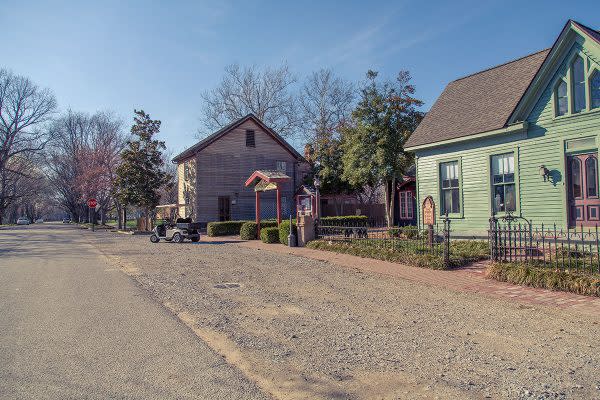 Golf carts are a great way to explore the village.
I highly recommend two things for those staying here - rent a golf cart to explore New Harmony and eat at the Red Geranium. Open seven days a week for breakfast, lunch, and dinner (brunch on the weekends) - the Red Geranium offers everything from seafood, to lamb and steak, pasta, and salad all paired with excellent wine selection.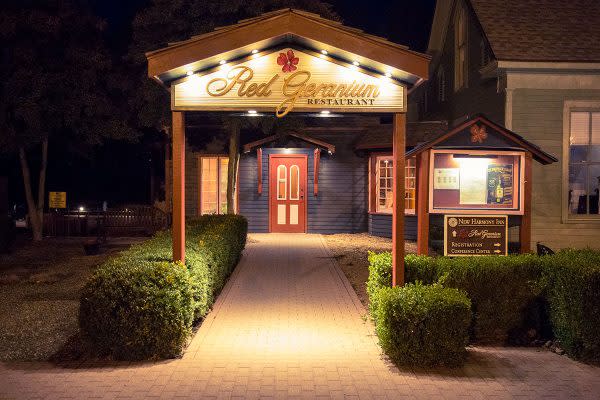 Red Geranium
David Mayer, Red Geranium's manager, reiterated the family atmosphere at the restaurant, "People come here when they want to relax and slow down."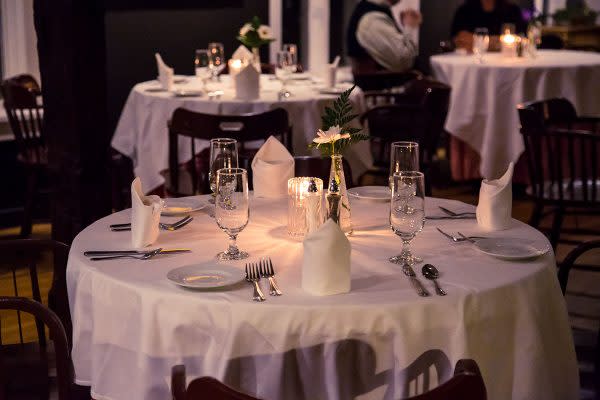 Red Geranium
"We know the customers by name and make sure they not only have a great dining experience, but that the spirit of the place is present as well."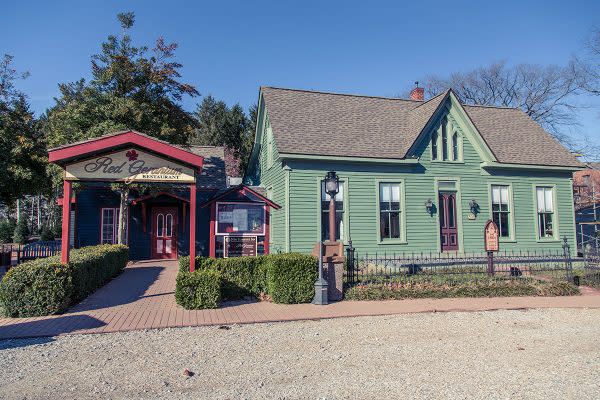 Red Geranium
Mayer stressed that the spirit of the restaurant and entire community was revived by Jane Owen.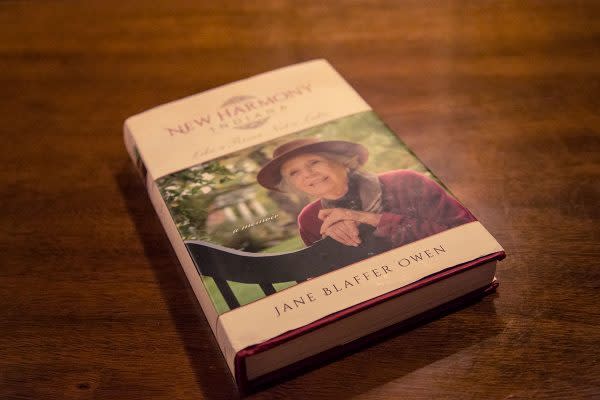 Owen's memoir: "New Harmony, Indiana: Like A River, Not A Lake."
Owen was married to Kenneth Owen - descendent of Robert Owen - and was responsible for developing and preserving much of New Harmony including the inn, Red Geranium, and public art.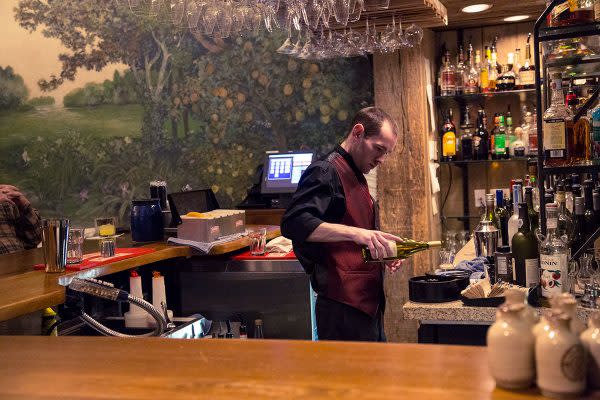 Grapevine Bar - in the Red Geranium
While New Harmony is an excellent place to bring your entire family, the village isn't without a vibrant, albeit relaxing nightlife. Attached to the Red Geranium Restaurant, the Grapevine Bar is a great place to start or end your night.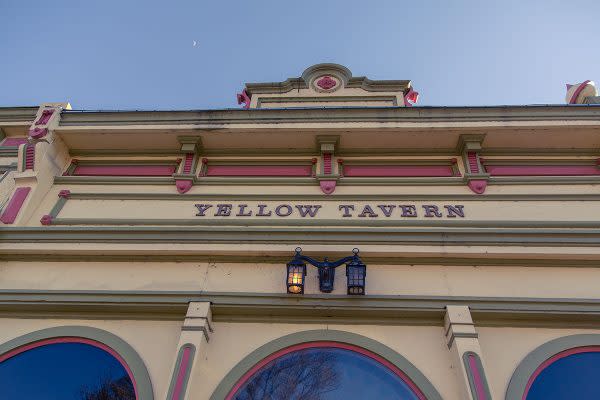 The Yellow Tavern
For those looking for a more classic fare, I'd recommend the Yellow Tavern on Church Street. The Yellow Tavern has an assortment of beer, wine, and liquor along with pizza, cheeseburgers, grilled tenderloins (proper Hoosier cuisine), and some amazing bread pudding.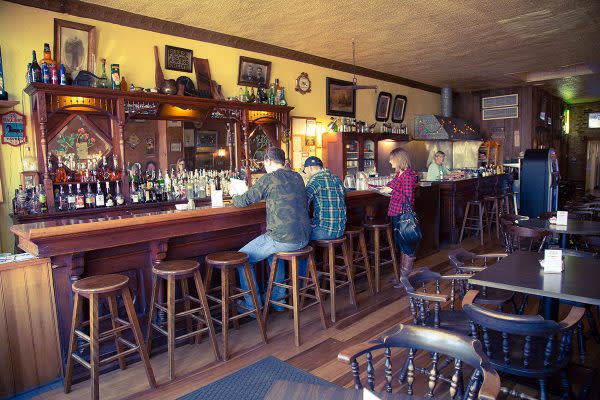 Cozy interior atmosphere of the Yellow Tavern
Keeping with the historic tradition, the name Yellow Tavern goes all the way back to the Owenite period.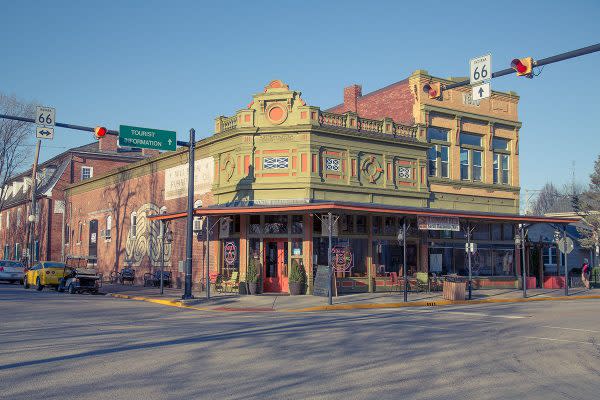 Sara's Harmony Way
Across the street sits the bifurcated Sara's Harmony Way - one side coffee (Harmony Way Coffee Shop), the other side beer and wine (Harmony Way Wine Bar and Pub).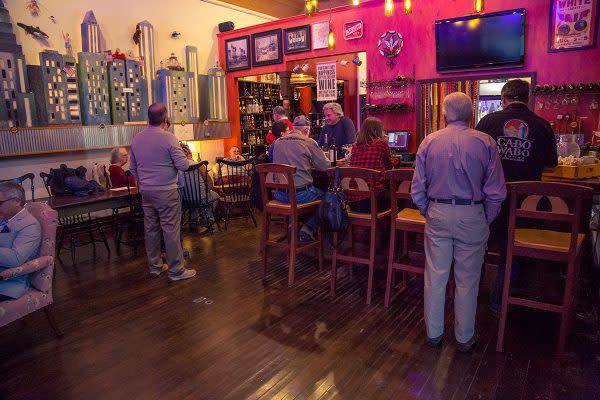 Sara's Harmony Way Wine Bar and Pub
Sara's Harmony Way was opened in 2012 by Sara Brown as a location to bring locals and tourists together for coffee and/or beer and wine. Brown fell in love with New Harmony when she was 21 and Sara's Place is her way of keeping the harmonious spirit of the community alive. "I just love this place," Sara said to me as I enjoyed a Harmonie Bier.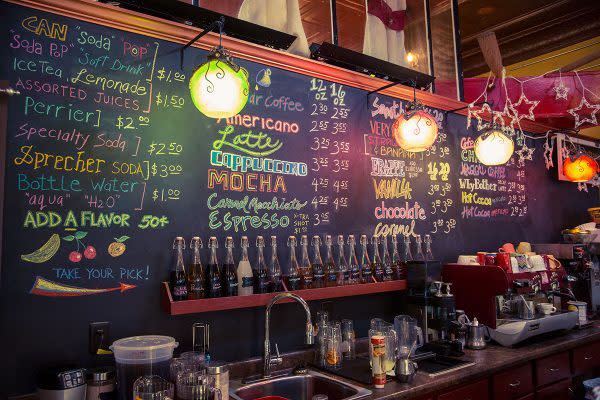 Sara's Harmony Coffee Shop
"When the trees start blooming and our guests come out for live music in the warmer evenings, it just washes away all the melancholy of winter." Brown has had great success in the community and is eager to roll out artisan ice cream this summer.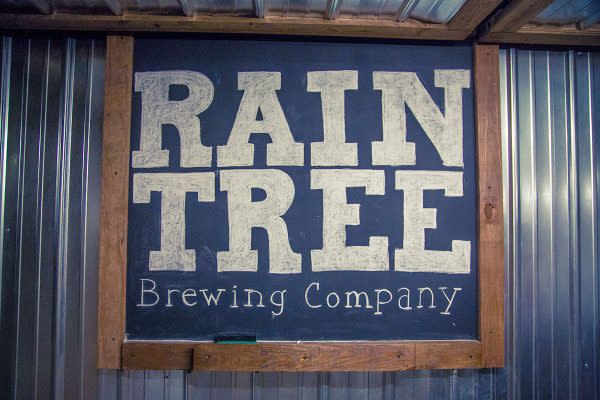 Raintree Brewing Company
Brown is also happy to promote the new Rain Tree Brewing Company, which started micro-batch brewing operations (they prefer the term nano-brewery) in 2016. Rain Tree took its name after the spectacular Golden Rain Trees that exist throughout the village.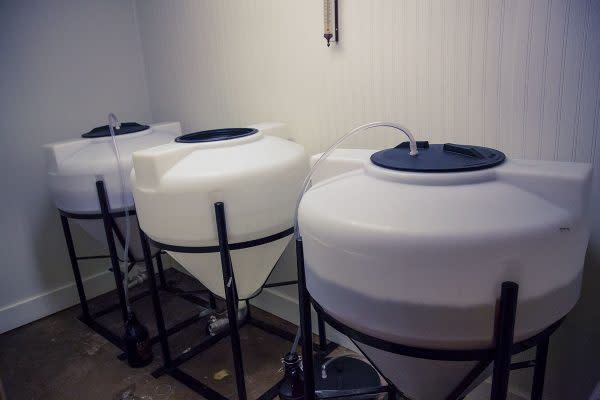 Nano Brewing at Raintree
The new brewery features several beers and ales, sold exclusively at Sara's Place. While the Chocolate Milk Stout appears to be a local favorite, the Harmonie Bier is the most historical. Rain Tree's master brewer Casey Trela found the original 1816 ingredients used by George Rapp.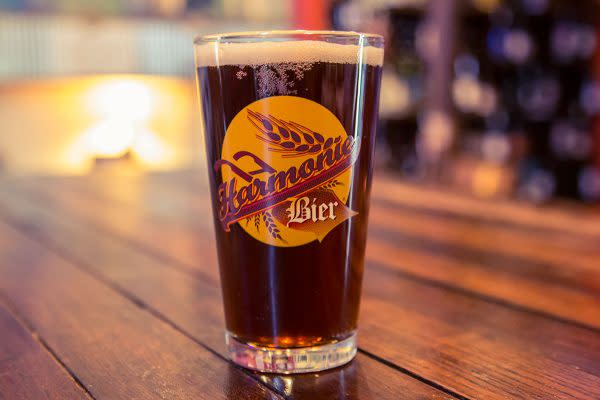 Harmonie Bier
If you try the Harmonie Bier, you're drinking the same beer that Harmonists drank 200 years ago!
Black Lodge
For those into coffee, there is a great selection at Sara's Place and you should also try the Black Lodge Coffee Roasters a few blocks away on Church Street.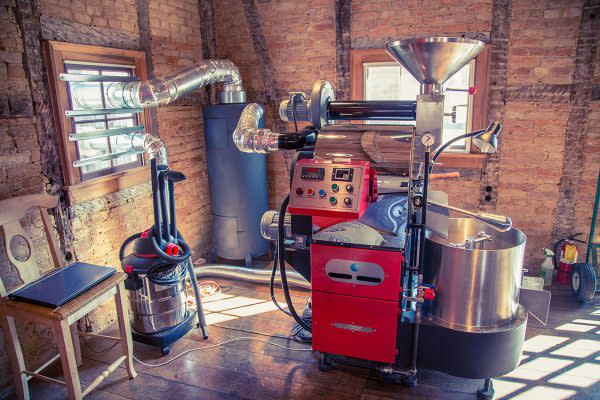 Black Lodge
Black Lodge is a small batch coffee roastery that started in 2016 by Amanda and Marc Chevalier. Black Lodge has a variety of options and coffee drinkers won't be disappointed.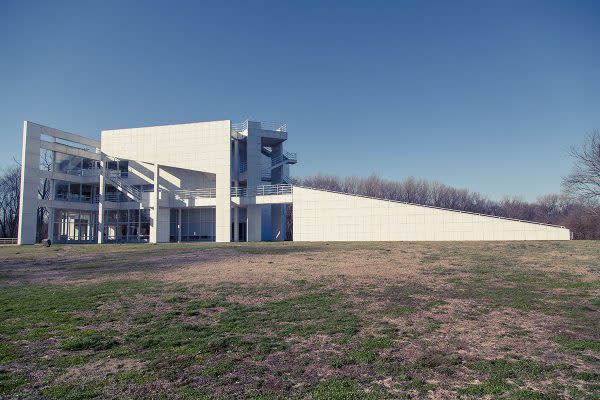 Atheneum
History, of course, is one of the greatest aspects of New Harmony for any visitor. Along with several structures listed in the National Register of Historic Places, visitors should be sure to stop at the Roofless Church, the Atheneum, Tillich Park, and the Harmonist Labyrinth. A full list of all public art, spiritualist sites, architecture, and outdoor recreation options is available on the Visit New Harmony website.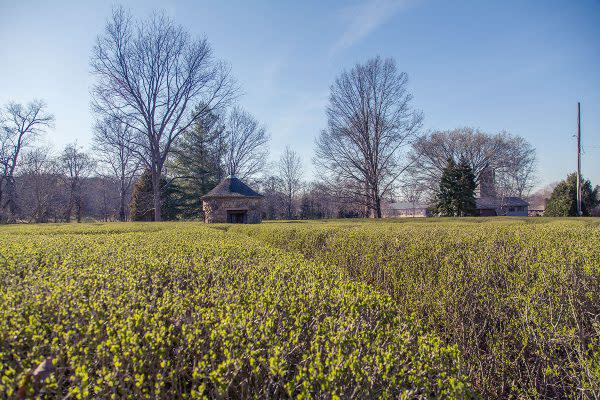 Harmonist Labyrinth
No matter what, take a weekend this year and make the trip to New Harmony. The community is great for families, couples, or if you just need a weekend away yourself - you won't be disappointed.
For a full list of places to stay along with food and drink options, visit the New Harmony tourist website.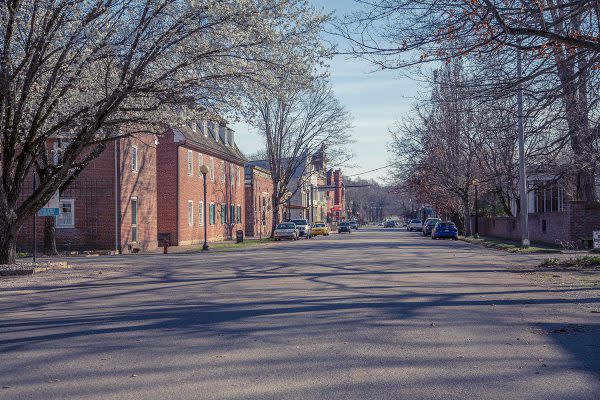 New Harmony
For a list of upcoming events, visit New Harmony's event calendar. For all of the historical sites, architecture, and public art sites, visit this page.