A few weeks ago I experienced my first Indiana University football tailgate. Coming from Butler University, it's safe to say it was quite an exciting weekend! Before hitting the road back to Indy the following afternoon a few friends and I moseyed around the town of Bloomington looking for a place to enjoy a greasy meal.
We ended up at Nick's English Hut, a Bloomington tradition for more than 80 years that serves tasty pizzas, Stromboli and burgers. I'm a lover of chicken fingers with ranch and buffalo sauce and a side of fries, so I can only speak for the "appetizer" section, but it was awesome. Nick's hot sauce is some of the best I've had in a long time. Hands down! Check out the rest of the menu.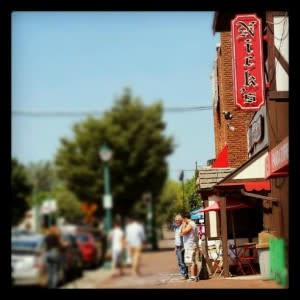 photo credit: facebook.com/Nicks-English-Hut
Not only is the food at Nick's tasty, the atmosphere of the restaurant is what made the whole experience. We sat in the family dining area on the first floor, decorated with unique posters, nostalgic photos, light-up signs and other fun decorations. It's the perfect destination for a group looking for something tasty, local and casual.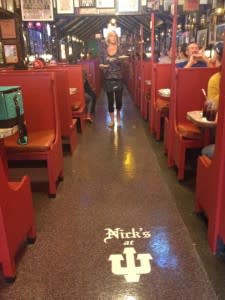 photo credit: facebook.com/Nicks-English-Hut
Rumor has it, the second floor of Nick's is a popular spot to watch games and enjoy drinks after hours if you're a Hoosier fan who enjoys this sort of scene:
photo credit: facebook.com/Nicks-English-Hut
Nick's is located at 423 E Kirkwood Avenue, Bloomington, IN. For more information check out Nick's English Hut's website, Facebook and/or Twitter!