The Northern Indiana Beer Trail is made up of about two dozen breweries - ranging from small taprooms to larger-scale spots with a full menu of gourmet options. Toward the end of last year, we took a couple of road trips and hit six different breweries on the list. In June, as the world was opening back up after the pandemic, we took a day trip and crossed another off the list.
I always like to hit craft breweries when we are on the road, and we've found some definite favorites along the Northern Indiana Beer Trail. I love that each one has it's own distinct setting and vibe and that no two breweries are even close to being alike. And it's always a bonus when you encounter a delicious meal. Many of the breweries have gourmet caliber cuisine that goes way beyond typical bar food.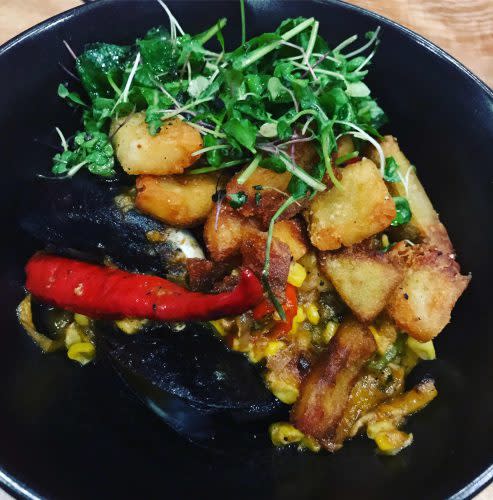 Junk Ditch Brewing in Fort Wayne has an incredible menu of gourmet dishes, like this Fisherman's Stew, along with a variety of their craft brews.
One of the best meals we had on our trips was at Junk Ditch Brewing Co. in Fort Wayne, housed in a former warehouse with cool exposed brick and food that simply blew us away. I could have easily stopped eating after the bread plate of focaccia, brioche, gourmet cheeses, coppa, fig preserves, jalapeño butter, cashews. Still, there was so much more that was calling my name. Next was the Crab Okonomiyaki, a large sharable crab cake garnished with extremely thin slices of Bonita, a smoked fish that sways from the heat - a perfect little video to capture for your Instagram feed. Entrees were a chuck roast gnocchi and fisherman's stew, which was terrific. It was indeed one of the best meals I've ever had. We did flights so I could sample a few brews and favorites were Celeste, a 5% ABV French Saison, and a 9.2% ABV Tsar Bomba Imperial Stout.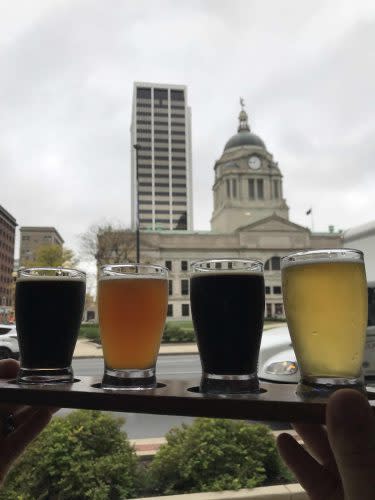 Enjoy a beer flight overlooking the Allen County Courthouse while enjoying some scallops or a bowl of pozole at The Hoppy Gnome and Gnometown Brewing in Fort Wayne.
The next day we visited the Hoppy Gnome in Fort Wayne for lunch. It is located downtown overlooking the Allen County courthouse and connected to Gnometown Brewing. Again, it was a place that completely wowed us with a selection of food you might not expect to see on a brewery menu. I had some pretty amazing scallops that were cooked to perfection and served over their hoppy hash with jalapeño tartar on the side. I also had a half-size of the chicken pozole that was so comforting on the chilly and rainy day we were there. It was garnished with crunchy tortillas and cilantro. The beverage menu includes a large selection of handcrafted cocktails, wines, sangria, and beers, both of their own and guest beers from other craft breweries. I was fond of their Pretty Fly for A Light Guy 4.5% blonde ale and Uptown Dunk You Up 5.2% Dunkelweizen. One fun feature of this place is a popular "Brew Your Own Beer" experience.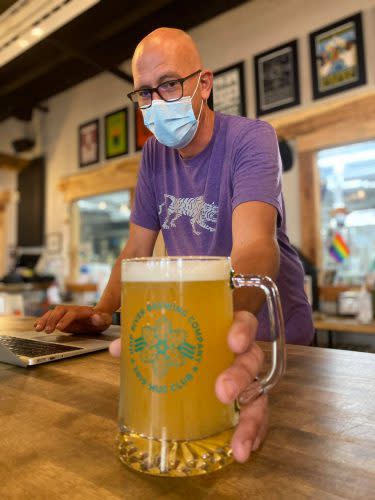 Hop River Brewing in Fort Wayne was our final stop on the Northern Indiana Beer Trail on this particular trip. It's located just north of the Riverfront development area with a casual, beer hall atmosphere with long communal tables that encourage interaction with your neighbors. We happen to be there on trivia night, which was fun, and there are also pinball machines and arcade games. They had a large selection of beers on tap that were all their own - a total of 15. I enjoyed the Downtown Leroy Brown (a 5.4% limited release American Brown Ale) and the Midnight Retreat (an 8.5% ABV Imperial Stout with dark chocolate, roasted coffee, and stone fruit flavors). The menu is smaller and a bit more casual than the other places we visited. We split the Mexican Sloppy Joe nachos and the hot beef and beer cheese sandwich and noshed while sipping and trying to answer the trivia questions being thrown out.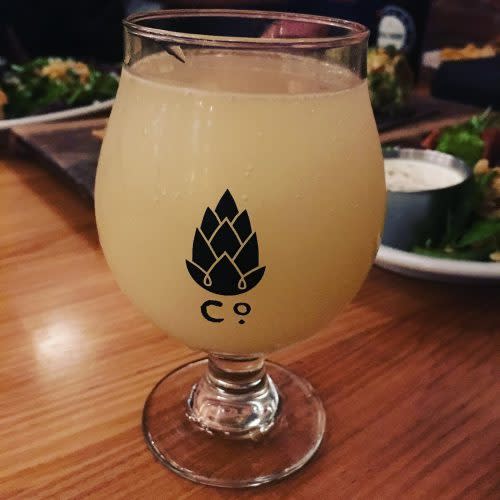 Goshen Brewing Company in Goshen is family-friendly and offers a good selection of craft beers along with a menu of casual bites, salads, sandwiches, and more.
On a different trip, we were checking out the refrigerated toboggan slides at Pokagon State Park and decided to hit Goshen Brewing Company in Goshen. It was a family trip, and this was a family-friendly spot where the kids enjoyed the food as much as we did. One is a big fan of pulled pork and really loved their version. Their Texas Tumbleweed cheese ball was an excellent shareable pick and had a great combination of flavors wrapped up in that creamy, round cheese appetizer. They also had a great Cobb Salad and some unusual and delicious mac and cheese. As far as beers, favorites from our flights were the Pear Pressure Belgian Saison and Heritage Kolsch-style beer.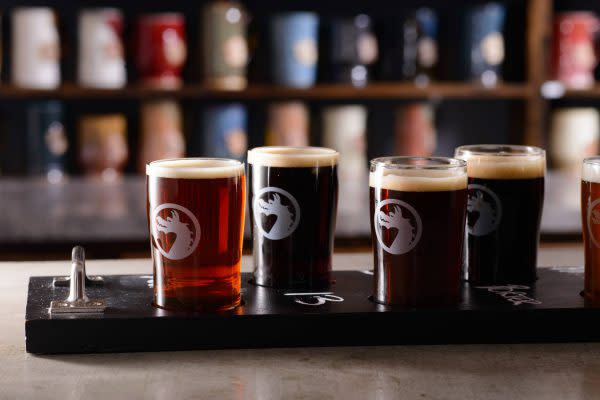 Iechyd Da Brewing Company in Elkhart was an awesome dinner spot on a winter trip with my husband last year, where we visited Wellfield Botanic Gardens to view the holiday lights. It was quiet and cozy, and we ended up chatting for a while with a local couple at the next table who made recommendations on beers and foods and didn't steer us wrong. Everything we tried was delicious. On the brew front, I enjoyed the Local Blonde 6% ABV blonde ale, the 5.2% ABV Big Pit Porter, and 6.7% ABV Half Penny Hoppy Amber red ale.
For more information on the Northern Indiana Beer Trail, go to visitfortwayne.com/beertrail, where you can download a beer trail passport. When you collect a stamp from each place, you can earn beer swag.