For those who have been to a football game at Notre Dame Stadium, you know there is no other college football experience like it. The roar of the crowd after each Irish touchdown, the player walk through campus and all the other game traditions combine to make it truly a unique day.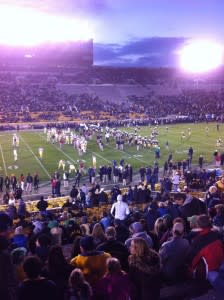 All college sports fans should see a football game at Notre Dame Stadium in South Bend, IN.
I've been to three football games at Notre Dame stadium, and each one has been more enjoyable than the last. I enjoy taking a walk through campus prior to kickoff and enjoying the experience. I somehow always seem to end up at the bookstore buying the latest Notre Dame gear. A few weeks ago, Rudy Ruettiger, subject of the famed movie Rudy, was set up inside the bookstore signing copies of his book, another cool component to the game day experience.
One of the most famous Notre Dame traditions that I've come to really enjoy comes at the conclusion of the third quarter of each game. Sergeant Tim McCarthy of the Indiana State Police always comes over the PA to address the crowd about the issue of drunk driving. McCarthy always has a different, witty joke at the end of his announcement. I attended the game back on October 19 against USC. McCarthy's joke that night was "Remember, you get the best mileage driving home if you aren't half tanked." It's remarkable to be in the stadium for his announcement each time, the crowd goes totally silent in anticipation, then explodes with laughter and applause.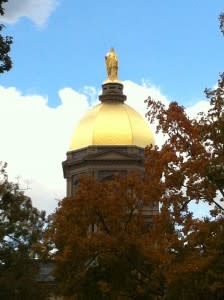 With the fall colors in the foreground and the famed Golden Dome in the background, Notre Dame's campus is beautiful during the fall months.
The Notre Dame football game day experience is truly one of a kind and one that everyone should experience. The combination of good football, an energetic and family-friendly crowd and an overall positive experience make this experience a must for all college sports fans. I would recommend arriving early, parking the car and walking around. I've found that I truly enjoy immersing myself in the game day experience and enjoying everything that the beautiful Notre Dame campus has to offer.