While heading down to IU Basketball games in the winter, we always drive past Oliver Winery just north of Bloomington. I visited years ago and always mention to my husband that I'd like to stop. But it never works out because we are always trying to make it to tip-off. Well a few weeks ago it did work out.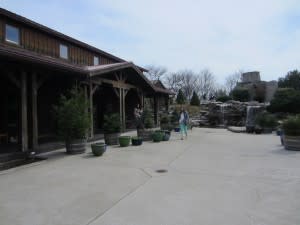 Headed down to Bloomington on a beautiful Saturday for a Willie Nelson concert on IU's campus, we had enough time to stop by Oliver. It was the first beautiful day of spring, and we were hoping we were the only ones to plan a visit. Not so much the case.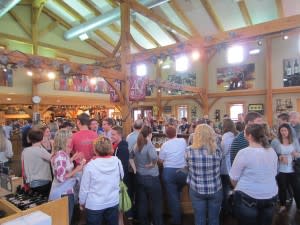 We waited a bit to try and finagle our way to the tasting bar, but had no luck. What I wish I would have known ... they just opened another tasting location in downtown Bloomington. That will certainly be a stop next visit! (They do charge a nominal fee of $5 for wine tasting which features more than 30 wines. This is a great way to make sure you find the perfect wine for your next dinner party!)
After perusing their selection of wines and choosing some perfect gifts,  we walked around the beautiful grounds. They offer an assortment of gourmet picnic foods and visitors are welcome to bring a friend and enjoy a lazy afternoon by their pond ... with a bottle of your favorite wine of course!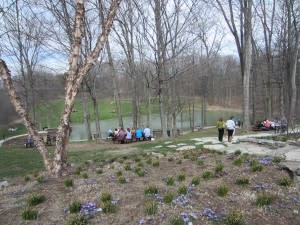 When you plan your visit to Oliver, here are a few notes to keep in mind:
If you go on on a Friday, Saturday or Sunday, they offer free tours of their production facility in the afternoons. I'm always fascinated by the science behind wine making and while we didn't have the time to take the tour this time, I have been in the past and enjoyed learning more about the process. Certainly made me appreciate my bottle a bit more!
Tunes on the Terrace - A great way to relax on a summer night. Four concerts are scheduled for this summer and ticket prices include complimentary wine tasting and one glass of wine. Food vendors are available as no outside food is allowed.
Oliver University - interested in learning more about wine making? Here is your chance. Summer courses are open to register.
Personal note: Creekbend Vineyard - Made exclusively with Oliver's Indiana grown grapes. It is my favorite collection and if you don't believe me, I have a few empty bottles to prove it!
For more information on Bloomington's restaurants, attractions and hotels be sure and check out their website!