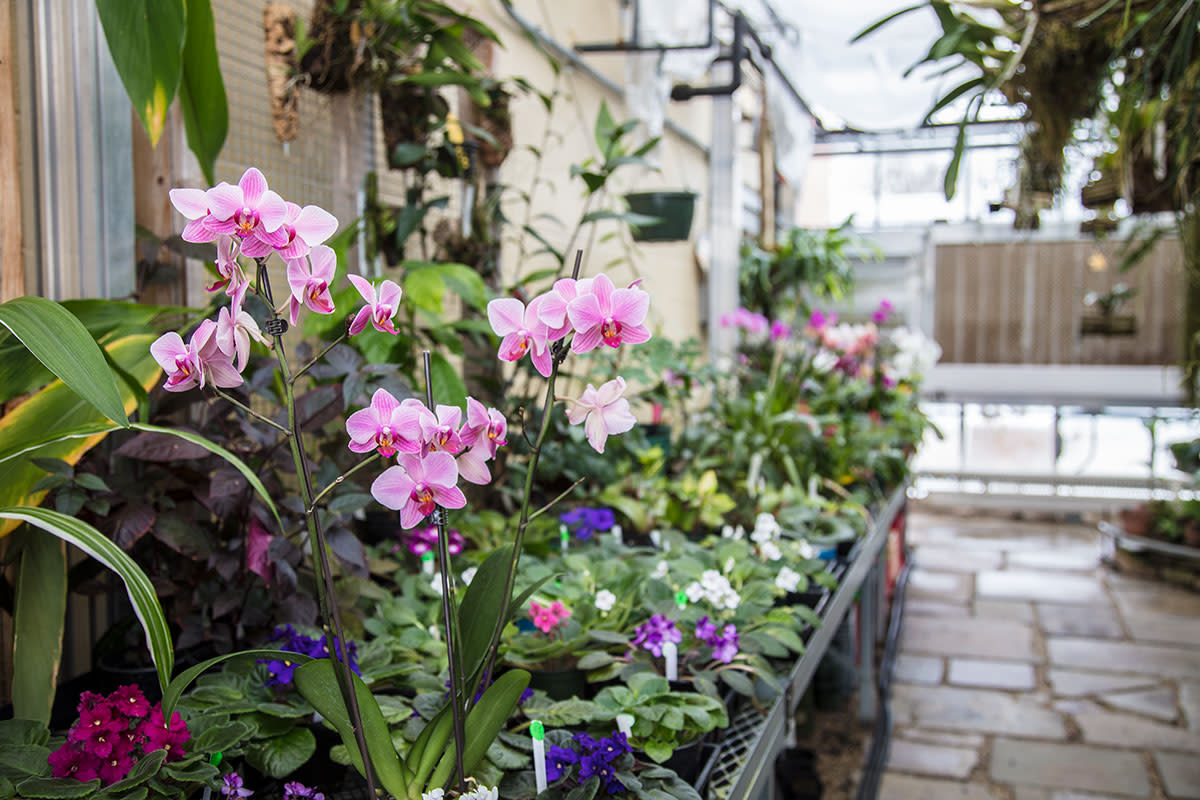 ~2,000 species of orchids on display!
In winters like this, it's important to escape in places that remind us that yes, spring is going to come again. One such place is the Dr. Joe and Alice Rinard Orchid Greenhouse in Muncie, on the campus of Ball State University. During the COVID-19 pandemic, new protocols have been put in place to ensure the safety of greenhouse visitors and staff. See the protocols below.
Visiting hours are Monday through Friday, 10 a.m. to 4:30 p.m. and 10 a.m. to 3 p.m. on Saturdays (closed to the public Sunday).
Please bring and wear your own mask. Visitors without masks will be not allowed entry into the greenhouse.
Visitors are expected to have their mouth and nose covered by their mask at all times while inside the greenhouse.
Visitors are expected to practice social distancing of at least six feet while inside the greenhouse.
Hours are subject to change depending on staffing availability.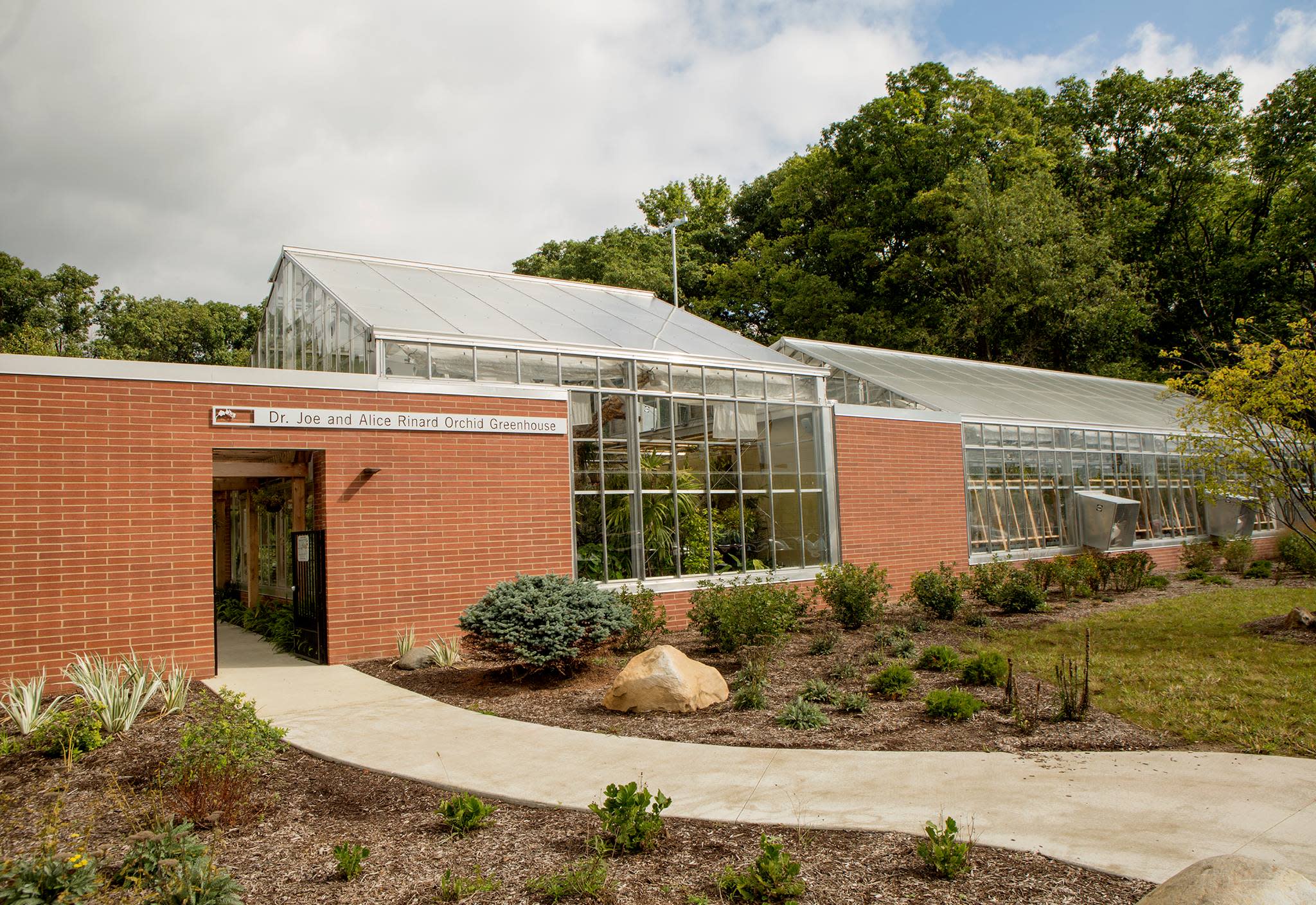 Dr. Joe and Alice Rinard Orchid Greenhouse. Image courtesy of Ball State University.
The "Orchid Greenhouse" as it is more colloquially called, is a 3,400 square foot facility that holds almost 2,000 different species of orchids and two different "living collections" of the plants - the Wheeler-Thanhauser Orchid Collection and Species Bank and the Betty Kendall Ladyslipper Orchid Species Collection.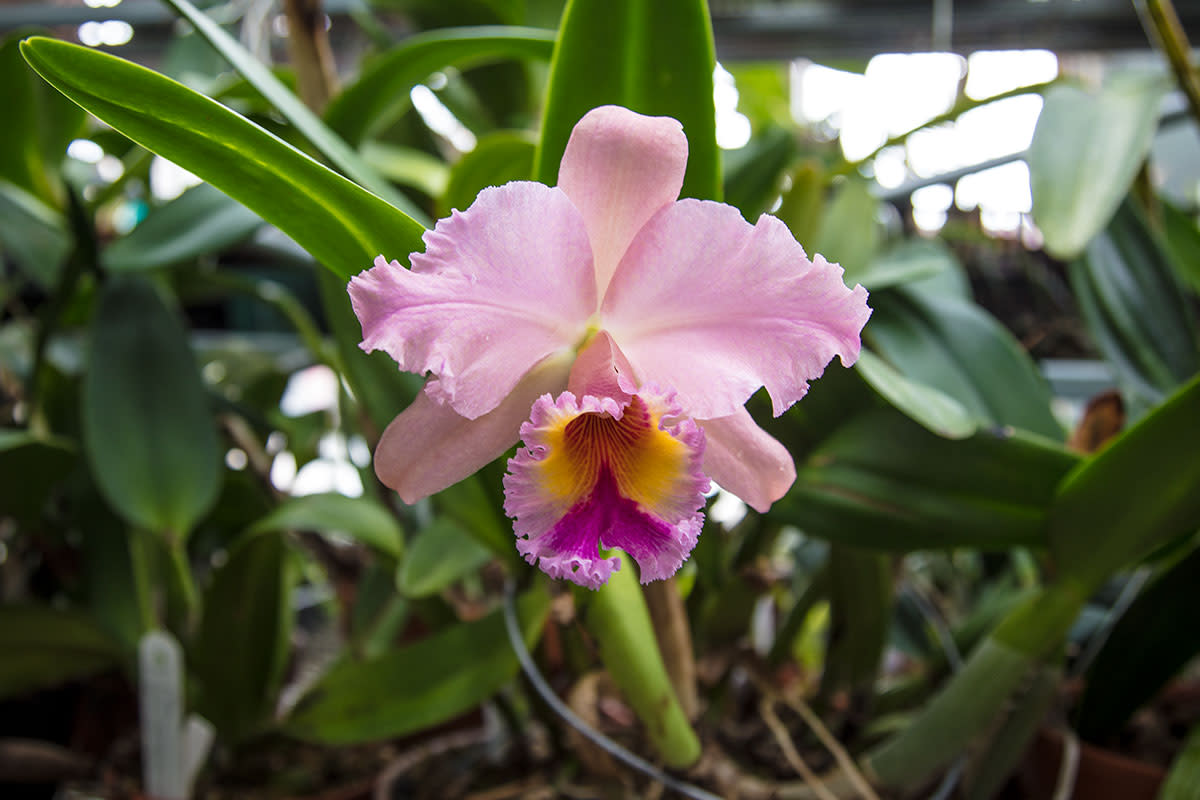 Orchids!
The greenhouse is open year round and something is always in bloom, which makes the Rinard Orchid Greenhouse a perfect escape any time of year, but a must-see destination in the miserable depths of our Hoosier winters.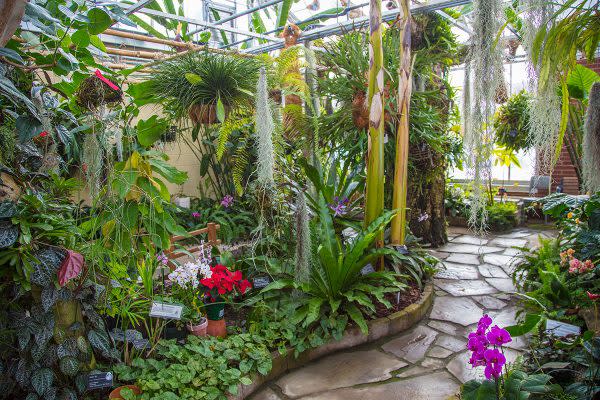 Orchids are found all over the world, on each continent (except Antarctica) and on most islands. There are 28,000 known species of orchids (probably more, but biologists are still debating), which means that a little over 7% are present at the Rinard Orchid Greenhouse!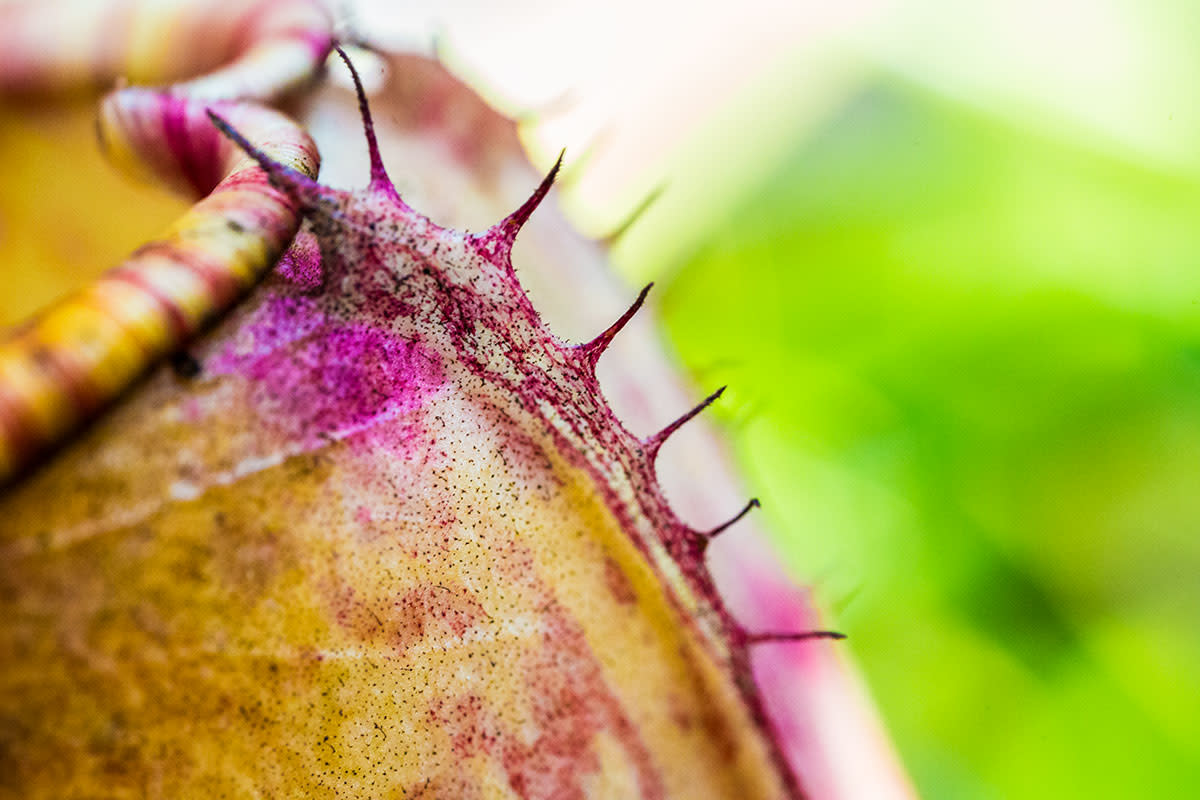 Rinard Orchid Greenhouse
Orchids are unique plants, with a few consistent characteristics including bilateral flower symmetry, upward facing/upside down flowers (known as resupination), highly modified petals, small seeds, and fused carpels and stamens.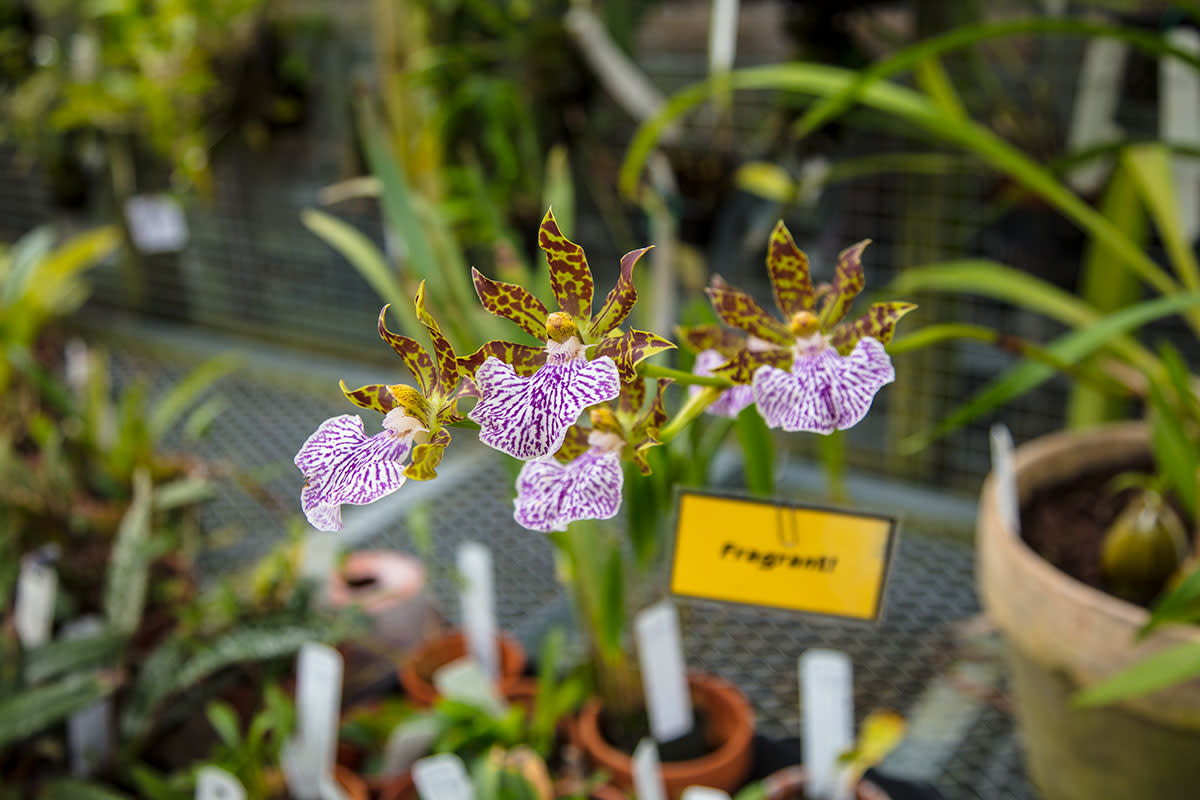 The hybrid orchids we buy at the store often don't have fragrance, but many do at Rinard.
A visitor to the Rinard Orchid Greenhouse can get lost for hours looking at all of the unique and tiny details found in the plants.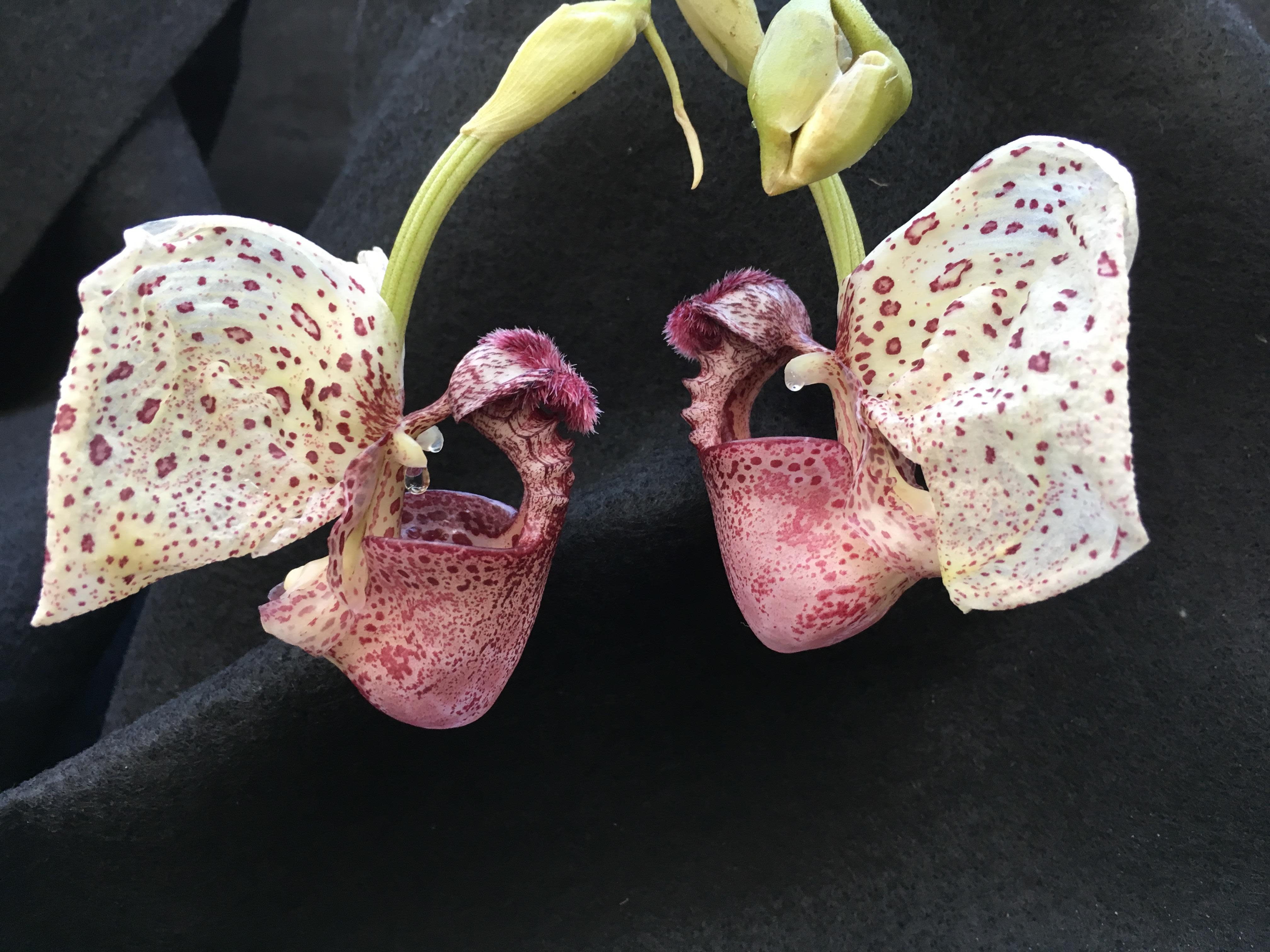 Coryanthes alborosea (Peruvian Bucket Orchid). Image courtesy of Cheryl LeBlanc.
Pollination is diverse depending on the species. For instance, the Coryanthes alborosea orchid (Peruvian bucket orchid) that was in bloom during my recent visit. The Bucket Orchid releases an irresistible pheromone that Peruvian Bees just can't ignore. The bees land into a "bucket" appendage on the flower through which they must exit out of a small tunnel toward the back, covered in pollen.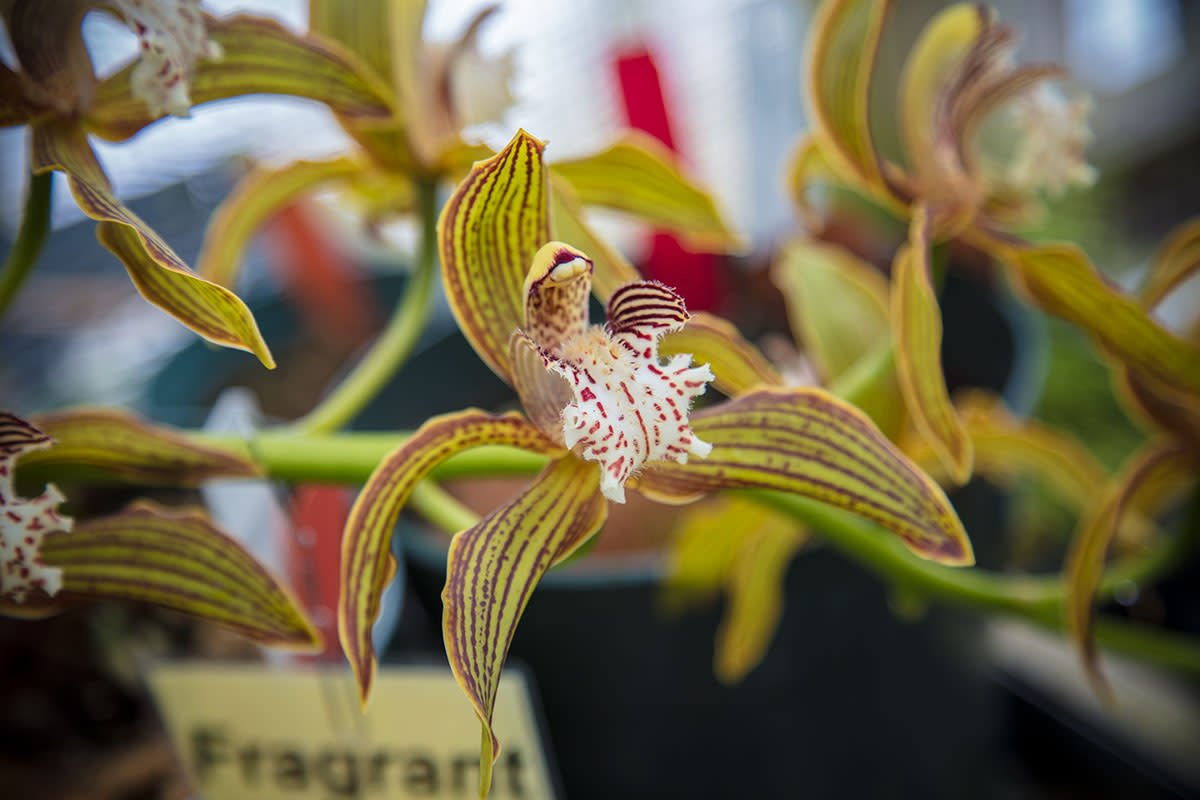 Many rare species at Rinard.
Rare and extremely hard to grow species like the Bucket Orchid are in bloom throughout the year at the greenhouse.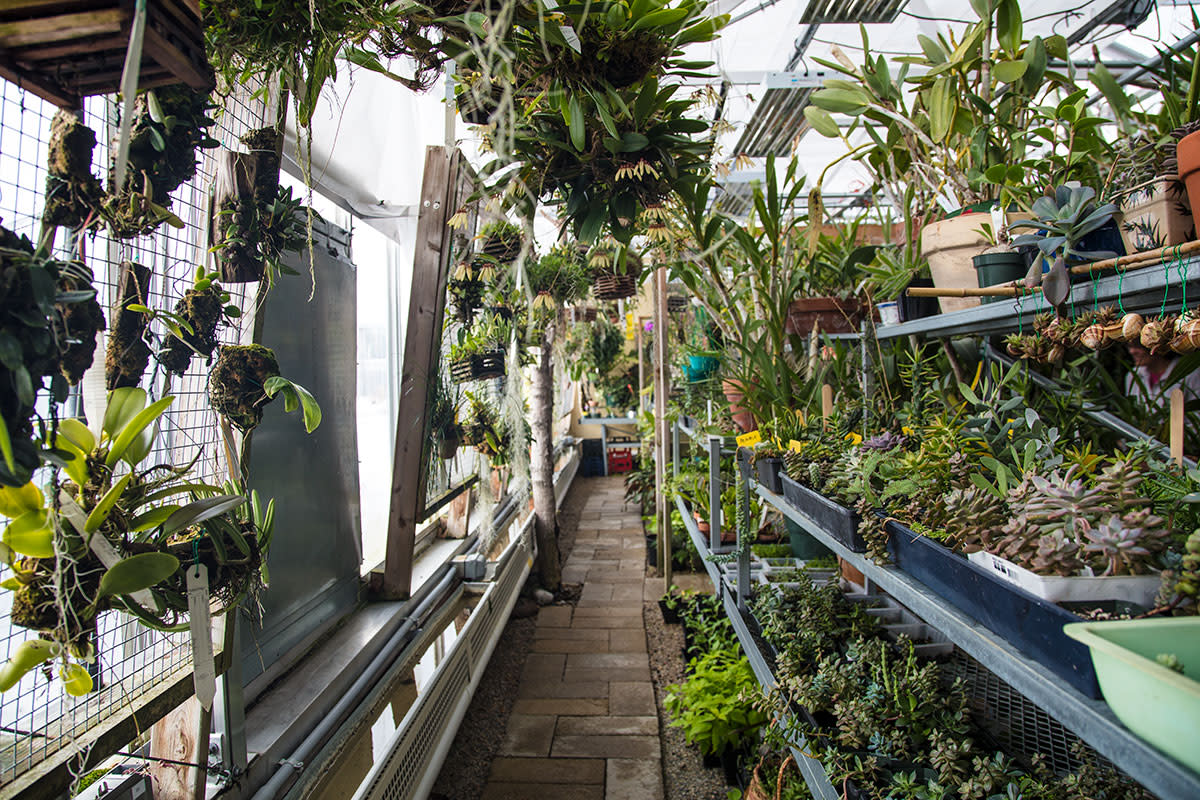 Part of the warm house section.
The Rinard Orchid Greenhouse is divided into three sections - a display conservatory at the front entrance, a warm house - featuring orchid species from all over the world, and a cool house that simulates the climate found in mountainous areas.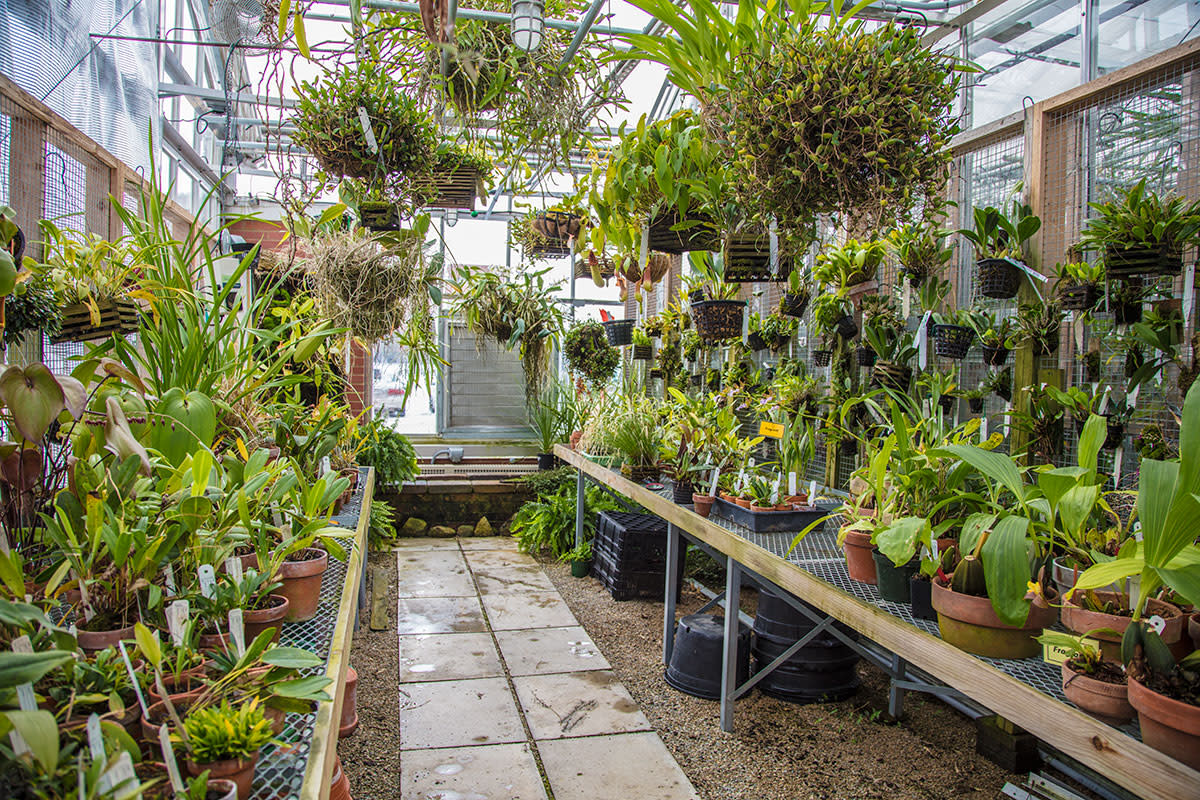 'Cold house' section meant to simulate mountainous climates.
The greenhouse is also a rescue facility for orchid species taken at the border from people attempting to bring them into the country illegally.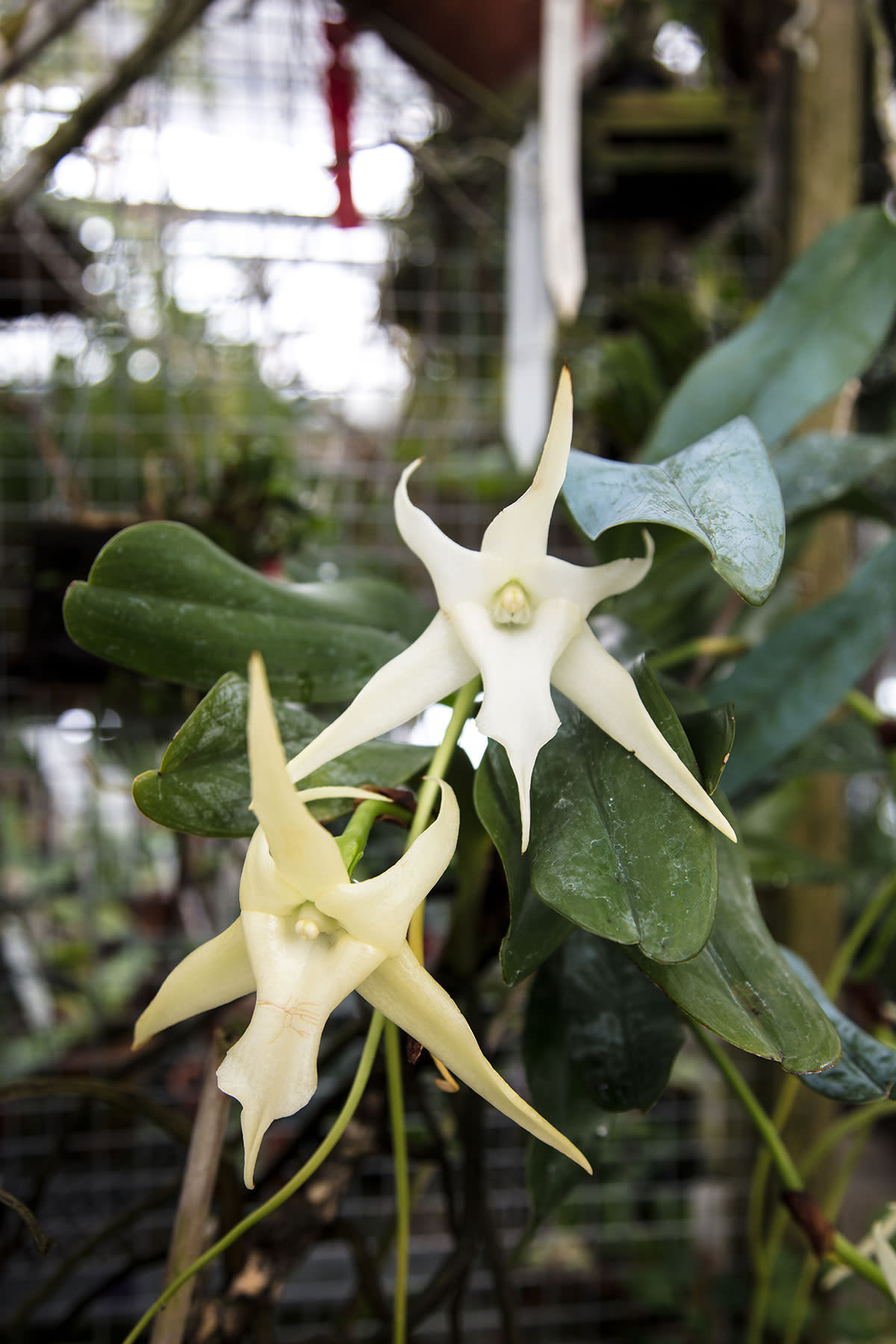 Angraecum sesquipedale (Darwin's Orchid).
Cheryl LeBlanc, the greenhouse's curator, emphasized three unique aspects that make Rinard Orchid Greenhouse a unique place to visit: there is always something new in bloom, so no two trips are exactly the same; the greenhouse is a perfect escape to the tropics at any time of year; and the greenhouse is an excellent place to bring the entire family for an educational experience.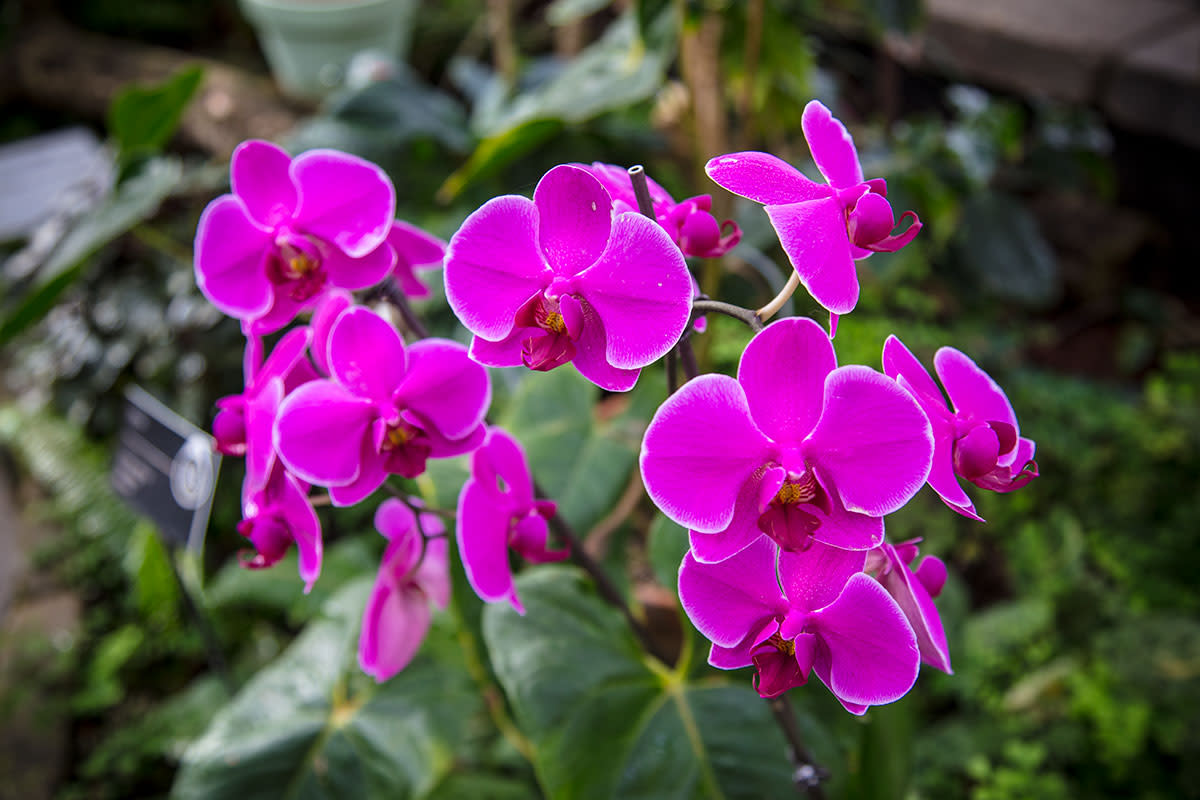 Rinard Orchid Greenhouse
...and one of the best parts about the Rinard Orchid Greenhouse - it's free year round!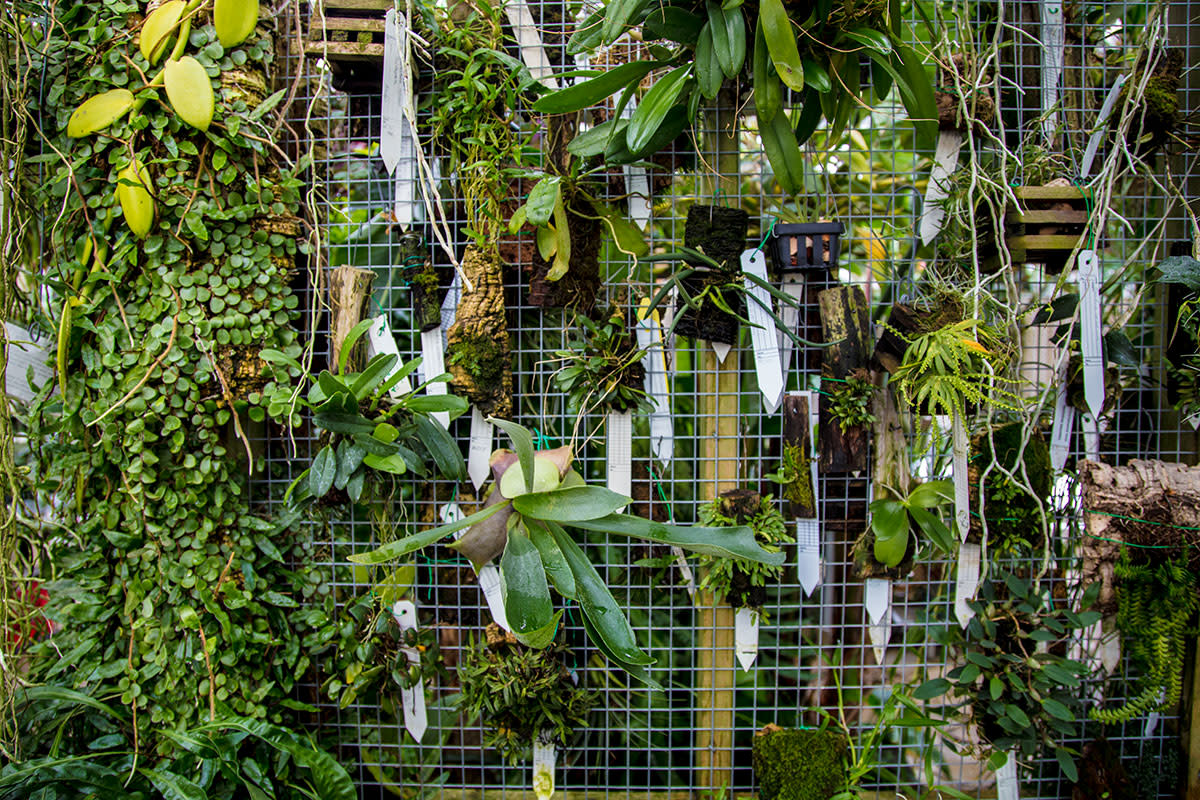 Orchids everywhere!
The Rinard Greenhouse also offers numerous programs throughout the year including a holiday program in December, yoga, scavenger hunts, educational tours, school programs, and much more.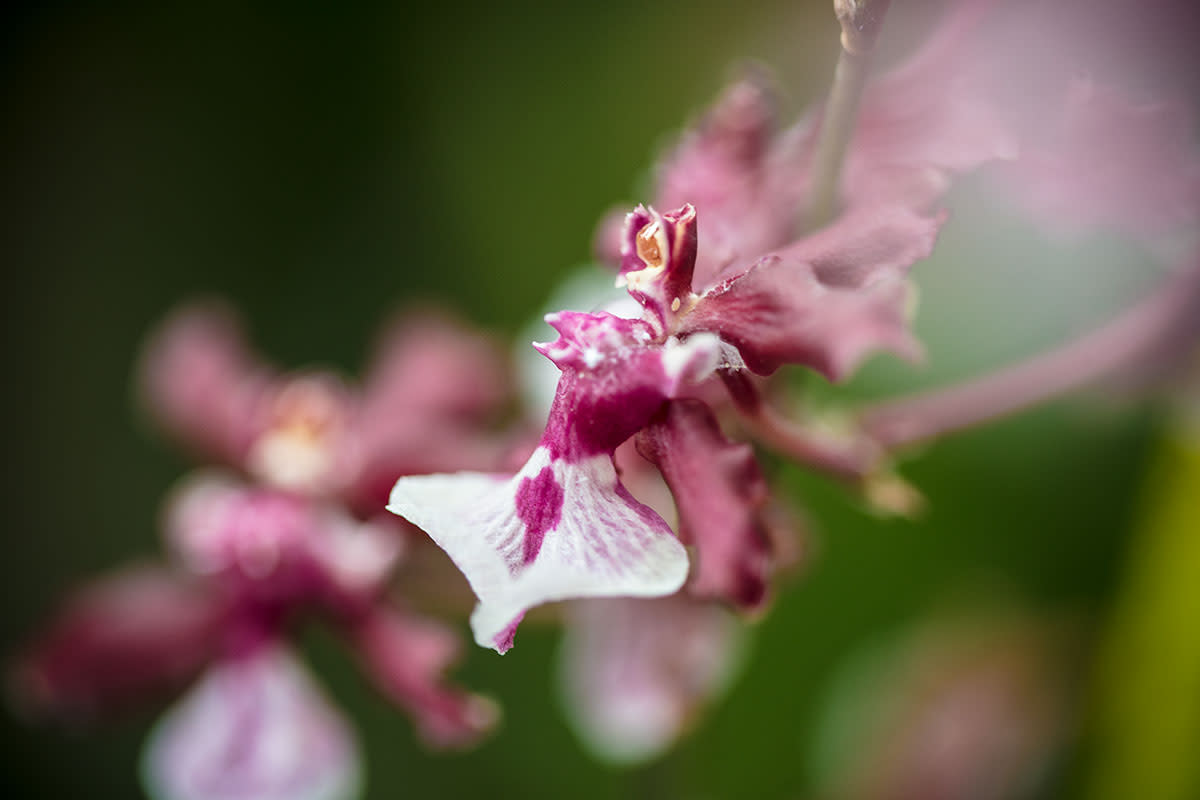 Rinard Orchid Greenhouse
On the last Saturday in April each year, they also sell plants as part of their annual fundraiser.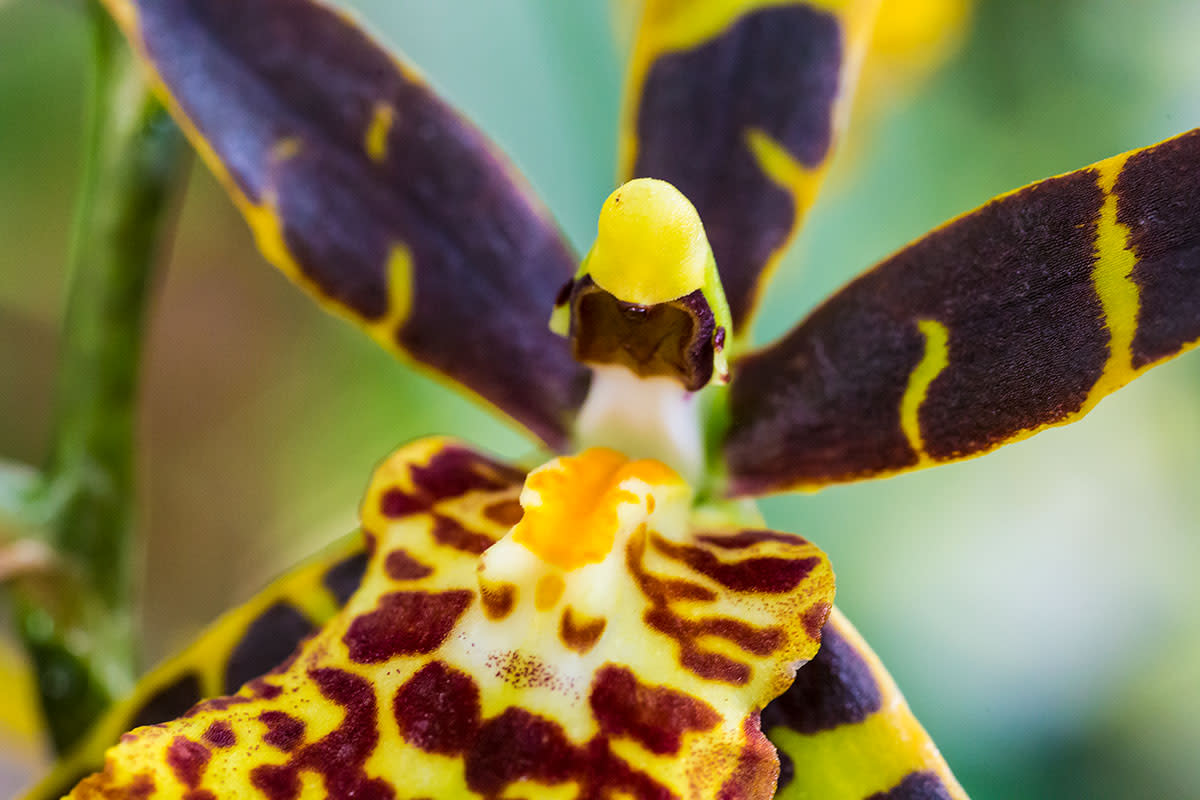 Dr. Joe and Alice Rinard Orchid Greenhouse
INFO Website Facebook Instagram
HOURS Monday - Friday: 10am - 4:30pm Saturday: 10am - 3pm Sunday: closed
CONTACT 765.285.8839 cleblanc@bsu.edu
LOCATION