Sculpture Trails Outdoor Museum is nestled in the woods south of Spencer in Greene County. Easy, well-marked trails guide visitors through over 150 sculptures strategically placed to compliment both the artwork and the setting.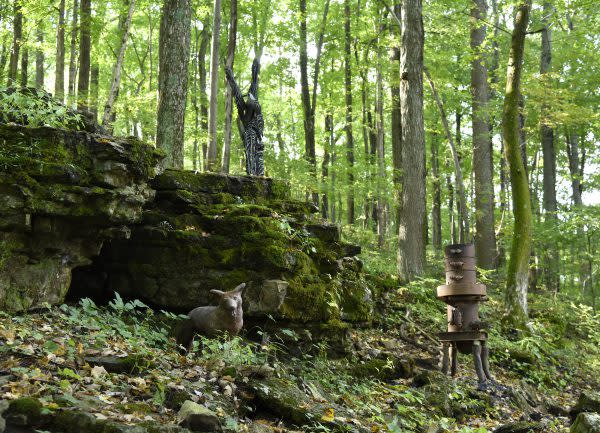 Visitors to the trails will discover sculptures nestled into hillsides in addition to artwork along the paths.
The peaceful solitude of nature and art flow together in a harmonious dance at this unique property. Wander among ferns and wildflowers, hearing acorns falling and a turkey calling in the distance. Sculptures are numbered and a trail map gives the names of the pieces and artists. I was able to view sculptures from a variety of angles because of their beautiful placement among the trees.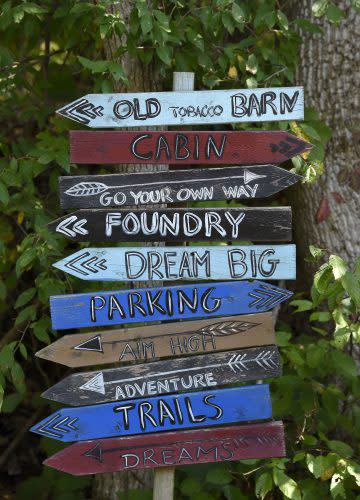 Just past the old tobacco barn, pick up a map and head into the woods for an exciting adventure.
The sculpture collection includes donated pieces, two-year juried exhibits by Trails Artists and sculptures made on the property. Owners Gerald and Lisa Masse began putting Gerry and his friends' sculptures around the property. The museum was founded in 2002. "People just started showing up," says Lisa.
The property provides art education and an outdoor sculpture experience to the community. Artists will find career development opportunities available here as well. During workshops, "older folks are happy to teach younger ones," says Gerry. Tours for school groups, including "pour and tour" events, are an important part of the couple's mission. "It's all about those kids! You have to show them early."
Sculpture Trails Outdoor Museum is free and open seven days a week, 10 am to sunset. Plan a trip in July to watch artists create forms, pour hot metals and create new artwork for the trails. "The property is always going to change and will never be done," Gerry muses with a smile.
More Adventures
Heading south from Sculpture Trails, I stop for lunch at Yoho General Store in Solsberry. Talking with a group of hunters at the next table, they tell me I have to visit Tulip Trestle – "You won't believe how big it is," one of the men say.
Six miles west of Solsberry, Tulip Trestle spans Richland Creek Valley. The recently completed observation deck offers a grand view of the 2,295-foot railroad trestle, the third longest in the world. Driving underneath the trestle gave me another great view of this impressive structure.
Stopping by Owen Valley Winery's Harvest Moon Festival on the way home, I got to observe a pour demonstration by Sculpture Trails Outdoor Museum artists. Guests were carving scratch block tiles and bowls from silicon sand/polyester resin forms. Masse and his crew poured hot aluminum into the molds and excited beginners walked away with original pieces of art.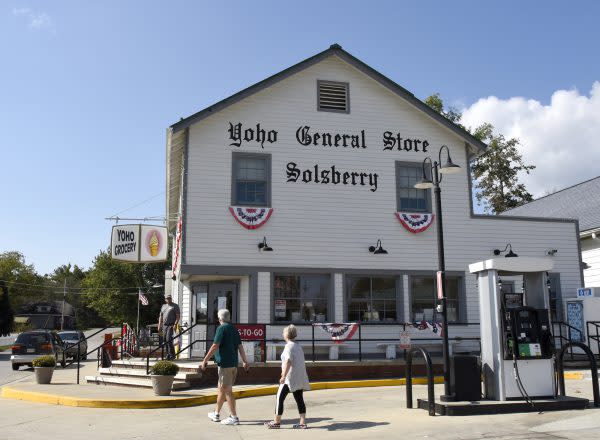 Yoho General Store's original pot-belly stove, wooden floorboards and an old menu decorate the renovated 1930s-era store where locals and tourists wander in for lunch, ice cream or other sundries.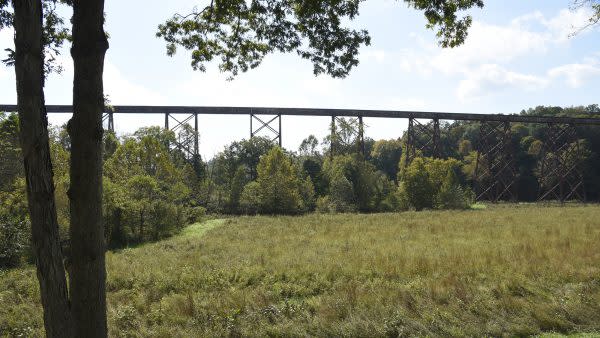 Tulip Trestle was designed to haul coal out of Greene County by rail beginning in the early 1900s.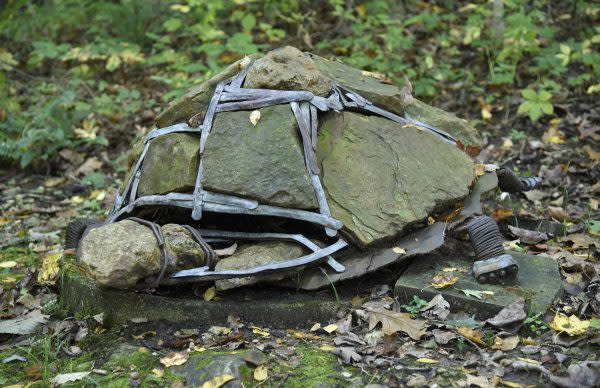 "Box Turtle" by William Pratt, Solsberry, IN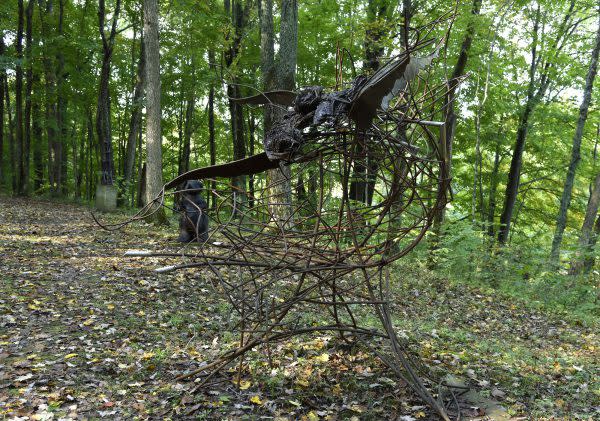 "Flyin' Iron: The Evil Leaves" by Andrew Marsh, Louisville, KY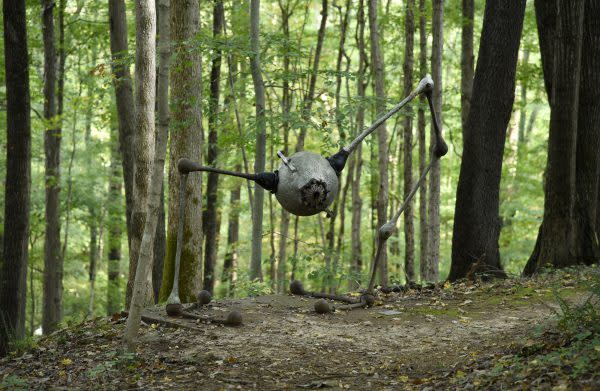 "Knowledge Has No Blind Side" by Katerina Nissa Sanerib, Milwaukee, WI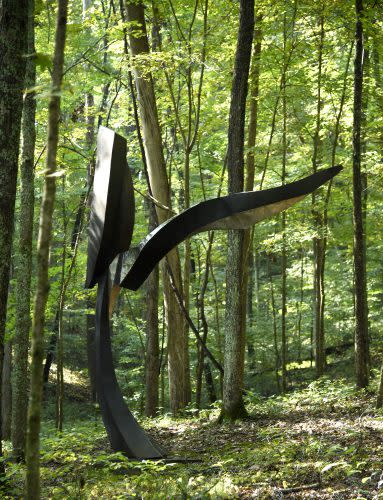 "Forest Dancing" by Andrew Light, Lexington, KY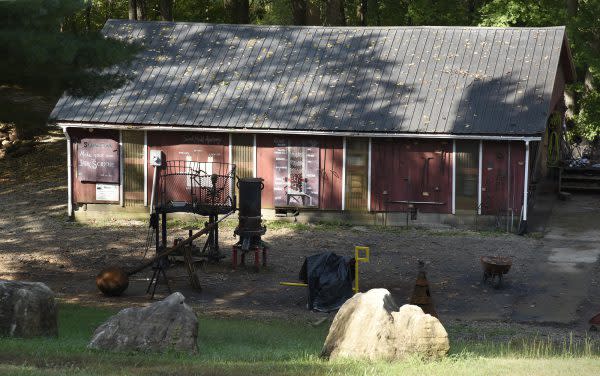 Cast iron and aluminum pour workshops are held at the foundry in July on the 50-acre property.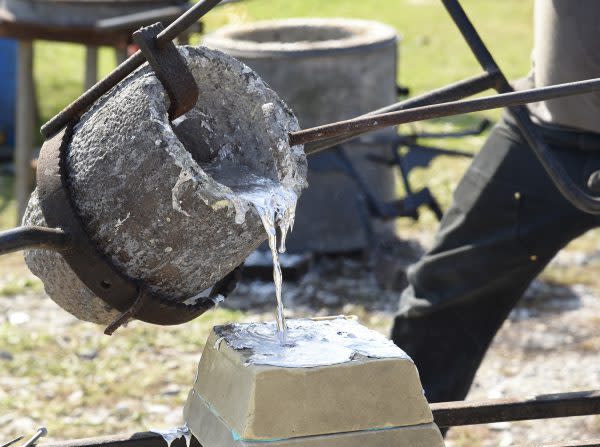 Two volunteer artists pour hot aluminum into a mold at a traveling foundry event.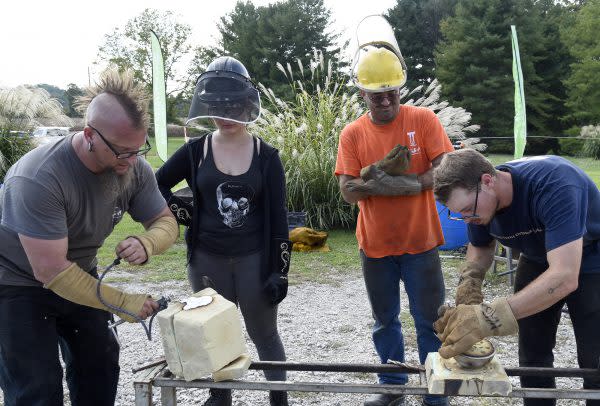 Volunteer artists Andrew Marsh and Feral of Louisville, along with Masse and artist-in-residence Paul Watson, remove molds from recently poured pieces.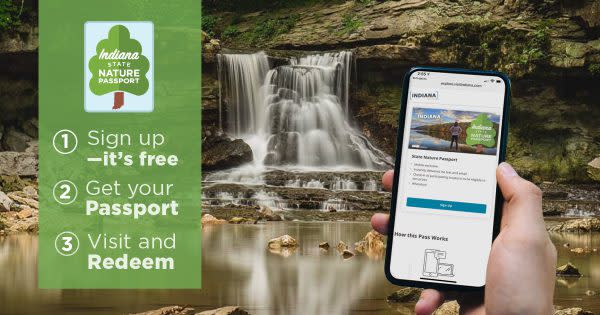 There are 59 destinations on the Indiana State Nature Passport! Check-in and explore participating locations throughout the state to earn great prizes! The more you visit, the more you win. This program is 100% free, but property entrance fees apply when you visit. Learn More.