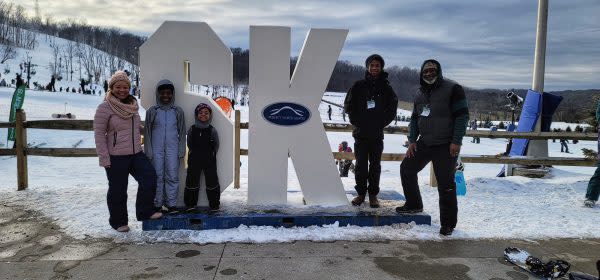 Perfect North Slopes reminds me of some of my fondest memories as a child and young teenager going skiing with my cousins, uncle, and grandfather. We laughed, we cried, we fought, we ate, we tried new things, we were determined to get better and better at skiing every year we went. While I cannot say we were pros, we definitely were good skiers and even tackled some of the hardest ski slopes at Winter Park in Denver, Colorado.
Fast forward twenty+ years and I was elated to be able to make the same memories with my own family, my husband, Mike, and our three boys, Jayden, 14, Chase, 11, and Kaleb, 6. We all were excited and couldn't wait to get to Lawrenceburg, Indiana, home of Perfect North Slopes in southeast Indiana.
The drive from Fishers, Indiana to where we were staying for the night, the Comfort Inn & Suites hotel was a short hour and a half trip. I loved that we stayed at a pet-friendly hotel, so we didn't have to leave our dog, Niya, at a kennel. Once we checked into the hotel, we brought all our things out of the car and changed into our ski gear, then we made sure Niya was settled and relaxing in her crate before heading to Perfect North.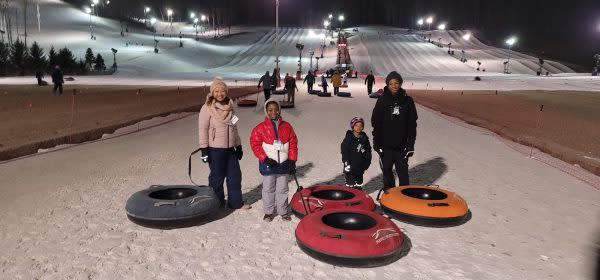 The excitement had really started to build after we drove past Perfect North Slopes on our way to the hotel, which was just five minutes away. After the short drive from the hotel to Perfect North, we followed the signs to the ski/lift area. We paid for our lift tickets, ski rental, and ski lessons. We all decided to take ski lessons. It had been over twenty years since I put on a pair of skis and although Mike and Jayden had been skiing before a few years ago they needed a refresher too. Chase and Kaleb had never been skiing before and needed to learn the basics.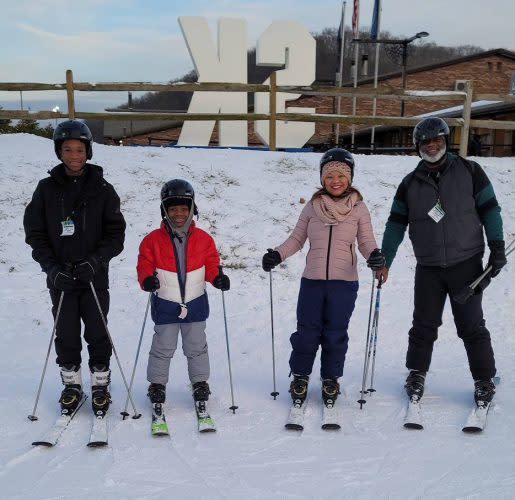 I highly recommend putting your lift tickets on your coats with zip ties shortly after you receive them, so you don't lose them. Then, if you need to rent skis as we did, you will head down to the lower level where you can fill out your rental form and pick out your ski boots, skis, two poles, and a helmet. Also, be sure to bring some change with you so you can snag a locker for 50 cents unless you want to walk back to your car to lock up your shoes. It took us all about 30 minutes to get everything we needed before heading out to our lesson, so I recommend choosing a lesson time an hour after you purchase your tickets. The section for beginner skiers is a short distance from where you rent your skis. I really appreciated how many instructors they had available to teach you. Mike, Jayden, Chase, and I plus one more person were one group and Kaleb went to a group just for kids younger than 9 years old. His instructor only had Kaleb and one other child.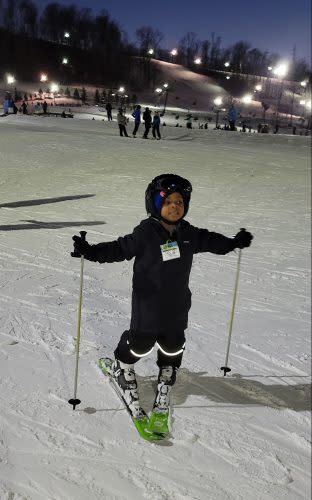 Once the lesson began, I was pleasantly surprised to see everything I knew from my Winter Park days came back to me so easily. I remembered how to stop, how to push, how to use the skis to allow you to move from right to left or left to right. I loved watching my family learn how to ski as well. I could tell Mike and Jayden had skied before, but Chase was totally learning something new, and Kaleb was learning how to ski without using poles. I remember watching in amazement as my young cousin skied down steep hills with no poles just her balance and strength.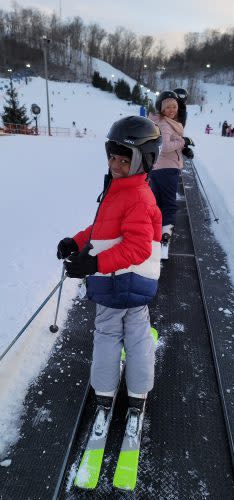 I love how technology has made so many things easier including getting to the top of a hill. The invention of the motorized pully made it so easy to get back to the top of the short hill to try coming down it again. Our instructor did a great job showing us how to stop, how to turn, how to control the skis. It seemed like our hour lesson was up before we knew it. And Jayden and Chase could not wait to put their new skills to the test. They wanted to ride the ski lift so they could ski down a bigger hill. Mike stayed with Kaleb on the beginner hill, and I went with Jayden and Chase to tackle their first big hill.
I had forgotten how high those ski lifts can go, but I was so glad that I went with Jayden and Chase who had never ridden a ski lift before. The last thing you want to do is fall off a ski lift. One of my cousins jumped after not being able to exit. Luckily, she did not break anything. But it was a scary experience for sure. I am happy to report that we rode the lift to the top of the hill with no problems and exited easily as well. But, going down the hill was a different story. Chase wiped out and lost a pole. I stayed a little behind him, so I was able to help him get it. Jayden left us and skied down the hill with no falls. Chase and I took our time making our way down the hill and once we got to the bottom, I felt like I accomplished something. I'll tell you my legs were so tired at this point, and I needed a break, plus the boys were hungry. So, we decided we would turn in our skis and the rest of our equipment and grab a snack at the café. It is extremely important that you turn in your skis. If your skis are not returned to the proper place and they turn up missing, you will be charged to replace them.
The café is just a short distance from where you turn in your skis. While it was a lot of people grabbing something to eat, there was no wait at all. We grabbed some chicken fingers, pizza, pretzel bites, and drinks and headed to a table. After we ate and rested for a bit, we were all ready to go tubing.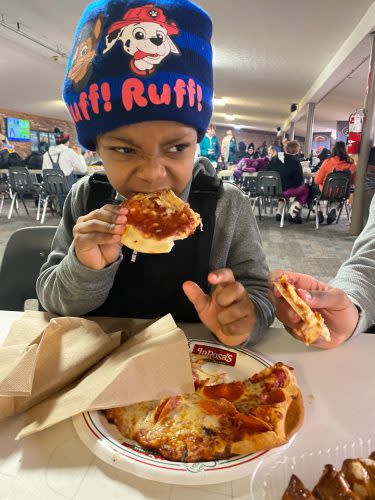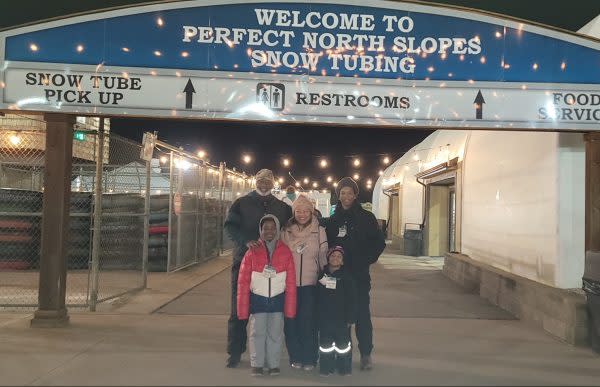 Not only can you ski at Perfect North, but you can also go tubing. And the tubing area is huge. I think it is bigger than any place that I have gone tubing before. When you decide to go tubing the same day that you go skiing, it is just $10 to go tubing as well. The boys and I couldn't wait to come down the hill. We picked out a tube and headed straight for the pully to go up the hill. Once we got to the top, we were headed down within 5 minutes. It is hard to explain how fun it is to go down the hill on the tube. Once you get to the bottom, you can't wait until you are back at the top again. I will tell you that we went down at least seven times. Then, Chase and Jayden decided to go down one more time without Kaleb and me.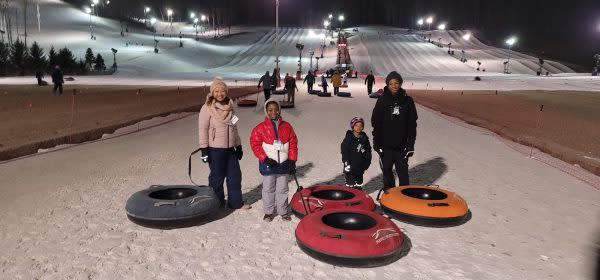 We put a full day in at Perfect North Slopes. We made memories that we won't soon forget and to be honest, I can't wait to come back again. Remember, you don't have to go to Colorado to ski or go tubing.