Indiana's most famous contribution to American cuisine is arguably the breaded pork tenderloin. The COVID-19 pandemic has given many of us a chance to put our cooking skills to use. Visitors from all around the world love and appreciate Indiana's breaded pork tenderloin, and now you can try making the legendary sandwich yourself! When the time is right, you can take a foodie road trip on the Indiana Foodways Alliance "Tenderloin Lovers" Trail, featuring over 70 restaurants offering up their version of the crispy sandwich.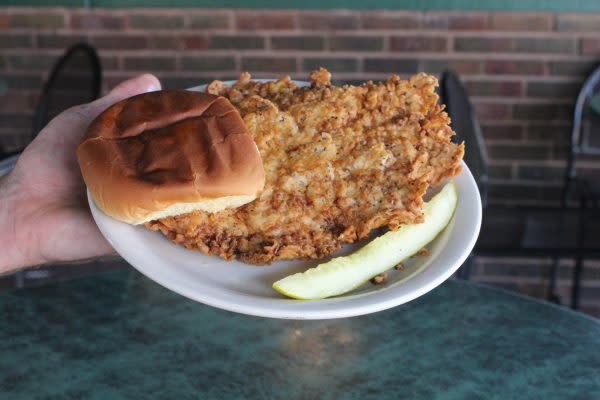 A hand-breaded tenderloin at The Willard in Franklin. Now found in restaurants (and fairs) of all kinds across the Hoosier state, legend has it that the tenderloin's origins trace back to Nick's Kitchen in Huntington. Nick's Kitchen dates back to 1908 when Nick Freienstein opened the restaurant, first serving wiener schnitzels. These are thin, tenderized cuts of veal that are breaded and fried for serving, which look very similar to our breaded pork tenderloins.  Mr. Freienstein decided to use pork instead of veal while adding pickles. This original Hoosier schnitzel adaptation was served between hunks of bread.  Little did he know that Nick's Kitchen (and countless other restaurants) would still serve the breaded pork tenderloin to this day!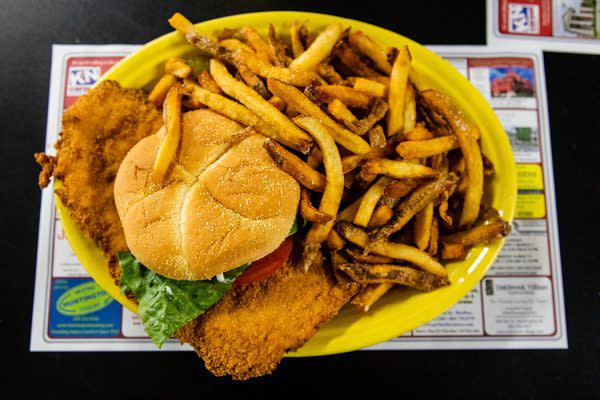 A tenderloin at Nick's Kitchen, home of Indiana's breaded pork tenderloins.
The public voted on the 10 Best Tenderloins in Indiana. Try out the recipe at home and see if your adaptation would make the cut!
Official Hoosier Hand-Breaded Pork Tenderloin Recipe
This recipe serves four people.
Created By: Indiana Foodways Alliance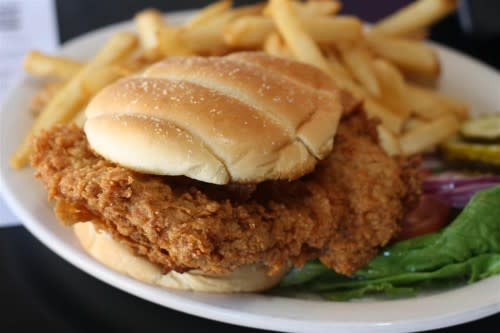 Ingredients: 
Four 5-ounce center-cut pork loins 2 cups all-purpose flour 2 sleeves of ritz crackers 2 tbsp garlic powder 1 tbsp black pepper 2 tbsp salt 1 tbsp of pepper 4 eggs 1 cup milk 40 ounces of vegetable oil
Prepare Pork:
Butterfly cut each piece of pork loin but cutting in half longways almost all the way through. This should allow you to double the size of the loin.
Lay each piece on a cutting board in between wax paper and pound out to 1/4-1/2 inch thickness.

Tip: Do not pound out too thin.
Prepare Breading:
Whisk eggs and milk together in a bowl and set aside.
Crush the crackers and add them to a bowl with flour.
Add salt, garlic, and black pepper to the cracker bowl.
Bread Tenderloins:
Individually dredge each loin piece through the wet egg mixture and then into the dry mixture bowl.
Pull out of breading and shake gently to remove excess breading.
Fry Tenderloins:
Pre-heat skillet or deep fryer to 350°.
Deep fry until golden brown.
Now it's time to place the tenderloin on a bun and top with all of your favorites!