The most popular jack-o'-lantern pumpkin is the Howden pumpkin. The pumpkin was developed in the 1960s by Massachusetts farmer John Howden. Today, granddaughter LaDawn and husband Kevin Priebe raise Howden pumpkins at Priebe's Pumpkin Patch.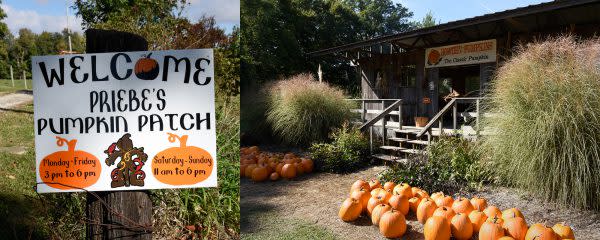 Priebe's Pumpkin Patch, which was established over 12 years ago, will be open through the last Sunday in October.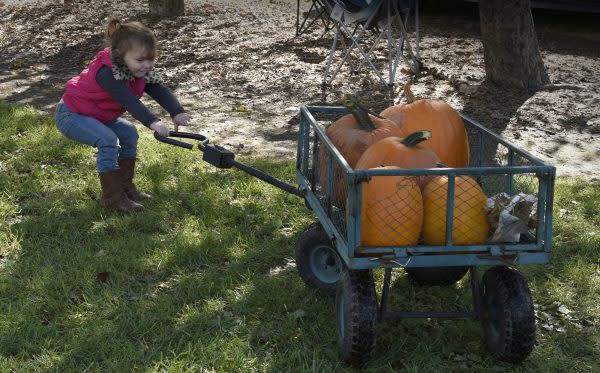 Satisfied with her treasure of pumpkins, Stella Hughes of Ladoga pulls her pumpkins to her nearby car where father Bryan Hughes and step-mom Kristen Wilhite are waiting to assist.
These Howden Halloween beauties grow to around 20 to 25 pounds. The Priebe's farm is a few miles north of Crawfordsville in Montgomery County. Farm visits are free – wander the nature trail, the corn maze, a field of Howden pumpkins, or just sit by the campfire. "People come here because it's laid back and they can walk around in nature," Kevin says.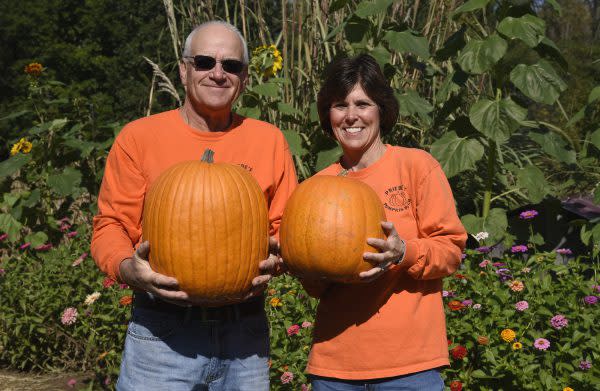 LaDawn (Howden) Priebe and husband Kevin are proud to continue the legacy of LaDawn's grandfather at their family pumpkin farm in Montgomery County, Indiana. In addition to Howden pumpkins, the couple also grows Aladdin pumpkins (a cross with the Howdan Biggie) and other varieties.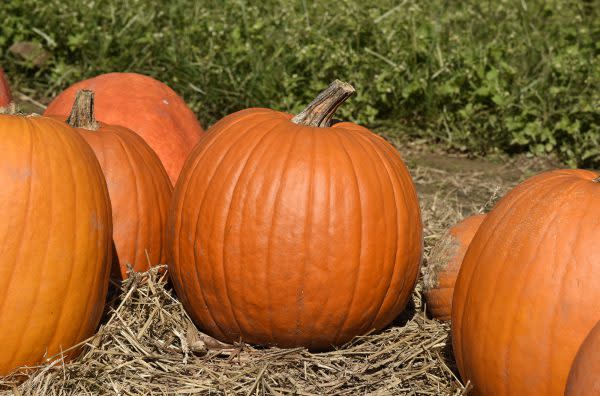 The Priebe's initially trucked Howden pumpkins from Massachusetts to sell at the Covered Bridge Festival.
John Howden History - Then and Now
According to LaDawn, her grandfather tried to grow the biggest pumpkins with rich color and deep ridges. She remembers semi trailers loading up pumpkins at her grandfather's farm, headed for New York City. "I didn't know it was a big deal growing up," she recounts. The elder Howden also patented the Howden Biggie – a 40-plus pound version of his original patent.
Her grandfather eventually shared seeds with LaDawn in Indiana. Soon she and her husband began growing, and eventually selling, these perfectly shaped jack-o'-lanterns. "We never planned THIS (the Pumpkin Patch) in a million years," LaDawn says.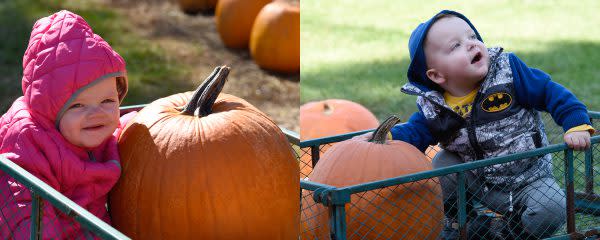 Aliyah Sue Largent and Gavin Lee-Roy Largent came to gather pumpkins with mom Autumn Largent, who has been coming to Priebe's Pumpkin Patch every year since they opened.
Harris Seeds now holds the patent on the Howden and Howden Biggie pumpkins, as well as the Aladdin variety.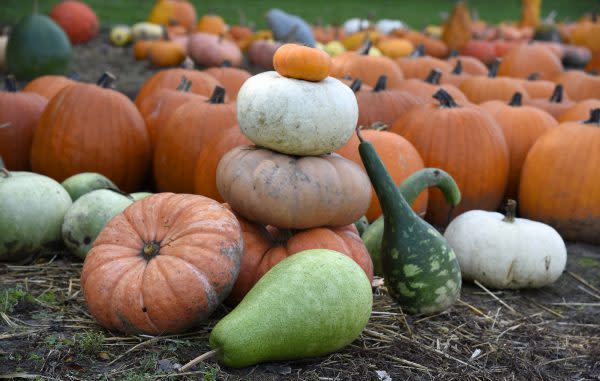 The vast array of colors and shapes is a feast for children and adults at this pumpkin farm in near Crawfordsville.