Indiana has three National Parks Service properties, and I can now say that I have been to all three. The last one I visited was on a trip with my Aunt Marily to the George Rogers Clark National Historical Park, a Revolutionary War monument in Vincennes. Our trip encompassed four states, and she introduced me to several cousins I had never met before along the way, which was exciting. 
The George Rogers Clark National Historical Park is one of three national parks in the state.
As we left Eastern Kentucky after meeting one cousin and headed for Zion, Illinois to meet another, my aunt wanted to stop at a location that is part of the National Parks Service, which was constructed to honor a significant American figure that, according to stories passed down through the family, maybe a distant relative - George Rogers Clark. My maiden name is Clark, and as a child, my dad passed on what he had heard from relatives that we are very distant cousins of this Revolutionary War hero and his siblings, which include younger brother William Clark, who was half of the Lewis and Clark duo to explore the west. So far, even with the help of some online genealogy sites, I've not been able to prove it's true, but it's fun to imagine that I may have ancestors who played such a huge part in the shaping of the country.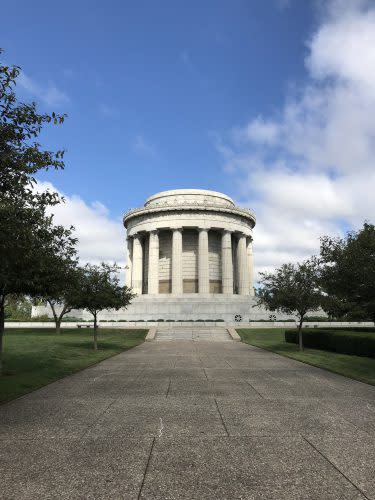 The George Rogers Clark Monument was built between 1931 and 1933.
So, we mapped out our route and spent an afternoon at the George Rogers Clark National Historical Park in Vincennes, Indiana. The monument itself is a massive building that was much more impressive than I had anticipated. The memorial sits along the Wabash River, a round structure with towering pillars that stands more than 80-feet high. It was constructed between 1931 and 1933. It is the largest Beaux-Arts style monument on an American battlefield and outside of Washington, DC.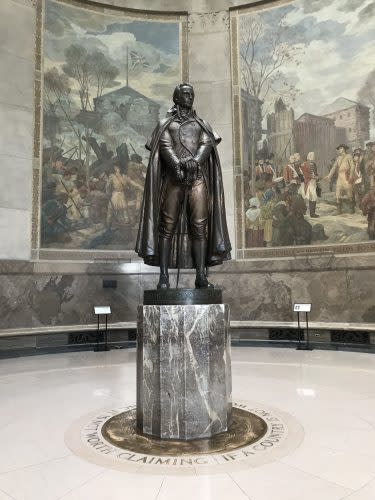 The interior of the George Rogers Clark Memorial contains a statue of Clark surrounded by murals of significant moments of his military career.
After making your way up several stairs to the granite monument with the river as a backdrop, you enter the rotunda with the 12-ton marble pedestal and the bronze statue of a young Clark that stands 7 1/2 feet tall. The murals that line the walls, seven in all and measured at 28-feet tall, complete Clark's wartime story. It took the artist and six assistants over two years to complete them. Represented on the murals are Kentucky, Cahokia, The Wabash, Vincennes, Fort Sackville, Marietta, and St. Louis. If you look up as you enter, you'll see the bas-relief sculpture carved above the memorial's door. The monument sits within the 26-acre park.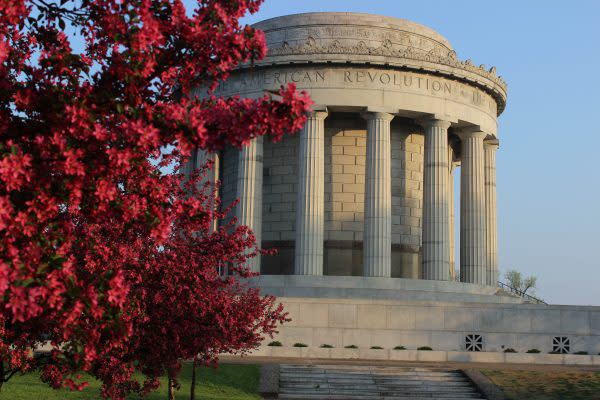 George Rogers Clark National Memorial
In the visitor center, we arrived just in time for a viewing of the 30-minute orientation movie, "Long Knives," which was very well done and helps the viewer understand the hardship, sacrifice, and conditions of those who fought with Clark making their way through frigid waters to complete their secret attack mission.
Clark became the highest-ranking American military officer on the northwestern frontier during the American Revolutionary War. There is also an exhibit area and a bookstore/gift shop to view. 
For more information, visit nps.gov.